Here are the key market movers bullish and bearish for the past and coming week:
Prior Week
Bullish
European Economic Data Surprises
US Corporate Earnings Week II: Overall positive tone as most major names beat both earnings and revenue expectations.
European purchasing managers' indexes in the past week showed private sector business activity accelerating in July, beating expectations of a slowdown. They indicated third-quarter euro zone growth of around 0.6-0.7 percent, double the 0.3 percent forecast in the most recent Reuters poll.
German IFO business sentiment posting a record jump in July to its highest level in three years.
UK GDP Data Does Too:
The U.K. gross domestic product grew by a much stronger-than-expected 1.1% in the second quarter vs. a forecasted increase of 0.6%
It also showed the biggest rise in construction in almost 50 years.
Other:
US Congress Extends Jobless Benefits, Defers Further Damage To Spending From Exhausted Employment Benefits
US Inflation Remains Dormant: Permitting possible continued levels of deficits for additional stimulus while us borrowing remains cheap
China Property Bubble Eases While China Growth Continues
Concerns About EU Continue To Ease: Even riskiest EU states able to sell bonds (but to whom?)
US consumer credit delinquencies may be stabilizing
Financial Sector Uncertainty Lifts With Passage Of Regulation Bill, Goldman Sachs Settlement
Bearish
EU Bank Stress Tests: See Anticipating Market Response To EU Bank Stress Tests for details
Federal Reserve Chairman Ben Bernanke's Semi-Annual Monetary Policy Report
He disappointed the market by focusing on the uncertainty still in the marketplace, saying the economic outlook remains "unusually uncertain" and the Fed remains prepared to take further policy actions (read stimulus) as needed.
Coming Week
First, consider what the daily chart (click to enlarge) of the bellwether S&P 500 is telling us about the overall picture of risk appetite.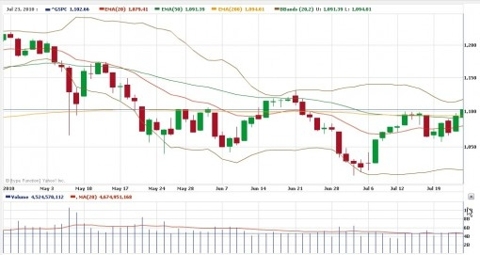 S&P 500 DAILY CHART 10JUL24
As per the above chart, the past week's increase on low-average leaves markets once again testing 3-phased multi-week resistance for the 3rd time in 6 weeks. This triple resistance consists of its:
200 day EMA
50 day EMA
1100 price level, which has held as resistance since May 19th, and is being tested for its 3rd time in the past month
Whether it can stay will depend on the balance of bullish vs. bearish forces in the coming week
Bearish
Similar to the EU's initial attempts to ease concerns about Greece early this year, by failing to decisively reduce uncertainty it has increased it. This is EXACTLY what we warned against last week in the concluding lines of The Coming Week: Stocks, Commodities, Forex – 3 Key Market Drivers July 19th -23rd. See Anticipating Market Response To EU Bank Stress Tests for the full story. Unclear whether markets will react immediately to price in the continued or greater uncertainty about EU banks, but it will do so eventually as it now has a massive excuse to pull back.
Major stock indices like the S&P 500 are now at major resistance levels and will likely need further good news to fuel a sustained push higher.
Fundamentals Remain Weak: In most of the developed world, none of the fundamental weaknesses behind the downtrend in risk assets in 2010 have materially improved. The pillars of a genuine recovery remain shaky – jobs, spending, real estate, construction and banking, longer term resolution of the sovereign and private debt levels all remain weaker than we would expect in the early stages of a real recovery.
ECRI data worsens: the latest weekly reading at -10.5%. As we noted last week, -10% annualized decline has historically meant a double dip recession coming.
Hungary Debt Picture: Hungary rejects IMF austerity measures in a bid to win popular support in coming elections. Two top ratings agencies said on Friday they might downgrade Hungary's sovereign debt without the IMF lending credibility to the future of Hungarian deficit reduction.
Bullish
Positive momentum plus a quiet news week could be enough to keep markets moving higher if they somehow choose to ignore the EU stress tests or manage to view them positively.
US Earnings Week III: There are fewer big names, though the list includes of BP (NYSE:BP), Boeing (NYSE:BA), Chevron (NYSE:CVX), DuPont (NYSE:DD), Exxon Mobil (NYSE:XOM), Sony (NYSE:SNE) and Visa (NYSE:V).
Further stimulus and tax reductions may be coming
China and other emerging market nations continue to show growth
China's property bubble is easing without killing growth, a huge plus for global commodity demand
As emerging markets continue to resist stagnation, hopes increase that they can fill in the gap in longer term growth left by the developed world, which is looking at stagnation as most economies suffer from cutbacks in government spending
While little in the EU has fundamentally improved since the panic of this past spring, the panic of imminent collapse has subsided, buying the EU time to heal. As long as they can sell bonds at acceptable rates, the next stage of the EU debt crisis remains deferred.
Many challenge the reliability of the negative ECRI outlook
In our April article, CHARLES NENNER'S HIGH CONVICTION TRENDS, TRADES: 2010-11 Investors' Roadmap, Nenner predicted a final rally in August before risk assets begin a long decline stretching well into 2011. This may be the start of that near term push higher.
Unknown
Economic Data: Like Bernanke said this past week: "unusual uncertainty."
See the full version Major Market Movers To Watch July 26th – 30th: Stocks, Commodities, Forex for major scheduled events for the coming week.
Conclusion: Balance of market movers continues to be bearish. Logically, markets should tank based on suspicions raised by the EU stress tests, which suggests high potential for nasty surprises ahead. However, markets are not always rational, and with senior traders on vacation and mild upward momentum, further rally is not out of the question if no other major negatives appear. However make no mistake, nothing has fundamentally improved. Worse, the EU has once again provided bears a huge excuse to take markets lower by failing to come clean about real risks ahead.
Disclosure: No Positions