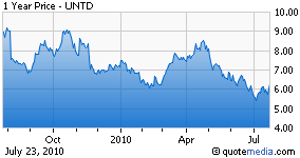 Since the 1990s, internet stocks have been perceived as high growth companies. Outside of the well-known internet stocks like Google (NASDAQ:GOOG), Amazon (NASDAQ:AMZN) and Yahoo (NASDAQ:YHOO), many investors still perceive internet stocks as just high flyers with little to no earnings. However, many companies within the internet space have tremendous earnings power and many are now returning some of that cash back to their investors.
In February, Expedia (NASDAQ:EXPE) initiated a quarterly dividend program. TheStreet.com (TSCM) and Marchex (NASDAQ:MCHX) also pay investors a quarterly dividend, but the yields are generally quite small.
Investors who are looking for 6 – 7% dividend yields generally focused on the telecom and utility sectors … not the internet sector.
Within the Dow Jones index, only Verizon (NYSE:VZ) and AT&T (NYSE:T) offer dividend yields above 6%. Among the S&P 500 dividend aristocrats, only Pitney-Bowes (NYSE:PBI) and CenturyLink offer yields in that range.
Investors who want a 6 – 7% dividend yield are generally willing to pay a decent valuation to get it. AT&T, Verizon and CenturyLink all trade at 10-12x consensus 2011 earnings estimates. Even Pitney-Bowes trades at 9x consensus 2011 estimates.
That makes United Online (NASDAQ:UNTD) all the more extraordinary. The internet stock offers an impressive 6.8% dividend yield and yet the stock only trades at 5x consensus 2011 earnings estimates. How many stocks can you buy for only 5x their earnings?
Bears will point out that United Online's dial-up internet business is declining. No argument there, other than it is dying much, much more slowly than most prognosticators had expected. Dial-up also represents only 18% of UNTD's revenues, so its importance is often overstated.
The vast majority of UNTD's revenues come from FTD. The floral retailer posted a 6% growth last quarter, while competitor 1-800 Flowers saw a decline of 6%.
The company also operates Classmates.com. This forgotten social network generates $200M per year and the company appears to have legitimate opportunities to further monetize this business.
Finally, United Online generated nearly $50 million in free cash flow last quarter which was a 28% growth over the previous year. The company's cash balances continue to grow (currently at $121M or $1.39 per share) and Wall Street expects the internet stock to earn $1.09 per share next year. That's enough to easily cover the $.40 per share annual dividend payment.
Investors looking for a cheap internet stock with a high dividend yield may want to give United Online a look. After all, you can get the same yield as you would get by buying AT&T or Verizon and you can get UNTD at an unbelievably cheap valuation.
Disclosure: Author long TSCM