Analog Devices, Inc. (ADI) engages in the design, manufacture, and marketing of analog, mixed-signal, and digital signal processing integrated circuits used in industrial, communication, computer, and consumer applications. The company's products convert real-world phenomena, such as light, sound, temperature, motion, and pressure into electrical signals. Its products are used in a range of electronic equipment. The company sells its products worldwide through direct sales force, third-party distributors, and independent sales representatives, as well as through its Web site. Analog Devices, Inc. was founded in 1965 and is headquartered in Norwood, Massachusetts.
How Well Is the Company Growing?
With every business we want to know if they are growing. Why would we put money into a business that is not growing? Over the last year, ADI has been just barely above industry average. Whereas the Industry as a whole has a sales growth rate of 38.4%, ADI came in at 40.8% so they are healthy and performing as expected. On a quarter to quarter basis looking at Net Income I guess one cannot complain at their performance even though they came in half of what the industry had in growth from first quarter comparisons. Since we were coming off a poor 2009, The Semiconductor- Broad Line industry had tremendous growth of 563.9% while ADI came in at 223%; only half the industry. Evidently, ADI has had more expenses than the industry average. It has cost more to make money than it has the other members of the industry.
How Valuable Is the Stock?
Click charts below to enlarge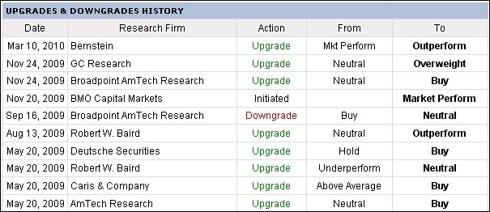 How does one know how valuable a stock is? Cash is King! If this is the case, we are going to see that ADI may not be the valued stock to purchase right now in this industry. When we think about value we have to think about the potential growth. How much potential? Something called the price to sales ratio gives us the best indicator of this. The more money a company has coming in through sales compared to how much working capital it has speaks volumes about its health. The lower the price/sales ratio, the healthier it is. ADI has a ratio of 3.91% and that is a whopping 29% higher than the Industry, which records a ratio of 2.90 Do they have what it takes to grow right now? The second most important thing we need to consider is how much money is flowing through this company as compared to its price. This is called the price to cash flow ratio. ADI again comes in much higher, showing that it has 50% less money flowing through the company compared to its price right now. Its price to cash flow ratio is 15.6% while the industry comes in at 10.10%. In the Industry as a whole, it does not appear that ADI would be the first choice of value to invest in presently.
Future Growth
ADI has one huge advantage over its competitors in the analogue market worldwide. ADI has a market share of twice that of its nearest competitor. 2010 data converter revenue will likely increase by more than 20 percent from the previous year, and longer term estimates show that the market for converters should continue to experience an average annual growth rate of nine percent through 2015.; this bodes well for ADI. Since 2009 ADI has had nothing but upgrades from Analysts; this bodes well looking into long term growth for the company.
Technical Outlook
On this weekly chart ADI looks very healthy for a long term investment. We are forming an Ascending Triangle which is a bullish formation that usually forms during an uptrend as a continuation pattern.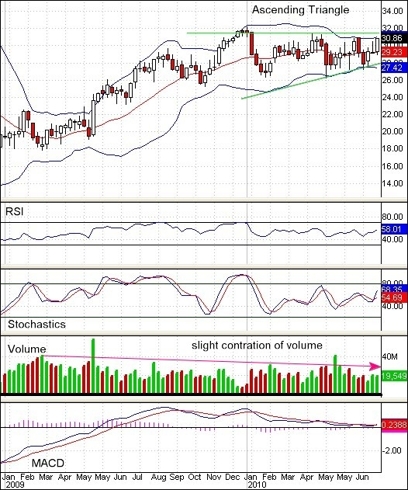 These patterns mostly tend to lean toward a bullish sentiment and acknowledge accumulation. As this pattern forms, we see a slight contraction in volume, and that is evident here. Indicators are all healthy in the bullish areas where they should be.
From a technical standpoint, ADI looks ready to break out into a long term growth pattern. It needs to break through that 31.90 resistance barrier that has plagued it throughout the year. This is what we would wait for before we look into a long term investment in the stock.
Summary
From a growth perspective, ADI leads its industry and may be the reason that it does not grow as fast as others it competes with. This being said, short term, there may be better stocks to look at in the industry if one is looking for short term investments. But, if someone is looking for a long term investment, ADI is worth putting on one's watch list for a possible near term long play. Investing in the stock or a long term option play may be a great value here.
Disclosure: Author long ADI