Graham Holdings Company (NYSE:GHC) is a diversified education and media company. The company's Kaplan subsidiary provides a wide variety of educational services, both domestically and outside the United States. The company's media operations comprise the ownership and operation of cable systems, television broadcasting (through the ownership and operation of six television broadcast stations), Slate and Foreign Policy magazines (Source: 2013 10-K).
Structured Competitive Advantage
Moat
The landscape is changing for education, especially online. Millions have enrolled in online courses at portals like Coursera, and new companies are being created that can potentially disrupt GHC's business. Although Kaplan is a strong name, I couldn't see any source of moat by looking at the level of return from invested capital and/or cash flow from operations.
The declining revenues among the many companies in the educational sector can precipitate war for market share, further reducing margins. Although GHC has other lines of business in addition to education, they're not representative (other) or are also showing slow growth (subscriber and advertising).
Competition
Barriers to new competitors have decreased dramatically with online resources. There are many offerings, both online and offline, for higher education, and low profit margins also point to this fact. Although Kaplan's offering is compelling, it's not strong enough to prevent customers from signing up with rivals.
And new rivals keep coming! According to the New York Times, Jonathan N. Graye, ex-chief of Kaplan -- who "helped build Kaplan from a small test preparation company into one of the giants of the education business and the crown jewel of what once was The Washington Post Company" -- is now the founder of a competing business focusing on digital education. The fierce competition will probably force low margins for the foreseeable future.
Catalyst
The recent debacle around for-profit colleges and the use of taxpayer funds can be a negative catalyst for the industry. About 38% of Kaplan's revenue (76% of higher education revenue) is received through financial aid programs by the federal government. Kaplan itself is under investigation by federal law enforcement agencies (click here for a summary report).
Although we believe Kaplan's offer is different than the competition, the negative media generated can further reduce enrollments. If there are further regulatory tightening, it can adversely affect the industry, and enrollments in higher education (its most important business) continue to drop. Because Kaplan is extremely dependent on taxpayer dollars, the impact can be hard felt.
According to the Washington Post, "Federal Consumer Financial Protection Bureau, Securities and Exchange Commission, Federal Trade Commission, Justice Department, and Department of Education have launched investigations or filed lawsuits" against for-profit colleges, and more than 30 state attorneys general are collaborating on major probes of the industry. How these will play out will significantly impact GHC.
Growth
GHC's main businesses are education and subscriber, together they account for roughly 84% of revenues. From 2011 to 2013, the operational revenue from these operating units decreased by almost 6%. The company did make investments and businesses purchases in the past few years, but judging by both return on capital, as well as goodwill write-offs amounting to more than $100 million, these purchases were not successful. Management seems to be trying in vain to get back into growth.
Benchmark and Ratio Analysis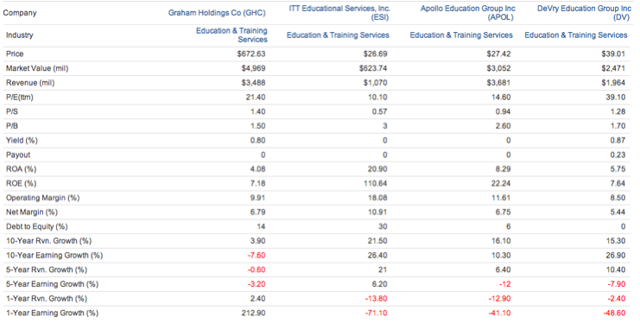 Source: www.gurufocus.com
Cash Operating Returns on Assets - COROA
This measure shows the operating cash flow as a percentage of total assets, and is calculated by dividing operating cash flow + taxes + interest by operating assets, plus accumulated depreciation.
| | | | |
| --- | --- | --- | --- |
| | 2013 | 2012 | 2011 |
| Operating Cash Flow | 327,864 | 477,214 | 393,291 |
| Cash Taxes | 144,500 | 50,531 | 38,500 |
| Cash Interest | 35,500 | 35,500 | 32,650 |
| Total Assets | 5,811,046 | 5,105,069 | 5,016,986 |
| Accumulated Deprec. | 2,083,857 | 2,325,232 | 2,119,059 |
| COROA | 6,42% | 7,58% | 9,22% |
Although total assets have increased, COROA has actually decreased in the past few years. In other words, management has been making investments that, as of yet, are not generating high returns for shareholders. Cheaper capital might be encouraging projects with lower returns, or recent investments have yet to bear fruits.
Return of Invested Capital
For 2013, the company achieved a ROIC of 8.8%, not passing the test of having a moat -- usually defined by ROIC north of 15%.
Shareholder value
The sale of the Post, as well as real estate properties announced recently demonstrate that management wants to return value to shareholders by selling assets, reducing debts and repurchasing shares. As of 2013, Graham holds a total of $927.5 million of PP&E -- these properties, which include buildings in prime areas of D.C., New York etc., are on the books at cost, and are potentially worth 2x that amount.
The tax-free deal with Warren Buffett also show the willingness of GHC to work towards building shareholder value -- the swap will save the company about U$250 million in federal and state taxes. This reduced tax liability will add directly to investors' bottom line, since it reduces tax payable, increasing net income.
Conclusion
Management is focused on generating shareholder value. Since the company is not growing, management is selling valuable assets to both pay down debt, purchase new businesses and buy back shares. These are laudable actions, which can potentially unlock shareholder value hidden on purchased properties and other assets. But, the business fundamentals don't look very good, the company is struggling to find a path to higher growth and profitability, with no solution in sight.
There is the possibility that future sales of businesses and PP&E can offset declining operating revenues while its businesses find their ways into growth. The big "if" is how current problems facing the educational division will play out. My recommendations is to wait for a clear catalyst, set Google alerts and watch closely the outcomes of current investigations and rules around federal taxpayers' funding.
Trusting management and believing in the hidden value of PP&E, I'd be interested in buying at $580 (roughly 1.3 P/B).
Disclosure: I have no positions in any stocks mentioned, and no plans to initiate any positions within the next 72 hours. I wrote this article myself, and it expresses my own opinions. I am not receiving compensation for it (other than from Seeking Alpha). I have no business relationship with any company whose stock is mentioned in this article.