In case you haven't noticed, agricultural products, grains in particular, have been putting on an impressive rally. Take a look at this chart of the Dow Jones - UBS Grains Index: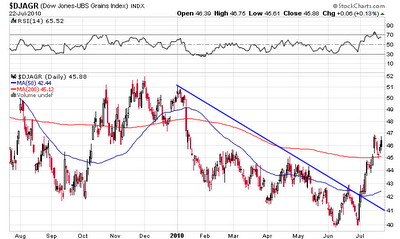 If you're looking for a way to participate in this rally, I have the following list of ETFs courtesy of ETFdb.com:
| Symbol | Name |
| --- | --- |
| DBA | PowerShares DB Agriculture |
| RJA | ELEMENTS Rogers Intl Commodity |
| JJG | iPath DJ-UBS Grains TR Sub-Idx |
| COW | iPath DJ-UBS Livestock TR Sub- |
| JJA | iPath DJ-UBS Agriculture TR Su |
| GRU | ELEMENTS MLCX Grains Index TR |
| UBC | UBS E-TRACS CMCI Livestock TR |
| CORN | Teucrium Corn |
| FUD | UBS E-TRACS CMCI Food TR ETN |
| UAG | UBS E-TRACS CMCI Agriculture T |
| AGF | PowerShares DB Agriculture Lon |
Another way to play this is to look for some of the better fertilizer and agricultural chemical companies. I have written previously about CF Industries Holdings (NYSE:CF) and came to the conclusion that it was undervalued and in the process of breaking out (click here to read the post). That exercise made me aware of what was going on in the sector. I did subsequently buy a few shares of CF and, so far, it has not disappointed. Note that CF has acquired Terra Industries, a company that used to appear on many lists of good ag sector investments.
Here are a few others you might want to consider. I have filtered this list to only include those companies whose stock charts are looking bullish.
Conclusion --
This is an interesting sector with lots of choices. Increased global demand coupled with weather issues (hot, hot, hot in the U.S. cornbelt) have allowed prices for agricultural products like corn, wheat and soybeans to firm up. This has allowed pricing for fertilizer and chemicals to firm up, as well.
Almost all of the ETFs listed above have been very strong lately. You could easily say that they are over-heated and investors, at this point, may be late to the party. On the other hand, we also see CF Industries, Potash and Mosaic as standouts among individual stocks and if earnings and guidance come in as expected, their share prices could easily accelerate.

Disclosure: Author is long CF, no other positions in stocks mentioned in this post