In 2013, Philip Morris International (NYSE:PM) derived a 33.6% operating income from the Asian region followed by a 30.8% operating income the from European Union, 27.4% from Eastern Europe, Middle East and Africa (EEMA) and 8.2% from the Latin American and Canadian region. Over the last three years, the operating income's proportion from the EEMA region has grown from 23.7% to the current 27.4%.

Source: 10k 2013
The tobacco industry is suffering due to strict national laws and regulations and higher taxes charged on tobacco products. The international cigarette market shipments totaled approximately 5.6 trillion units in 2013, reflecting a decrease of 1.4% from 2012. Philip Morris shipped 880.2 billion units in 2013, reflecting a decline of 5.1% compared to 2012. The effect of the declining shipment resulted in a loss of market share to 15.7% in 2013 compared to 16.3% in 2012. Despite the recent sales volume decline the market position of Philip Morris is strong as the company holds at least a 15% or more market share in more than 100 markets around the world.
Apart from that, the rapid fall in sales volume continued for the first quarter of 2014, and this is definitely a concern for investors. Philip Morris, the world's largest publicly traded company, posted its first-quarter earnings, topping analysts' estimates as higher prices helped cushion the blow of the lower sales volume. Revenue, excluding excise taxes, fell 8.8% to $6.92 billion, trailing analysts' $7 billion average estimate. Net income in the three months ending March fell 12% to $1.88 billion, or $1.18 a share, from $2.13 billion, or $1.28, a year earlier. The earnings per share of $1.18 beat the consensus estimate of $1.17 by 1.7%. However, earnings lagged during Q1 2013 by 7.8% due to unfavorable currency translations, industrial headwinds in Asia, and inventory distortions. Excluding the unfavorable currency impact of $0.16, the earnings exceeded the previous quarter's earnings by 4.7%.
Segmental Performance Analysis
During the quarter, net revenue from the European Union improved 2.2% to $2,013 million from $1,970 million in the same quarter of the previous year, predominantly reflecting lower total market share, notably in Poland and France.
After three years' growth from the EEMA region, the net revenue for the first quarter declined 1.7% but improved 4.5% excluding currency impact. Revenues improved in organic terms backed by favorable pricing of $234 million principally in Russia. The new business structure in Egypt also contributed to the growth in the region.
The net revenue of $2.2 billion for the Asian region declined by 21.8% from primarily due to unfavorable volume/mix in Japan and Indonesia. In Latin America and Canada, net revenue slipped 8.7% to $713 million. Earnings improved in organic terms, mainly due to favorable pricing in Mexico, Canada, and Argentina.
Philip Morris has been raising the prices of the company's cigarettes to help make up for declining sales volumes. For Philip Morris, who gets all of its revenue outside of the U.S., favorable pricing changes added $406 million to sales while cigarette shipment volume declined 4.4%.
The Outlook for 2014
Philip Morris revised its outlook for fiscal year 2014, and has forecasted diluted earnings per share in the range of $5.09 to $5.19, higher than $5.02 to $5.12 that was previously expected. For fiscal year 2014, the company expects a currency impact of $0.61 per share, lower than $0.71 that was previously expected. Excluding the currency impact and one-time restructuring charges, the company expects its earnings to increase by approximately 6% to 8% from adjusted earnings of $5.40 in 2013. The shares fell 1.9% to $83.15 at the close in New York. Year-to-date Philip Morris has dropped 3.3% compared with a 1.7% gain for the Standard & Poor's 500 Index.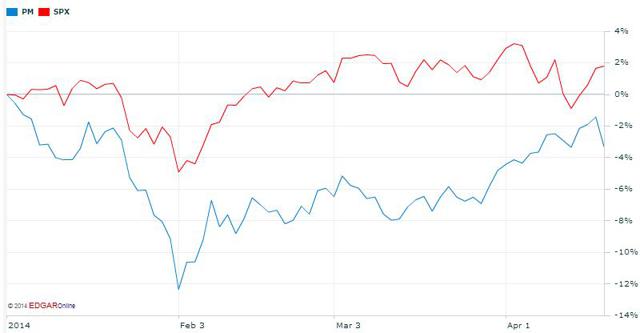 Source: Nasdaq
Philip Morris To Cease Production in Australia
The revenue and income from the Asian region is slipping, and the shipment declined 2.5% during the recent quarter, causing a lower market share in Australia. To cope with this situation, Philip Morris recently announced to cease cigarette production in Australia and decided to move the production facility to South Korea. The closure is the result of a decline in demand from the local market in the span of 10 years. Apart from that, due to significant exporting restrictions by the Australian government the production facility is operating at less than half of its current installed capacity. This production facility shift will allow the plant to operate at full capacity which will reduce the operating losses though more production and sales. Philip Morris is also in the process of discontinuing cigarette production in Bergen Op Zoom in the Netherlands.
Philip Morris could face further challenges during fiscal year 2014 due to strict government policies regarding tobacco products and higher taxes in different markets. In Russia, the second biggest tobacco market, the total cigarette market declined by 6.7% to an estimated 66.9 billion units mainly due to the impact of the tax-driven higher prices. In response to that Philip Morris invested $750 million to buy a 20% stake in Russian distributor Megapolis to strengthen its grip in the Russian market and help the company to support its declining sales. Japan would also be a concern for Philip Morris in 2014. The Japanese government is increasing its consumption tax in April from 5% to 8% and this could hurt Philip Morris' sales.
Important Initiatives To Stabilize Growth
Philip Morris is taking decisive action to boost sales, such as the development of new products that are less harmful to one's health. Recently, Philip Morris announced it would spend as much as $680 million on a new factory in Italy to make products with lower health risks. The plant will start producing tobacco products that are heated with a special device rather than burned and the production facility will be functional by the end of 2015 or early 2016. The factory will have the capacity to produce as many as 30 billion units each year, equivalent to about 6% of the European Union's cigarette sales.
In addition to that, Philip Morris expects to benefit from the growth of lighter-tasting machine-made versions of its Kretek brands, Sampoerna A, and U Mild. The company is also gaining shares in the full-flavor machine-made Kretek brand. TechNavio forecasts that the global e-cigarette market will grow at a CAGR of 30.565 between 2013 and 2018. Philip Morris is focusing on the e-cigarette market as global e-cigarette sales total roughly $2 billion and are growing quickly. Philip Morris plans to start selling e-cigarettes in the second half of 2014 using existing technology. The cross-licensing between Philip Morris and Altia Group (NYSE:MO) to sell less harmful products and e-cigarettes will also help Philip Morris to gain some growth momentum.
Conclusion
Philip Morris is known for its healthy dividend yield of 4.52% and share repurchasing programs. It increased its dividends by 10.6% last September while its dividend payout ratio remained at 67.90%. This year, the company plans to spend $4 billion on share repurchases, apart from paying the dividend, as it looks to invest in growth. But investors shouldn't be disappointed as the developments highlighted above could lead to market share stability and better repurchases and dividends in the future. Although there are challenges for Philip Morris the company is positive about the Philippines and Europe. The stock is trading at a trailing PE of 15.78X, while its forward PE of 14.88X indicates earnings growth in the future. Coupled with its dividend paying nature and projected earnings growth of almost 7% for the next five years, Philip Morris is a sound investment. And once its strategies start bearing fruit Philip Morris could perform even better.
Disclosure: I have no positions in any stocks mentioned, and no plans to initiate any positions within the next 72 hours.
Business relationship disclosure: The article has been written by a Gemstone Equity Research research analyst. Gemstone Equity Research is not receiving compensation for it (other than from Seeking Alpha). Gemstone Equity Research has no business relationship with any company whose stock is mentioned in this article.