By Sumit Roy
Natural gas was last trading down fractionally to $4.71/mmbtu after the Energy Information Administration reported that operators injected 49 billion cubic feet into storage last week, above the 40 to 45 bcf that most analysts were expecting.
The latest injection was above last year's build of 30 bcf and equal to the five-year average build of 49 bcf.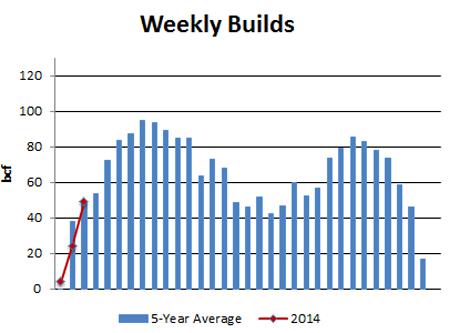 In turn, inventories now stand at 899 bcf, which is 835 bcf below the year-ago level and 1,002 bcf below the five-year average (calculated using a slightly different methodology than the EIA).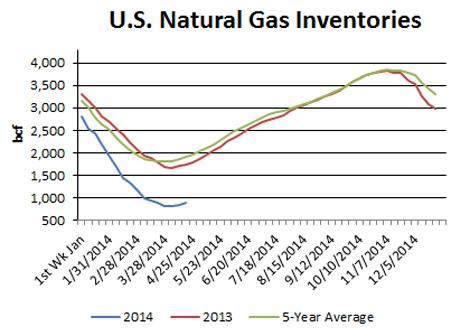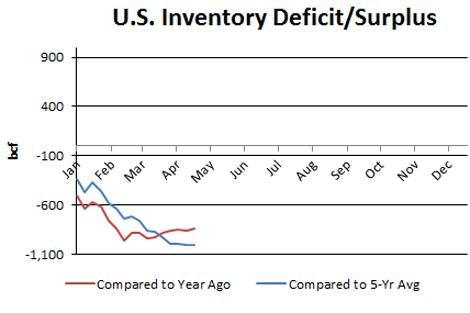 The weather last week was slightly warmer than seasonal norms.
According to the Edison Electric Institute, utilities generated 68,319 GWh in the week ending April 19, which was 2 percent below the same week a year ago.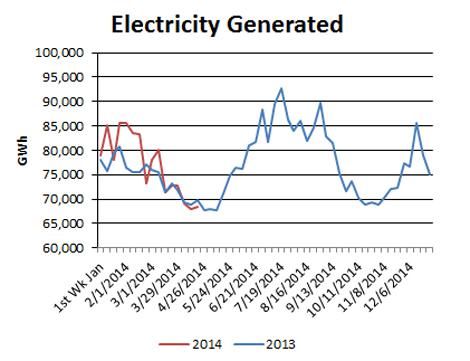 Looking forward, NOAA's 6- to 10-day outlook calls for colder-than-normal temperatures across the eastern two-thirds of the country, and warmer-than-normal temperatures across the western one-third.
NOAA 6- TO 10-DAY OUTLOOK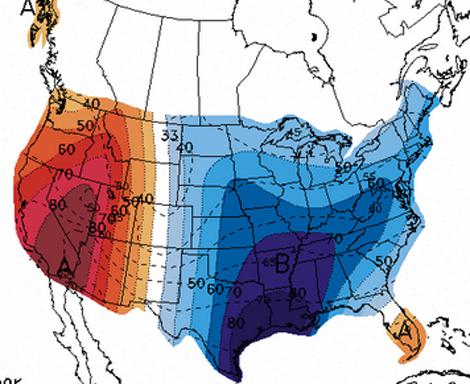 Meanwhile, Baker Hughes reported that the number of rigs drilling for natural gas in the U.S. rose by six to 316 last week, up from the lowest levels since 1995.
Natural Gas Rig Count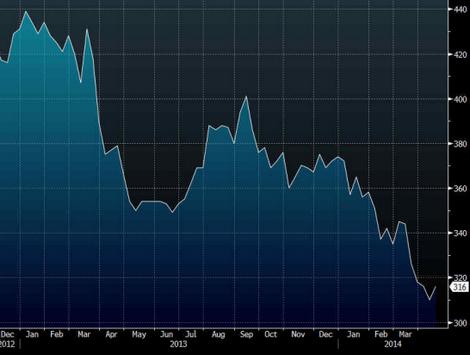 Natural Gas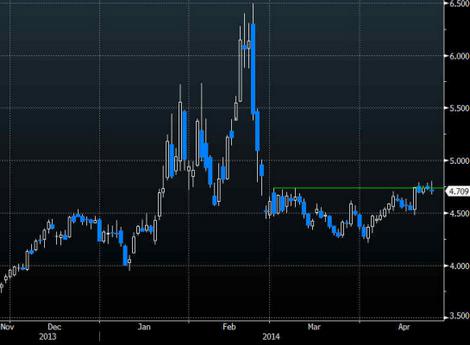 Bottom Line: The latest inventory data from the EIA were bullish as the inventory deficit against the five-year average remained unchanged at 1,002 bcf and the deficit against last year fell from 854 to 835 bcf.
Like last week, we didn't see a large-enough decline in the inventory deficits to change the bullish bias of the market. By our calculations, there are 29 weeks left in the typical injection season. To reach a comfortable 3,800 bcf in storage by November, we must see an average weekly build of 100 bcf in each of those weeks.
In our view, that is virtually impossible, and thus it's almost certain that inventories will be at relatively uncomfortable levels ahead of next winter. That leaves the market prone to price spikes.
From a technical perspective, natural gas continues to face resistance near the $4.75/mmbtu level. A breakout would expose a clear path to $5 while prices may find support near $4.50 in the event of a pullback.