The American Dream
I believe we live in the greatest country in the world. Furthermore, I believe our country has the long-term track record to back up those beliefs. Therefore, I am very frustrated by the perma-pessimists, doom and gloomers and naysayers who are quick to write our country and its future prosperity off.
To be sure, we are facing many severe economic challenges and problems. On the other hand, this is nothing new, as we have faced similar and even greater challenges many times in the past. Yet through it all, thanks mostly to our diverse and courageous people, we have not only persevered, we have prospered and grown as well.
The American people have a legacy of optimism regarding the future which is more commonly known as "the American dream." This optimistic viewpoint has served as a beacon to the rest of the world leading many to immigrate into our great country in order to participate in our great social experiment based on free enterprise.
Winston Churchill is credited with a quote that I believe sums up my point succinctly: "A pessimist sees the difficulty in every opportunity; an optimist sees the opportunity in every difficulty." Yes, as I already stated, we are facing many difficulties, however, I remain confident that our people and our economy will rise to the challenge and, as a result, new opportunities will emerge out of these crises.
There are numerous pundits, including the majority of mainstream media, that seem to take great glee in writing frightening stories with extremely negative headlines that I believe serve no real purpose other than shaking people's confidence in our economy and their future.
Part of the Solution
Frankly, I consider it irresponsible to bring attention to a problem without simultaneously offering a viable and practical solution. Mere bellyaching offers no benefit to anybody, it only stands to potentially make matters worse.
All problems, big and small, have solutions. A business associate of mine was fond of pointing out; if you're not part of the solution, you're part of the problem. I feel it's time we start focusing our thoughts and energy on the solutions and off of the problems.
A glaring example of this is the seemingly zealous need to point out how low consumer confidence is. The truth is that confidence is an attitude, and attitudes can change. The great danger of a negative attitude, is its propensity towards becoming a self-fulfilling prophecy.
Could it be, if we wrote more optimistic messages then perhaps confidence would actually increase? Furthermore, does it make sense that increased confidence in our economy might be one of the most important factors towards righting the ship? I think it could.
Yet, there is a preponderance of negative press dealing with dire forecasts of the future direction and value of the stock market. Everyone seems to have an opinion of how low the market is going to go, and how poorly the economy is going to function, and they are not shy about sharing their opinions. Let's cast off these biases and instead look at the future value of the S&P 500 based on historical mathematical principles.
Fundamentals at a Glance
Figure 1 below looks at the S&P 500 since calendar year 1991 based on our EDMP, Inc. F.A.S.T. Graphs™ which correlates stock prices (the black line) to their earnings justified valuation (the orange line with white triangles) and concludes with year-end calendar 2009. Therefore, Figure 1 is exclusively based upon facts because it plots data that has already occurred, there are no forecasts on this graph.
Three Important Lines
There are three important lines on this graph that represents S&P 500 values over the better part of the past two decades. A brief explanation of each line is as follows:
The black line represents monthly closing stock prices since 1991, therefore, there are 12 dots connected between each year plotted. Notice how the price line correlates to earnings except for the brief period commonly known as the irrational exuberant period (background area shaded pink).
The orange line with white triangles represent each year's earnings multiplied by the 80-year historical normal PE ratio for the S&P 500 of 15 times earnings. It's interesting to note that the actual PE ratio of this orange line equals 15.3 times earnings, based on our GDF-EDMP formula for True Worth™ value, and that it equates almost perfectly to the historically normal PE of 15 for the S&P 500.
The blue line with asterisks is plugged into the graph and represents what has been statistically calculated and then stated as the last 20-year normal PE ratio for the S&P 500 of 17.5. I believe this illustrates a perfect example of how misleading statistics can be.
The real reason that the historical PE ratio for the S&P 500 has been higher over the last 20 years than over the last 80 years is because of the numbers being skewed by prices becoming very overvalued during the irrational exuberant period 1997 through 2003 (background area shaded pink).
As additional clarification for reading the graph, the light blue shaded area represents dividends paid out of the dark green area which represents earnings. The dividends are stacked on top of earnings merely for visual perspective.
Figure 1 S&P 500 Historical Graph 1991 through 2009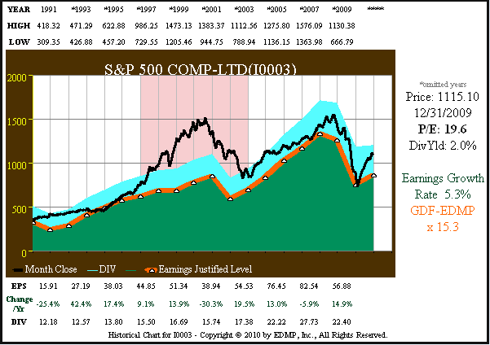 Important Takeaways
I believe that one of the most important takeaways, based on the facts as represented by Figure 1, is how the stock price of the S&P 500 has never fallen below the earnings justified orange line with white triangles. On the other hand, the extreme optimism associated with the irrational exuberant period (background area shaded pink) did cause a temporary, albeit rather prolonged, disconnect between earnings and stock price for the S&P 500. Therefore, it's possible that extreme pessimism could cause a similar disconnect on the downside as well.
A second but equally as important takeaway, based on the facts as represented by Figure 1, is the undeniable importance and relationship between earnings and stock price over time. Even though stock price can become disconnected from earnings for brief periods, it's inevitable that price will soon return to True Worth™ valuation.
Additionally, note that at 19.6 times year-end 2009 earnings the S&P 500 at 1115.10 was overvalued based on its True Worth™ of 869.39 if the S&P 500 stock price line was touching the orange earnings justified value line. Therefore, based on Figure 1, it should be clear that future earnings levels will determine S&P 500 values.
Figure 2 below looks at the same EDMP, Inc. F.A.S.T. Graphs™ that correlates the S&P 500 stock price to its earnings justified values. However, we've shortened the time frame from 1996 through calendar year 2010. The two primary differences with this graph are as follows:
First, Figure 2 includes data for each year that we plot. The longer graph (Figure 1) only provided data for every other year due to space constraints. Second, we've added a forecast for calendar year 2010's S&P 500 year-end earnings forecast based on Standard & Poor's Corp.'s reporting a current consensus estimate of $81.71.
With second quarter's earnings season well underway, it appears that most companies are once again beating both top-line and bottom-line estimates. Therefore, the $81.71 year-end 2010 S&P 500 earnings estimate seems plausible, achievable, and therefore, implies a year-end True Worth™ for the S&P 500 of 1244.02 (see flag Figure 2). This calculates into a potential 16% gain on the S&P 500 between now and year-end.
S&P 500 2010 Earnings Estimate
Figure 2 S&P 500 Historical Graph 1996 through 2010 (Click to enlarge)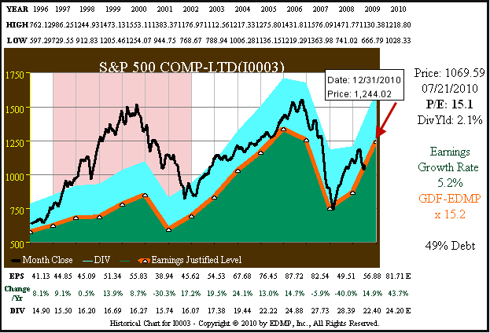 The above is not my forecast; it is simply a mathematical calculation of fair value assuming that consensus estimates are met. Based on current earnings announcements, this forecast appears reasonable, plus or minus slight variations, as the year progresses. Therefore, I do believe this to be a much more rational expectation than the doom and gloomers are currently offering us. And, most importantly, this is nothing to be gloomy or fearful about.
Conclusion (Part 1 of 2)
In this Part 1 of this two-part series on optimism, I presented evidence that the S&P 500 should be approximately 15% or more higher based on consensus earnings estimates and historically normal valuations. I believe this current forecast is achievable based on personally reviewing the balance sheets and financial health of many of the individual businesses that make up the S&P 500. Corporate America is healthier today than many give it credit for, and most companies are raising earnings guidance for the year.
In Part 2 of this two-part series, we will review several of the S&P 500's top holdings through the lens of our EDMP, Inc. F.A.S.T. Graphs™. Additionally, in Part 2, I will provide some, what I believe to be compelling (and I hope you find interesting) justifications for investor confidence regarding the future economic health and prosperity of not only our great country, but the world at large.
Disclaimer: The opinions in this document are for informational and educational purposes only and should not be construed as a recommendation to buy or sell the stocks mentioned or to solicit transactions or clients. Past performance of the companies discussed may not continue and the companies may not achieve the earnings growth as predicted. The information in this document is believed to be accurate, but under no circumstances should a person act upon the information contained within. We do not recommend that anyone act upon any investment information without first consulting an investment advisor as to the suitability of such investments for his specific situation.
Disclosure:
No position in the S&P 500 Index.