Company Overview
: Chicago Bridge & Iron Company N.V. (NYSE:
CBI
) provides engineering, procurement, and construction (EPC) solutions, as well as process technologies for the energy infrastructure projects. It primarily focuses on projects related to oil and gas companies. CB&I operates in approximately 70 countries worldwide, principally in the United States, the Netherlands, Canada, the United Kingdom, the Pacific Rim, South America, and the Middle East. The company was founded in 1889 and is based in The Hague, the Netherlands.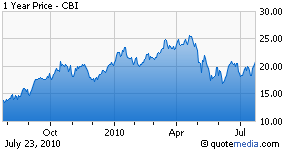 Prognosis
: The stock is selling in the middle of its 52 week range but is down 2/3's from its high of early 2008. Consensus earnings for the quarter, the year, and 2011 have slowly been creeping up in the last ninety days. It has beat earnings estimates three of the last four quarters.
Valuation: CBI is selling for approximately 11 times this year's consensus earnings and 9.5 times next year's projected earnings. It is selling at .5 times revenue and less than 7 times cash flow. It also has approximately $2/share of net cash on the balance sheet.
Catalysts: There are several factors that we believe should provide support for a higher stock price in the near and medium term:
1.
Restructuring efforts should continue to improve cost structure
2.
50% of its earnings come from more stable sources that traditional construction and engineering
3.
Trading at discount to peers and has rising backlog
4.
Play on the increasing investment needed for Energy Infrastructure
5.
Well diversified and placed well to take advantage of improving worldwide growth outlook. 75% of 7.2 Billion backlog at end of 2009 was outside of United States
Recommendation(s):
Given its improving fundamentals, low valuation and strong cash flow; we feel that the company is currently undervalued.
In our opinion, the stock should be trading at a more reasonable rate of approximately 12-13 times next year's projected earnings of around $2.21. Our target Price is $24-$27, up from the current price of $20.89.
Disclosure: No positions