Outlook: This was the week of resolution: legislatively, economically and corporately. Legislatively, the president signed into law "Fin Reg" as well as the extension of unemployment benefits. Goldman (NYSE:GS) settled its suit with the SEC, and the SEC temporarily blessed bond prospectuses without credit rating from ratings agencies. This is despite the fact that a Gallup poll showed the all time low of 11% confidence in Congress.
Encouraging Corporate Outlook: Additionally, there was some relief from the previous week's dour economic outlook. Caterpillar (NYSE:CAT) doubled its profits and raising its 2010 EPS forecast sighting pent-up demand for its mining and construction equipment. Another industrial giant, General Electric, reported "….solid underlying performance in our industrial businesses through the first half of 2010" and raised its corporate dividend by 20% signaling some sincerity in its business outlook.
Blue Chips Strong: Other Blue Chip companies reported strong revenue growth and earnings: United Parcel Service (NYSE:UPS), 3M (NYSE:MMM) and Honeywell (NYSE:HON) all reported improvements in early-cycle businesses. Bill Miller, a well-known bullish portfolio manager famous for his extended outperformance of the S&P 500, wrote that investors have a "once in a lifetime opportunity" to buy large cap US stocks at bargain prices.
All in all, it was a good week for equities.
Tempered Enthusiasm: Counterbalancing the annoyingly "cautiously optimistic" assessment of investment professionals' sentiment is one of "tempered enthusiasm". At the moment, investors are caught up in improving economic and earnings news. This too shall pass. Let us not forget there is investing after earnings season. More attention will be placed on economic and political events—the latter much more unpredictable. North Korea remains a "wild card".
Following the Path of Least Resistance? A diversified large-cap dividend paying strategy combines the enthusiasm of Bill Miller's "once in a lifetime large-cap buying opportunity" with potential of more dividend hikes like GE's (NYSE:GE) for large cap blue chip companies. This seems like swimming with the current.
Staying with large cap companies generating dividends is still a good position to occupy during this pivotal investing environment. That's why large-cap dividend paying ETFs like Dow Jones Select Dividend ETF (DVY:) and SPDR S&P Dividend (NYSEARCA:SPY), trading at current annualized yields of 3.89% and 3.84%, respectively, remain an attractive venue. (See: The Case for DVY: Income & Potential Capital Appreciation (4/28/10))
CEF Weekly Review: The 13 closed-end fund (CEF) types on average posted a 2.1% increase for the week ending 7/23/10. The high-low spread was +3.2%. On an aggregate, unweighted basis the weekly average price change for the 500 plus CEFs was up 1.7%.
The PowerShares CEF Income Composite (NYSEARCA:PCEF), an ETF that invests in taxable income CEFs, increased 2.3% for the week. The S&P 500 advanced 3.5% for the week and cut its loss to 1.1% YTD.
(Click Here [2] for YTD CEF Performance. The table is based on a smaller CEF sample size as all the data fields are not available for the CEF universe.)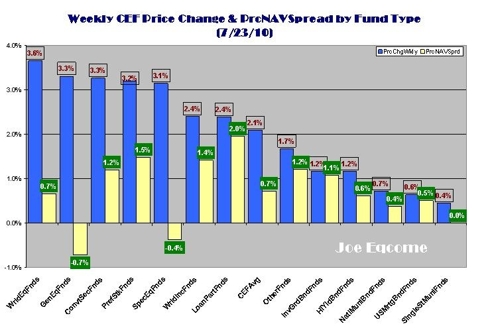 The Eqcome CEF Fear Index eased for the week. The average price increase was 1.7% versus a 1.2% increase in the NAV. The CBOE Volatility Index (VIX), which typically moves inversely with the stock market—but is mostly a measurement of volatility based on stock options' premiums—dropped 10.6%. The VIX slid 30% from late June during a period in which the market remained essentially flat. The average daily trading volume was up 2.5% to 4.5 billion shares over the previous week.
CEF Weekly Fund Type Performance: All CEF fund types generated positive share price advances. The relief rally favored equities with WrldEqFnds rallying 3.6% followed by a 3.3% increase in GenEqFnds. USMrtgBndFnds, the best performing fund type YTD, took a holiday and advanced a modest 0.5%, second from the bottom, signaling a possible waning of the fear trade.

The PrcNAVSprds [1] typically move in the direction of stock prices. There were two exceptions this week: GenEqFnds and SpecEqFnds where their respective NAVs increased greater than their price. There may be some catch up this week if the market moves higher.
Weekly CEF Winners and Losers: One of the CEFs with the greatest positive spread was Evergreen International Balanced Income Fund (EBI). EBI share price advanced 16.0% while its NAV advanced 2.4% generating a positive PrcNAVSprd of 13.6%.
EBI is classified in the WrldIncFnds category and invests foreign equity and debt securities and employs an option strategy. The Board on July 16th approved a plan of liquidation expected to occur at the close of business August 16th. EBI experienced significant volume increases this week. In some cases 3 times its average volume. EBI is trading at a 1.5% discount in anticipation of liquidation.
The CEF having one of the greatest negative PrcNAVSprd for the week was First Trust Active Dividend Income Fund (NYSE:FAV). FAV's price declined 9.0% while its NAV advanced a modest 0.1% generating a 9.1% negative spread. There was news on FAV—albeit, its announcement of its regular quarterly distribution July 12 that went ex-dividend this week ($.32 per share). FAV is yielding 12.2% and trading at a 9.2% premium. Late last year it reduced its distribution and its premium crashed from its 33.2% 52 week high. Two weeks ago, FAV had the highest positive PrcNAVSprd.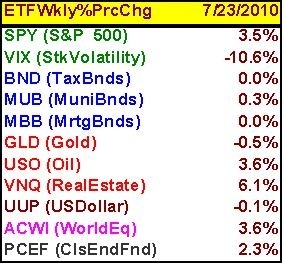 Insider Trading: The recent biggest insider buying was in TCW Strategic Income Fund (NYSE:TSI). Tad Rivelle, a portfolio manager at TSI, accumulated 61,400 shares of the stock for an expenditure of $303,861 late in July. This brings his total share holdings to 252,309. Mr. Rivelle has been a consistent buyer of the stock since about April of this year.
Mr. Rivelle is one of the portfolio managers of the investment manager that was acquired in a merger by TCW. Other principals in the acquired management company have also been buyers of the stocks this year.
There has also been some consistent buying by the directors of Special Opportunities Fund (NYSE:SPE) this year. Two directors recently each acquired 1,000 shares at $12.78 per share.
One of the directors of the MFS funds acquired small positions in MFS High Income Fund (NYSE:CXE), MFS Charter Income Fund (NYSE:MCR), MFS Special Value Trust (NYSE:MFV) and MFS Government Markets Income Trust (NYSE:MGF).
CEF insider transactions' roster was notable for the fourth consecutive weekly absence of the Horejsi Group. Horejsi has been a consistent buyer of any number of CEFs which it controls.

CEF Distribution Announcements This Week: The following is a link to a table of CEF distribution announcements this week as well as the previous week's with yet expired ex-dividend dates. The list is not intended to be inclusive. (Please note that the one week price change represents two weeks given last week's non-publication of the "CEF Weekly Review".)
Significant CEF Corporate Events: First Trust/Four Corners Senior Floating Rate Income Fund (FCM) announced that the Board of Trustees approved and adopted a Plan of Termination, Liquidation and Dissolution which will result in the termination of FCM. FCM trades at a slight discount of 2% in anticipation of its liquidation.
The European Equity Fund, Inc. (EEA) and The New Germany Fund, Inc. (GF ) announced approval of a stockholder proposal to reduce the Funds' market discounts and approved a series of up to four, consecutive, semi-annual tender offers each for up to 5% of the Funds´ outstanding shares at a price equal to 98% of net asset value ("NAV"). The first measurement period will commence on September 1, 2010. The Program also provides for the continuation of share repurchases by each Fund such that EEA and GF are authorized to repurchase up to 600,000 and 950,000 shares, respectively, during the period August 1, 2010 - July 31, 2011.
The Central Europe and Russia Fund (CEE) authorized an extension of the current repurchase program to repurchase up to 1,300,000 shares during the 12 month period August 1, 2010 – July 31, 2011. The Fund provides monthly updates concerning its repurchase program on its website at www.dws-investments.com.
DWS Enhanced Commodity Strategy Fund (GCS) announced at a reconvened annual meeting of stockholders held July 22, 2010; preliminary results indicated stockholders approved the Board's proposal to merge the Fund into DWS Enhanced Commodity Strategy Fund, a registered open-end (mutual) fund also managed by Deutsche Investment Management Americas Inc. The merger is expected to be completed by the end of August 2010.
CEF Focus Stock for the Week: There seems to be some empirical validity in a modified CEF adage, "buy at a discount and sell at a premium". In study of quarter-end premium/discounts compared to a rolling average of the four previous quarter-end premium/discounts, the nominally lower spreads out-performed those with nominally higher spreads at the extreme ends of the spectrum (Widening CEF Discount May Indicate Better Future Performance (7/20/10)). This was particularly consistent with the top 3 and bottom 3 CEF spreads.
Joe Eqcome (Owns a diversified portfolio of CEFs that include PCEF)
---
[*] All things being equal, price and NAV should move in tandem. A price movement greater than the NAV generates a positive PrcNAVSprd and may be interpreted as negative on a near-term basis and indicate that the stock is overvalued relative to its NAV which in theory is the stock's intrinsic value. The opposite would be true for a negative PrcNAVSprd.
---
Disclosure: Owns a diversified portfolio of CEFs that include PCEF.