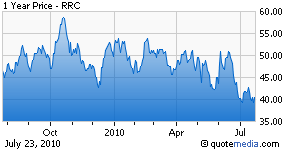 Small (mid) cap independent producer Range Resources (NYSE:RRC) offers a concentrated investment in the new Marcellus Shale natural gas field in Pennsylvania at a McDep Ratio of 1.00, down from 1.28 when we began coverage in April. The stock's indicated potential has improved with a decline in price and an increase in our estimate of Net Present Value (NPV) to $40 a share from $35.
Trading below its 200-day average, indicating a downtrend, stock price may be setting up a second chance for investors to take a position in RRC's rapid growth. Marcellus production is doubling in 2010 and may double again in 2011. Suggesting another double after 2011, RRC eventually may drill more than 4000 wells to tap some 20 trillion cubic feet of potential. Pennsylvania boosts the outlook for all of RRC in production and potential reserves. The participation of other companies in the Appalachian boom, including ExxonMobil (NYSE:XOM), lends credibility to RRC's enthusiasm.
With current stock price near NPV, investors are paying just for currently proven reserves and the near-term level of operations. Increases in volume contribute to increases in cash flow. Expecting growth to continue, we see favorable prospects for Range and its peers in our Income and Small Cap coverage. Of course, we worry about existing investments when stock prices go down. Yet, we like to buy good ideas at prices we believe will be rewarding before long.
Originally posted on July 1, 2010.