Satya Nadella may have become CEO at Microsoft (NASDAQ:MSFT) at just the right time. After quite a few years of languishing in the wrath of investors critical of the sluggish share performance, MSFT seems on track to return to growth in sales and profits. The reported Q3 results released Thursday are consistent with that kind of trend. Microsoft stock has also been strong, up 25% year over year after almost a decade of flat lining.
On April 22, 2014 I published an article forecasting earnings of $0.71 per share for the quarter on revenues of $21 billion.
While Microsoft's actual results fell a bit short of that call, the $20.4 billion sales and $0.68 per share net income was enough to motivate some after hours' buying with the stock up about 3%.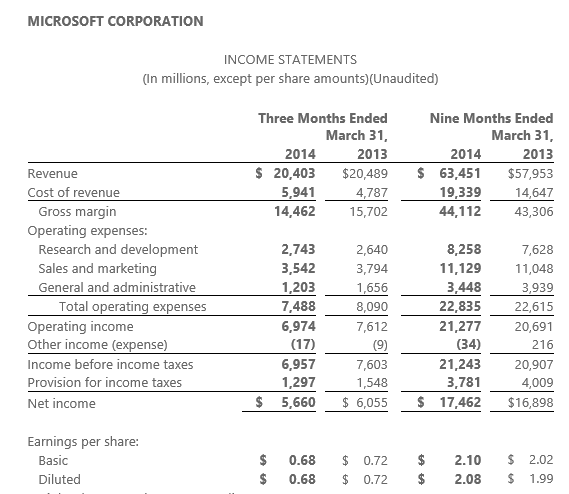 Source: Microsoft
The miss was entirely in the Commercial Licensing segment where revenues of $10.3 billion fell short of my $10.8 billion estimate.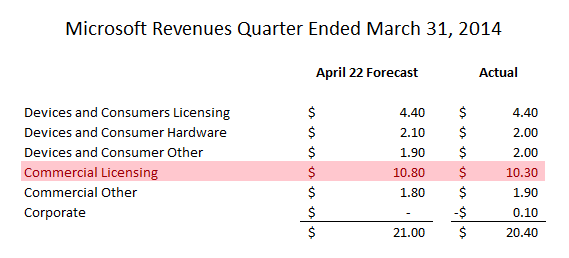 Source: Microsoft earnings release, Blair analysis
The rest of the income statement was pretty well as forecast.
The shortfall against my estimate for Commercial License may be explained in part simply because I was too aggressive and in part because of growth in unearned revenues which rose 14% to $19.5 billion. Estimating when Microsoft will recognize revenues from licenses that extend beyond the term of the reporting period requires more information than available publicly including the timing of when the licenses were contracted and their duration.
Notwithstanding, there were signs that Microsoft is advancing in all areas. Revenues from commercial Cloud, Office 365 and Azure were all up triple digits.

Source: Microsoft earnings release slides
In the Devices and Consumer Licensing segment, Microsoft added 1 million subscribers to Office 365 Home to bring the total to 4.4 million. I expect the release of Office for the iPad will contribute to continued strong growth in this key product line.

Source: Microsoft earnings release slides
Key product lines like Lync, Sharepoint, Exchange and SQL server all reported double digit growth in revenues according to the Microsoft release. Xbox platform revenue was up 45% and Surface tablet revenues were up 50%. In summary, it was a strong quarter with evidence of progress on a number of fronts.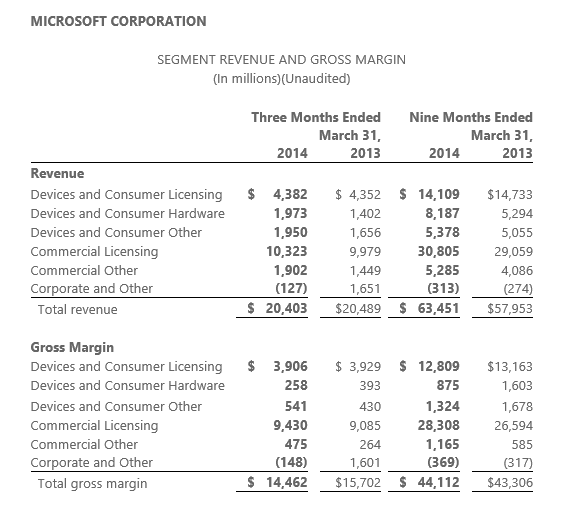 Source: Microsoft
The major reason for a slight year-on-year decline in margins is the shift from a profit of $1.6 billion from Corporate and Other adjustments in 2013 to a loss of $148 million in the current period. I could not find the explanation for the shift but am confident it was of an accounting nature and will keep digging until it turns up.
However you slice it, Microsoft is growing; its margins are improving; and, its strategic shift to become more Cloud based is showing promise.
The Microsoft acquisition of the handset business of Nokia closes Friday. That business will be rebranded Microsoft Mobile and will hit the ground running with new devices planned to be launched in the coming weeks. Windows phone is starting to gain traction in some markets with market shares in Italy reported at 16.1%; the United Kingdom at 10.1%; Germany at 7.5%; and, France at 8.3% according to Kantar World Panel. It will be interesting to see how much emphasis Microsoft places on the Nokia X line of devices introduced earlier this year with Android OS yet a distinctly Windows-like interface. The innovative devices apparently were well received when launched in China.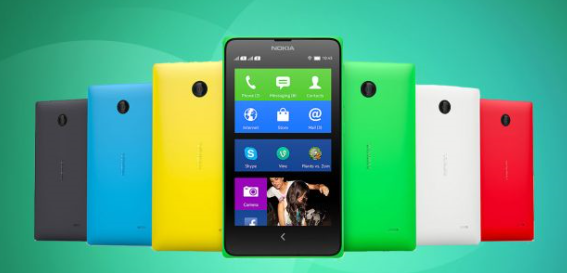 Photo: Techradar
As it stands, Microsoft's mobile offerings are more of a side show than the main event with Surface sales running at a mere $2 billion annual rate and Windows OS phones a distant third to Android and iOS devices worldwide. I doubt that Microsoft will abandon the initiative any time soon nonetheless, and the release of Windows Phone 8.1 in a few weeks' time may prompt some interest.
The stock has been very good to me over the past year and readers should not construe my lack of a holding as negative about the company's prospects which remain solid. I have clipped about $350,000 trading MSFT call options since the fall of 2012 and am grateful for the improvements made during that time by Steve Ballmer.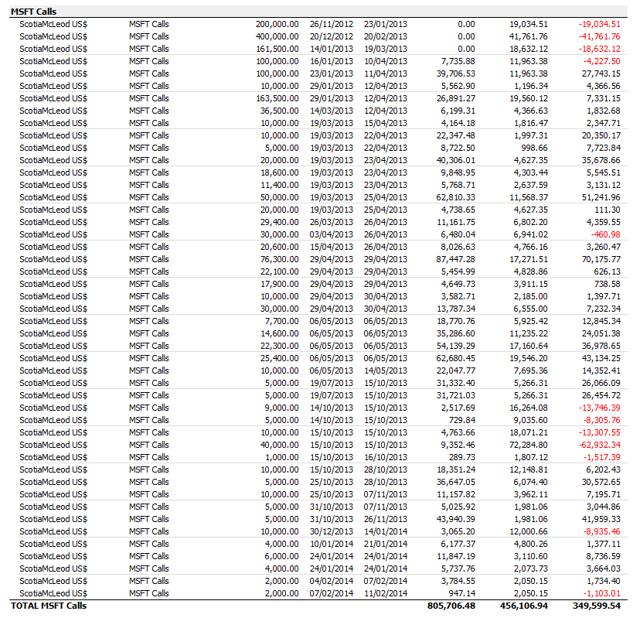 Source: Blair trading records
At $41 a share I believe that Microsoft remains reasonable value but do not currently have any position. The fact is that it is difficult and sometimes dangerous to try to dance with every girl at the party.
Disclosure: I have no positions in any stocks mentioned, and no plans to initiate any positions within the next 72 hours. I wrote this article myself, and it expresses my own opinions. I am not receiving compensation for it (other than from Seeking Alpha). I have no business relationship with any company whose stock is mentioned in this article.