For the third time this year, Plug Power (NASDAQ:PLUG) announced after the market close on Tuesday that it would be diluting existing shareholders with a new proposed public offering of its common stock. It later revealed in an SEC filing that the amount of shares in the offering was 15.00 million shares of common stock, with an option for the underwriter to purchase within 30 days an additional 2.25 million shares. At Plug Power's closing price of $6.41 on Wednesday, the offering could add up to $110 million, including the additional shares, larger by far than any other recent offering.
Plug Power shareholders were understandably dismayed by the announcement, particularly its timing, coming just the day after the company issued positive press releases and hosted a much-hyped conference call. Specifically, Plug Power pre-announced that it had closed nine GenKey deals totaling almost $80 million in bookings. Also, it disclosed that it had signed a non-binding memorandum of understanding (MOU) with Hyundai Hysco Co. Ltd. (Hysco) to create a joint venture partnership to develop and sell hydrogen fuel cells in countries throughout Asia using Hysco's advanced stack and plate technology. Furthermore, it also projected that it would close $150 million in bookings this year, almost double last year's total bookings of $80 million
In the aftermath of those positive announcements, many shareholders bought Plug Power shares as high as $8.37 during the first hour of trading on Monday. With shares down as low as $6.03 in early morning Wednesday, just two days after those positive announcements, it is easy to see why many shareholders feel betrayed by management. As taken aback as many shareholders may have been by the public offering announcement, a quick study of the company's financial statements and its past history of diluting shareholders would have revealed that such an announcement should not have been a surprise for sure, but maybe even expected.
First, let's look at its history of public offering announcements over the past three years (see Chart).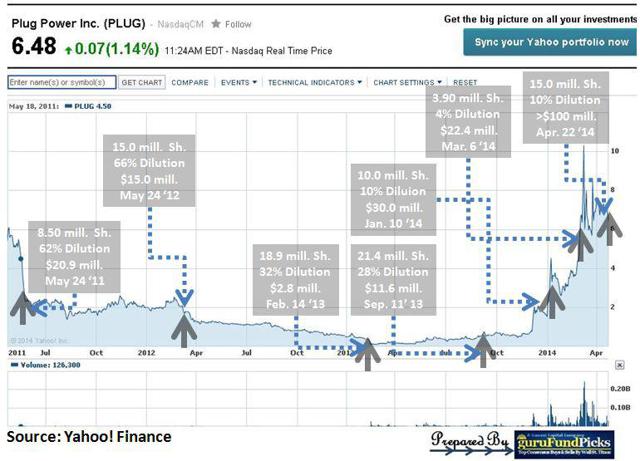 As can be seen, Plug Power raised $20.9 million in 2011 via one public offering that diluted then-existing shareholders by 62%. Next year, in 2012, it raised $15.0 million via one public offering, diluting then-existing shareholders by 66%. Following that, in 2013, it raised $14.4 million via two public offerings that cumulatively diluted then-existing shareholders by 41%. Finally, in the first four months of 2014, it has announced plans to raise over $150 million via three public offerings that will cumulatively dilute shareholders by 18%.
Judging by that, it would seem that Plug Power is getting very efficient at raising additional cash. So, as much as existing shareholders may be disappointed by the announced offering, and while the timing is circumspect, longer term it is in the interest of shareholders that the company raise cash while the share price is high. If that sounds a bit harsh, consider the converse. Given that the company has to raise additional cash to finance its loss-generating operations, would you rather that it raise cash when prices fall to lower levels, thereby diluting existing shareholders even more?
Assuming the company is able to offer shares somewhere in the $6 to $7 range, it will have about $140 million to $150 million in cash, more than it has had at any time recently. Meanwhile, its cash burn can be expected to go down significantly from the $5 million to $8 million per quarter that it has burning for the last three years as it approaches cash flow positive sometime before the end of FY 2015 (as projected in the latest estimates on Yahoo Finance). What that means is that Plug Power shareholders most likely don't have to worry about the overhang of more dilutive offerings anytime soon. That is a welcome relief, and maybe even a cause for celebration, given the company's history of dilutive offerings.
However, the timing of the offering bears some scrutiny and calls into question the assumption that Plug Power will reach cash flow positive anytime soon. For one, the company had already raised over $50 million in two prior offerings earlier this year, and we are only into April. Why then did the company feel compelled to do a third one, and a massive third one at that? At potentially over $100 million to be raised from the offering (including additional shares), it would be five to six times larger than the average of the prior six offerings in the last three years.
Is it possible then that senior management, with their deep and intimate knowledge of the company strategy and operations, believe that current share prices from the surge pre-March are likely an anomaly, and that they believe prices are likely to retreat to lower levels from here? Is it possible that the company is raising this huge war chest of cash with a strategy of going soon into additional markets such as aerospace and transportation, that would be a great long-term positive, but in the short term would put additional strain on the company's cash resources and would delay cash flow positive for quite a while?
Besides that, there are other reasons that an investment in Plug Power may keep you awake at night, many of which we discussed in an earlier article this week. We were actually prescient on one of those, namely, "its long-standing practice of financing operations by diluting existing shareholders," as the company announced its dilutive offering the day after our article was published. Many others, including its long history of disappointing investors, of over-promising and under-delivering, negative gross margins, and negative EBITDA and losses can also be verified by perusing its SEC filings.
To add to those reasons, investors should be concerned about its near-$1 billion in market-cap, given that in the last quarter it generated only $8 million in revenue while losing 28 cents per share or $29 million. Also, while overall revenue was up in FY 2013 to $26.6 million from $26.1 million in FY 2012, looking at the breakdown in its most recent 10-K for FY 2013 (see excerpt below), we see that product revenue actually fell to $18.4 million in FY 2013 from $20.8 million in FY 2012, while service revenue rose from $3.6 million in FY 2012 to $6.7 million in FY 2013. This is clearly not a sustainable strategy, and we will have to see meaningful growth in product revenue for the stock to go anywhere.

Clearly Plug Power has great long-term potential, and there are equally compelling reasons to believe that this could be a potential multi-bagger in the long term if its proton exchange membrane (PEM) fuel cell technology is adopted beyond its current focus on the material handling market, including applications in automotive and aerospace industries. However, there is a big 'if' there, and so far the company has not proven that it can achieve positive gross margins, let alone a profit.
It is in these situations where there is a high degree of disagreement between the bullish and bearish arguments, that we have found strong merit in analyzing the collective or consensus buying and selling by our hand-picked 330+ leading fund managers (see Table). On our site, GuruFundPicks.com, we scan, track and analyze their latest buying and selling to determine their top collective or consensus picks in over 200 industry groups. Their ownership change over multiple quarters, and net buying and selling, both in shares and in number of funds, and the percent outstanding shares held by these leading funds, especially when compared to similar sized peers in the same industry, is like reading tea leaves. It gives us the extra edge, increasing the probability of making the right decision, and in many cases saving us from making a wrong decision on a stock.
In our earlier article, we outlined the collective or consensus buying and selling activity of these leading fund managers in Plug Power in 4Q '13. In this one, we show you how their cumulative ownership has changed over the last four quarters (see Table).

The largest sellers of Plug Power shares in 4Q '13 were:
Quantitative hedge fund Renaissance Holdings, founded by billionaire Jim Simons, and with $41.8 bill. in 13-F assets, that sold 1.02 million shares, and held 0.74

million shares at the end of the quarter;

BlackRock, the world's largest and most prominent asset manager, with $3.6 trillion in assets under management, that sold 0.53 million shares, and held 0.56

million shares at the end of the quarter; and

American multinational banking and financial services co. Bank of America, with over $2.0 trillion in assets under management, that sold 34,177 shares, and held 45,535 shares at the end of the quarter.
You can view complete summarized 13-Fs of all of these funds, and over 330 more for free on our website, GuruFundPicks.com.
As illustrated in the Table, leading fund managers after cumulatively or in consensus added 1.83 million shares of Plug Power in the first half of last year. They sold shares in the last half of the year, with 1.32 million shares sold in 4Q '13, when Plug Power shares surged above $2. Furthermore, it is also very significant that together our top 330+ leading funds own only about 1.0% of outstanding shares of Plug Power, as generally we would expect ownership to be at least in the double digits, and possibly much higher, for stocks in the $1 billion market-cap like Plug Power. While data for the just completed 1Q '14 will be available in mid-May, it would be appropriate to infer based on their selling in 4Q '13, that leading fund managers, almost all of whom are value buyers, would not be buying it at current prices in the $6 to $7 range.
We have learned to heed to these signals from leading fund managers, especially when they buy or sell collectively or in consensus. In our research, we have observed strong correlation between leading fund manager ownership, including their consensus buying and selling activities every quarter, and the stock's immediate and long-term performance. We have documented many such cases on our website and in our archive of articles on Seeking Alpha, including five cases we discussed in just the last two weeks on Gilead (NASDAQ:GILD), Facebook (NASDAQ:FB), BlackBerry (NASDAQ:BBRY), Micron (NASDAQ:MU), and Apple (NASDAQ:AAPL).
Plug Power is scheduled to report its Q1 '14 on May 14th after the market close. The stock is currently weak technically, undercutting its $6.03 low from Wednesday, and closing at $6.01. While traders can try to make money on the short side, it is only for the extremely nimble and those with an iron heart. For the rest of us, it is probably best to stand aside for now, and let it resolve the excesses from the strong run-up earlier this year. With the threat of dilutive offerings behind us, we are definitely more optimistic about the outlook for Plug Power than we were at the beginning of the week, and would look to accumulate shares on any dip below $4.
Disclosure: I have no positions in any stocks mentioned, but may initiate a long position in PLUG over the next 72 hours.
Business relationship disclosure: The article has been written by the Hedge and Mutual Fund Analyst at GuruFundPicks.com. GuruFundPicks.com is not receiving compensation for it (other than from Seeking Alpha). GuruFundPicks.com has no business relationship with any company whose stock is mentioned in this article.
Additional disclosure: Use of GuruFundPicks' research is at your own risk. You should do your own research and due diligence before making any investment decision with respect to securities covered herein. You should assume that as of the publication date of any report or letter, GuruFundPicks, LLC, has a position in all stocks (and/or options of the stock) covered herein that is consistent with the position set forth in our research report. Following publication of any report or letter, GuruFundPicks intends to continue transacting in the securities covered herein, and we may be long, short, or neutral at any time hereafter regardless of our initial recommendation. To the best of our knowledge and belief, all information contained herein is accurate and reliable, and has been obtained from public sources we believe to be accurate and reliable, and not from company or persons who have a relationship with company insiders. Also, in our preparation of this article, we referred investor resources such as Zacks.com, Marketsmith and Sentieo.