Thanks to Barron's article, AFLAC (NYSE:AFL) has been as high as $51.26 this morning. We'll know a lot more after tomorrow's close when the company reports Q2 earnings. Fiserv (NASDAQ:FISV) and Wright Express (WXS) also report tomorrow.
Fiserv, by the way, is a great example of a company that delivers consistently higher earnings. Here's a look at their reported earnings in blue along with Wall Street's projections in red.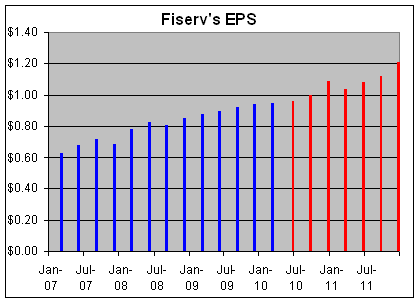 As an investor that's exactly what I like to see. I like to take the guesswork out of investing. That's why I often refer to the full-year earnings projections that a company provides. Many companies don't do that.
Fiserv has said to expect an EPS increase for this year of 8% to 11%. Last year, they made $3.66 per share so that works out to range of $3.96 to $4.07 for 2010.
Nicholas Financial (NASDAQ:NICK) is due to report its earnings on Thursday morning at 10am. I'm also very curious to see the government's first report on second-quarter GDP which comes out on Friday. I'm afraid it won't be very good.
Lastly, let me add that I was pleased to see Amazon (NASDAQ:AMZN) open down a lot on Friday. Well, I spoke too soon. The stock had one of the most impressive intra-day rallies I've ever seen. The shares opened at $115.93, down over $14, and closed just shy of $119.