Supervalu's (NYSE:SVU) new CEO, Sam Duncan and his team are making progress in stabilizing SVU's sales results. It was surprising to see SVU's share price jump by 17% early Wednesday morning after its results beat consensus forecasts, but give up most of those gains on Wednesday and Thursday. However, investors interested in special situations and turnaround plays should still selectively accumulate shares in SVU, based on its progress in stabilizing its revenues and profits.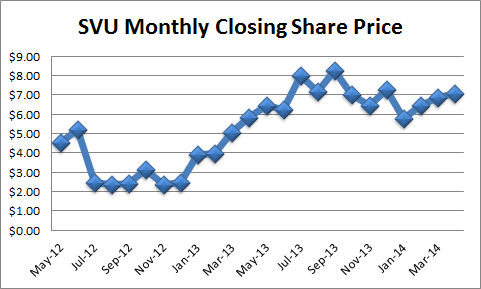 Source: Morningstar Direct
Save-A-Lot: SVU's management discussed its efforts to improve the performance of its Save-A-Lot hard discount business earlier in the year, and one can see these efforts have resulted in improved results on its top & bottom lines in Q4 2014, based on the following observations:
Positive 3.5% identical stores sales growth from its corporate-owned Save-A-Lot stores, which was the third straight quarter of positive comps from these particular stores.
Save-A-Lot's overall identical stores sales growth was 2.1%, which was the second straight quarter of positive comps and the third straight quarter of improved comps from its total store base.
Save-A-Lot's overall revenue increased by 3.1% during the quarter, (0.79% in FY 2014) due to incremental store growth and the aforementioned identical stores sales increases.
Save-A-Lot's adjusted EBITDA declined by $5 million (2%) as targeted cost cuts offset incremental investments in lowering prices paid by customers.
Meat department and produce continues to generate positive identical store sales growth due to improved collaboration with its licensees on store operations and merchandising.
Save-A-Lot implemented this year a mystery shopper program, where management visits each corporate-owned store unannounced at least two times a month, with immediate feedback to the store operations team on the store's performance.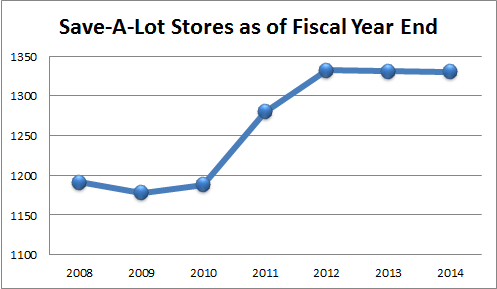 Source: SVU's Annual Reports, 2008-2014
SVU's Traditional Retail Food business continues to face the most challenges amongst SVU's business units even after SVU sold its New Albertsons Inc. store operations (Albertson, Acme, Jewel-Osco, Shaw's and Star Market) to Cerberus. SVU's management made a good point when they said the Traditional Retail Food segment saw the largest structural and operational changes, and where it took its grocery store banners some time to adapt to the new structure. Although there is still more work to do in improving this segment, but its fourth-quarter results demonstrated the team's ability to develop promotional plans that create the desired customer behavior that will help SVU drive sustainable sales growth in FY 2015.
Q4 2014 revenues from this division were $1.09 billion, and represented a 0.2% year-over-year decline versus last year's comparable quarter due to positive identical store sales of 0.2% and a slight reduction in its store footprint. Identical store sales grew slightly due to a 0.6% decline in its customer count, but a 0.8% increase in its average customer basket size. Retail Food's adjusted EBITDA was $77 million in Q4 2014 versus $67 million in Q4 2013. The increase in adjusted EBITDA was due to the accrued benefits of SVU's cost-cutting initiatives and stabilizing gross margins.
SVU is working hard to instill a new sense of urgency and discipline in its stores. SVU's management recently identified sales opportunities in categories such as pet, baby and seasonal. SVU is well underway on its efforts to resize and re-merchandise these departments in an effort to optimize sales in these important categories. Investors should agree with SVU's management that its stores are moving in the right direction, and were pleased at its increased private-label penetration year-over-year (up 100bp). Part of this growth is due to the rollout of 250 new private-label products in the first half of FY 2014 and improved product promotion and positioning.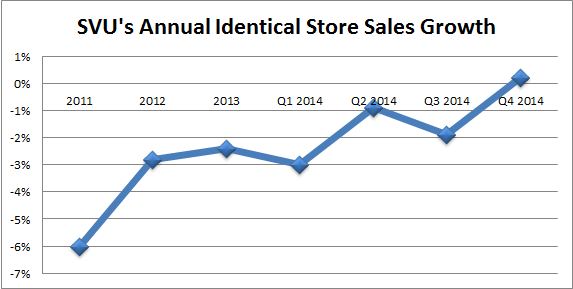 Source: SVU's 2011-13 Annual Reports plus its FY 2014 quarterly earnings calls
SVU's Independent Wholesale Grocery Distribution Business's revenue of $1.821 billion in Q4 2014 declined by $11 million (0.6%) versus Q4 2013 ($1.832 billion). The division saw steady growth in its adjusted quarterly EBITDA ($65 million) in Q4 2014 versus Q4 2013 ($62 million). The division's adjusted operating earnings increased by $8 million, as reductions in bad debt expenses, strong operating expense management and $3 million in reduced charges for depreciation/amortization offset its sales declines.
SVU Independent Business's year-over-year revenue declines were due to a decline in military volume caused by government sequestration and the loss of two large customers that decided to go in a different strategic direction. This volume loss will be a headwind for the next three quarters. Partially offsetting these declines were net new business from new customers. Over the past couple of years, the SVU Independent Business consolidated the volume from warehouses in Ohio and Wisconsin into other facilities to lower its overall operating cost. Earlier in the year, SVU reorganized the business into two geographic regions. SVU located its eastern region operations in Mechanicsville, VA and western region operations in Hopkins, MN. As part of this reorganization, it created new key senior level roles within each region that management believes will help SVU in both affiliating new independent retailers and driving sales growth with current customers.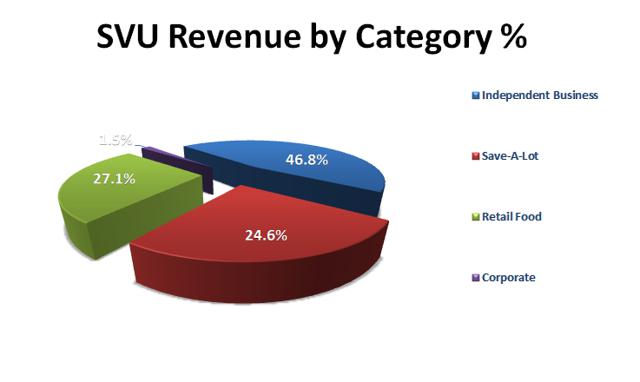 Source: SVU's Q4 2014 Earnings Report
SVU Corporate received $46 million in transition fees from New Albertsons Inc. during the quarter as part of the Transition Services Agreement between SVU and NAI. The NAI TSA provides NAI and Albertsons LLC with certain administrative and other services following the closing of the NAI stores for an initial term of two and a half years following the sale. The agreement is subject to certain adjustments under the terms of the agreement, such as a decrease in the number of stores and distribution centers operated by NAI and Albertsons. SVU's continuing operations had positive free cash flows of $120 million in FY 2014, despite making $326 million in working capital investments. SVU also made $105 million in cash tax payments settlements reached within the IRS for prior year audits.
Cerberus is SVU's largest shareholder, and holds ~21% of SVU's outstanding shares. Cerberus's affiliate Symphony Investors acquired its stake in SVU through a tender offer last year and gained the right to nominate three board members. Two of Cerberus's designated directors (Mark Neporent and Lenard Tessler) had resigned in March, and Cerberus replaced them with Frank Savage and Mathew Pendo, both who were former investment bankers.
In conclusion, SVU's shares are still undervalued. While the company's regression in 2013 was shocking, investors in SVU were able to salvage value from their positions in the company because it was able to shed its New Albertsons Inc. stores, as well as $3.2 billion in debt that was associated with that awful acquisition. SVU has been more aggressive in reducing its operating expenses and capital expenses and reinvesting those savings in lower prices for its customers. Investors should like the back-to-basics strategy that SVU's new management is executing, and that it has respected investors like Cerberus and JANA Partners backing it. Furthermore, JANA reinforced its conviction in SVU by increasing its position by 33% in its most recent quarterly filings.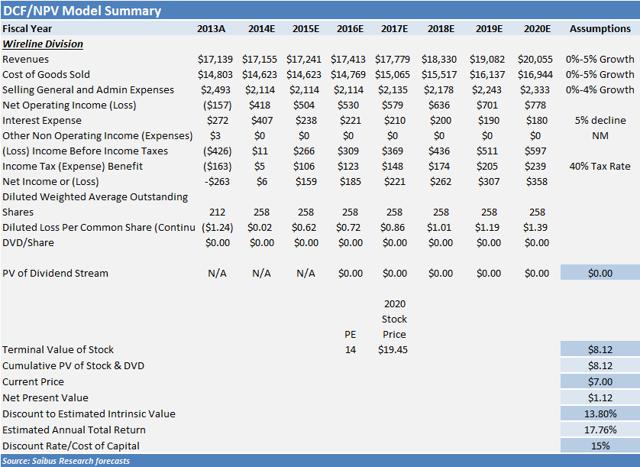 Disclosure: I am long SVU. I wrote this article myself, and it expresses my own opinions. I am not receiving compensation for it (other than from Seeking Alpha). I have no business relationship with any company whose stock is mentioned in this article.