Shares of telecom giant AT&T Inc. (NYSE:T) slid post earnings, as investors weigh the consequences of customers choosing to pay a premium for smartphones to get a lower bill in the future. Fears emanating from the switching of pricing plans are overblown. In my opinion, the biggest threat to AT&T's wireless business stems from regulators, which isn't a major concern near term.
The real story with AT&T is its wireline business. The wireline business is being positioned to become a major player in the Internet and cable industries. AT&T is besting Verizon's (NYSE:VZ) recently upgraded FiOS with its ultra-fast fiber network. AT&T's new wireline network could be one of the premier services in the country. This is part of Project Velocity IP, which could lead to substantial revenue growth in the back half of the decade, as the company makes the services available to more households.
The outlook for the wireline business adds degrees of confidence to my intrinsic value estimate of $46 per share. The share price could converge to its intrinsic value in a two years' time period.
Recent Developments
The Chernin Group and AT&T are teaming up to create a solution for the VOD market.
The company is expanding its ultra-fast fiber network, which features broadband speeds of up to 1 Gbps and advanced TV services.
Analyst's Note
AT&T Inc., through its subsidiaries and affiliates, provides wireless and wireline telecommunications services in the United States and internationally. The company has three reportable segments: Wireless, Wireline, and Other.
| | | |
| --- | --- | --- |
| For the year ending (in millions of dollars except per share data): | 2013-12 | 2014-12E |
| Revenues | 128752 | 135833 |
| Adjusted operating income | 22895 | 24450 |
| Adjusted net income | 13489 | 14942 |
| Adjusted diluted EPS | 2.51 | 2.87 |
I was forecasting operating revenues growth of 2.5% for 2014, but management is guiding to 4+% for the year. Given the subscription nature of revenues, the guidance is likely to be relatively accurate. Consequently, the increase in the full-year revenues estimate represents a bullish scenario. The new revenues estimate is $135.8 billion, which is up from $132 billion. The adjusted (for pension plan changes) profitability margins are tracking in line with my expectations. Consequently, the adjusted diluted EPS forecast increased from $2.79 to $2.87.
People have a tendency to focus on the wireless operations of AT&T, but the wireline business is just less than 50% of revenues. Consequently, I think the wireline business deserves more attention than it often gets.
U-verse Services, high speed Internet and TV, are a key component of the wireline business. The majority of U-verse customers are Internet subscribers. Looking forward, management is expanding the reach of the U-verse services through Project Velocity IP ("VIP"). VIP could be accretive to consolidated revenues through the back half of this decade.
| | | | |
| --- | --- | --- | --- |
| For the year ending (in millions of dollars): | 2012-12 | 2013-12 | 2014-12E |
| Data | 31841 | 33593 | 34769 |
| Voice | 22614 | 20333 | 18300 |
| Other | 5118 | 4888 | 4644 |
| Operating revenues | 59573 | 58814 | 57712 |
| Segment income | 7242 | 6271 | 6637 |
For 2014, I think wireline revenues decline about 2%, as the decline in revenues from voice more than offsets gains in data. The segment income is uncertain, but for now, I am modeling roughly flat margins. The declines in sales of voice services are structural, as consumers disconnect traditional voice service(s) in favor of wireless and/or VoIP, which is part of Data.
AT&T's wireline business is able to compete effectively with both Verizon and the traditional cable operators, such as Comcast (NASDAQ:CMCSA). Consequently, as management makes the services available to more households, the revenues from Data should more than offset the declines in traditional Voice.
Overall, AT&T posted a solid first quarter and issued guidance that suggests an excellent fiscal year is in the making. Investors will be looking forward to second quarter results, which will include sales of the new Samsung Galaxy S5.
Risks
The share price is likely to remain volatile, and investors could lose a portion or all of their investment.
Investors should judge the suitability of an investment in AT&T in light of their own unique circumstances.
A decline in the global economic growth rate and/or a decline in the pace of economic growth in the United States could adversely impact the results of operations and the share price.
Competition in product development and pricing could adversely impact performance.
Incorrect forecasts of customer demand could adversely impact the results of operations.
Higher interest rates may reduce demand for AT&T's offerings and negatively impact the results of operations and the share price.
This section does not discuss all risks related to an investment in AT&T.
Portfolio & Valuation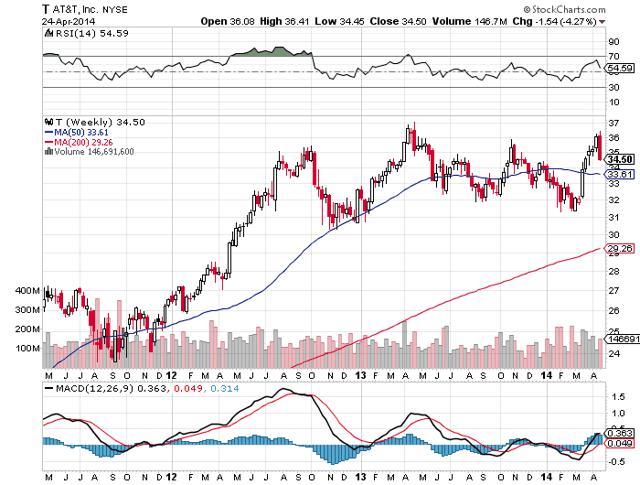 AT&T met with stiff resistance again just below the $37 per share level. This comes as the share price remains in a bear market of primary degree. I would watch for support in the low $30s to continue to hold. But a break of that key support zone would signal substantial additional downside.
| | | |
| --- | --- | --- |
| | Estimated intrinsic values | Forward multiplier models based on base case intrinsic value |
| Optimistic | $61.33 | P/E: 16.01 |
| Base case | $46 | P/S: 1.76 |
| Pessimistic | $36.80 | P/B: 2.66 |
| | | P/CFO: 6.97 |
I used a dividend discount model to value the shares of AT&T. The base case assumes a growth rate in line with U.S. GDP growth. Consequently, at $34.50 per share, I think AT&T is undervalued using even the pessimistic inputs. Using 2014's forecasted fundamentals, and the base case intrinsic value, AT&T would be trading at a moderate premium to its 5-years' average valuations. Three years is my pessimistic convergence to intrinsic value estimate.
Disclosure: I have no positions in any stocks mentioned, and no plans to initiate any positions within the next 72 hours. I wrote this article myself, and it expresses my own opinions. I am not receiving compensation for it (other than from Seeking Alpha). I have no business relationship with any company whose stock is mentioned in this article.