U.S. stocks are once again chasing fresh all-time highs. But despite this latest round of stock market cheer, some investors remain understandably cautious. Not only are stock valuations generally rich at a time when economic growth remains sluggish, but we are also now on the cusp of entering what has historically been a seasonally unfavorable time of year for stocks from May to November. Moreover, it has been well over two years since the stock market has experienced a sustained correction in excess of -10%, which is a long stretch by historical standards. Thus, those stock investors seeking to protect against potential downside risk in the months ahead may be interested in considering high quality stocks that have demonstrated the ability to perform well during periods of broader market weakness. And since the start of the new millennium, one name has performed particularly well in this regard including during the two major bear markets that have occurred along the way.
What stock is this great bear market warrior? It is Family Dollar (NYSE:FDO). The discount retailer with stores located nationwide is a natural bear market performer from an economic and fundamental perspective. The company is a dedicated inferior goods provider that can experience an increase in demand for its products during periods of economic weakness when consumer incomes are decreasing. For while discount retailers are certainly hurt by the loss of demand from squeezed low-income consumers, the potential exists for this demand to be more than offset by those further up the income scale that are seeking to economize and make ends meet by bypassing higher priced retailers and heading to the dollar stores instead. To this point, while the pace of Family Dollar's revenue growth certainly slowed a bit during the financial crisis, the top line still increased by an annualized +2.2% in 2008 and +6.0% in 2009 at a time when the broader business world was buckling under severe stress.
Family Dollar also more than holds it own from a quality perspective. It has a long-term track record of solidly stable and predictable earnings growth over time. It also has an impressive history of dividend growth, as it has been a member of the S&P Dividend Aristocrats since 2001 having increased its dividend payout to shareholders each year for nearly four decades since the mid 1970s. And unlike many stocks in the market today, its valuation, while certainly not inexpensive, is still fairly valued relative to both its historical average as well as the broader market at 16.8 times trailing 12-month earnings.
So exactly how well has Family Dollar performed at times when the broader market is under great duress? The historical track record since the turn of the millennium is fairly impressive. As we all know, the stock market experienced two major bear markets from 2000 to 2002 and from 2007 to 2009. And since the aftermath of the financial crisis, stocks have endured three extended periods - one each in 2010, 2011 and 2012 - when they were facing severe downside pressure until the Fed rushed to the rescue in varying ways with fresh new stimulus programs to soothe investor concerns. We will examine the performance of Family Dollar relative to the broader market in each of these five past instances.
The first notable point from a general perspective is the fairly low correlation that Family Dollar has enjoyed relative to the broader market as measured by the S&P 500 (NYSEARCA:SPY) during these major corrections. The aggregate weekly returns correlation of Family Dollar versus the S&P 500 Index during these phases is just +0.44, which while still positive is extremely low when considering that most stocks have weekly returns correlations relative to the broader market at +0.85 or higher with utilities (NYSEARCA:XLU) considered the one sector that bucks the trend with a correlation at just over +0.70.
The benefit of this lower correlation shines brightly when exploring these five past market correction scenarios.
During the bursting of the technology bubble, which got underway in earnest starting on September 1, 2000 and effectively ended with the start of the Iraq War in March 2003, Family Dollar doubled along the way during this time period and was still up by +50% by the end of it at a time when the S&P 500 declined by -45%.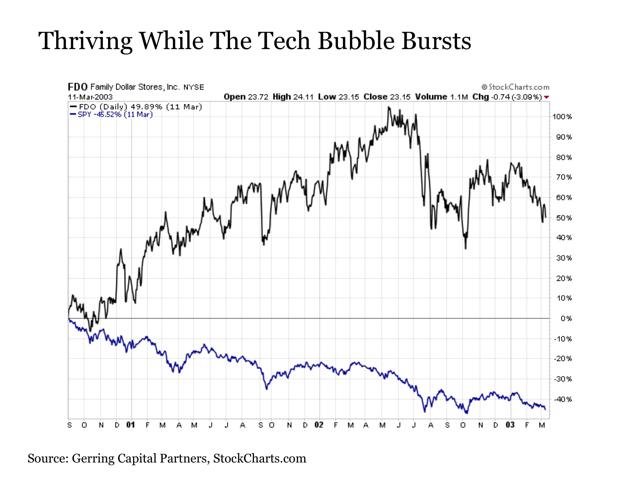 While Family Dollar was certainly dealing with its stock price challenges in 2007 (more on this in a moment), the stock began soaring to the upside once the financial crisis started to pick up speed to the downside in early 2008. From January 2008 to March 2009, Family Dollar stock advanced by more than +90% at a time when the broader stock market plunged by more than -50%.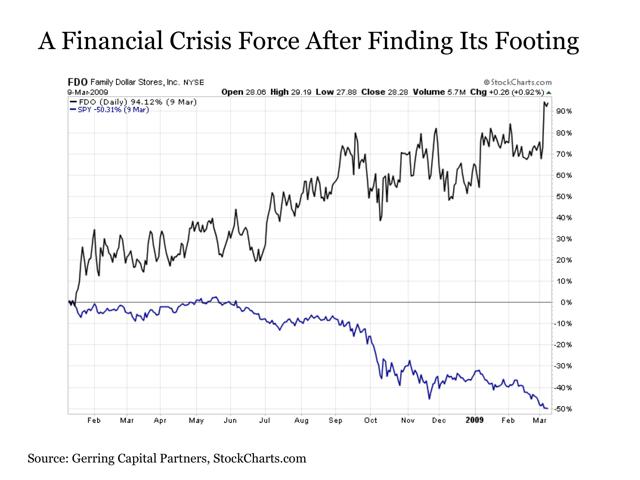 In short, during the most stressful market episodes since the turn of the millennium, Family Dollar was an absolute warrior in notching impressive gains to the upside.
But what about the three periods of stress that have surfaced since the crisis bottom in March 2009? The results are also quite impressive.
Following the end of QE1 starting in April 2010, the stock market endured a month-long decline of more than -12% through late August 2010. But over this same time period, Family Dollar gained more than +11% despite a few stumbles along the way.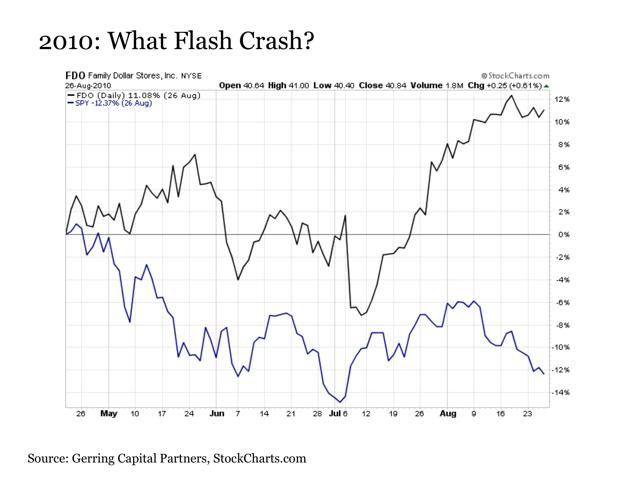 And while Family Dollar was caught in the initial downdraft that occurred following the end of QE2 in July 2011, it quickly rebounded and was up by as much as +12% in late October before finishing up +5% at a time when the stock market was down by -13% over the same stretch.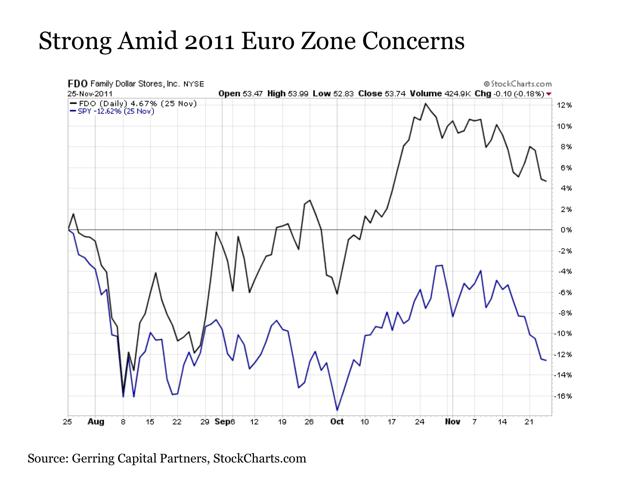 Lastly, when stocks began to stumble once again in the spring of 2012, Family Dollar pushed to the upside. From early April to early June 2012, the S&P 500 Index had fallen by roughly -10%, but over this same phase Family Dollar was up by +7%.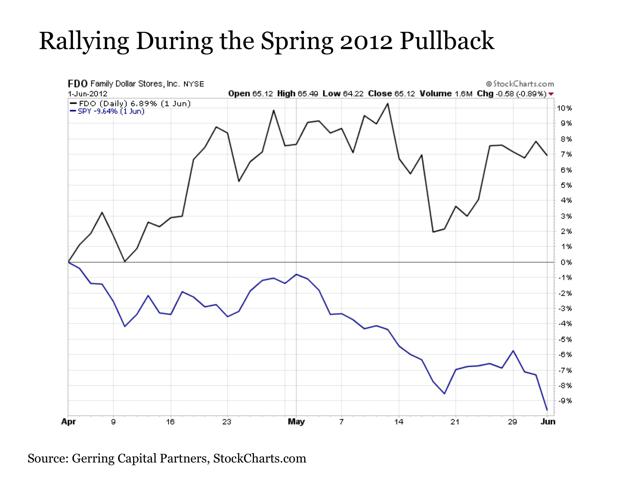 Overall, Family Dollar has demonstrated itself to be a resilient and impressive performer in many instances when the broader market is heading south. But this does not mean that the stock has not suffered extended periods of its own when it has come under heavy pressure. One such notable instance was from July 2007 to early January 2008 when the stock price plunged by -50% as low-income consumers struggled with higher fuel and food costs. While this ultimately turned out to present investors with a tremendous buying opportunity once the stock price reversed and exploded higher as mentioned above, the downside price volatility witnessed prior to this advance was certainly not for the faint of heart.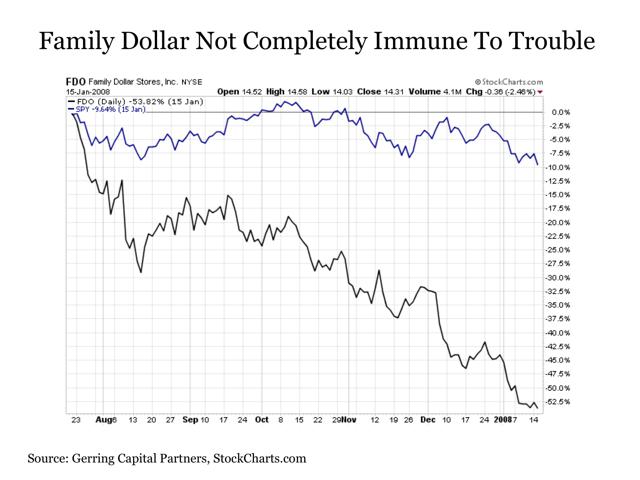 In many respects, Family Dollar is currently enduring another one of these challenging downside phases today. The stock price has dropped by -24% since mid-September 2013 due in part to a reduction in purchases from low-income consumers that continue to struggle with an economy that remains generally poor for all but those at the top of the income spectrum.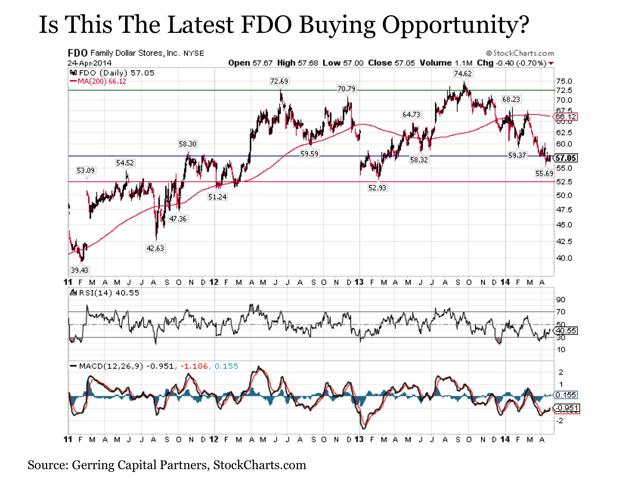 Whether this latest pullback is currently presenting yet another bear market buying opportunity in Family Dollar shares remains to be seen. The stock enjoys a reasonable degree of technical support at current levels, a number of readings suggest the stock is still generally oversold, and it is currently trading at a notably wide -14% discount to its 200-day moving average, all of which suggest that at least a short-term bounce may soon be in order. And if recent history is any guide, Family Dollar stands to fare far better than most of the recent momentum driven high fliers if a sustained correction were to break out across the broader market in the coming months.
Disclosure: This article is for information purposes only. There are risks involved with investing including loss of principal. Gerring Capital Partners makes no explicit or implicit guarantee with respect to performance or the outcome of any investment or projections made. There is no guarantee that the goals of the strategies discussed by Gerring Capital Partners will be met.
Disclosure: I am long FDO, XLU. I wrote this article myself, and it expresses my own opinions. I am not receiving compensation for it (other than from Seeking Alpha). I have no business relationship with any company whose stock is mentioned in this article.
Additional disclosure: I am long the stock market via the SPLV as well as selected individual names. I also have a meaningful allocation to cash at the present time.