Diamond Offshore Drilling (NYSE:DO) began its new era under the leadership of Mr. Marc G.R. Edwards with a very convincing beat on both the top and bottom line. The company also announced its first share buyback since early last decade. This tranche of 1.8 million shares removed from the books demonstrates the willingness of the Board Of Directors to return capital to its shareholder base through thick and thin.
You will recall that in my last article I called for Q1 earnings above consensus forecast. The Consensus estimate for Q114 was $.65 on $677m in drilling revenue. This estimate was handedly beaten to the tune of $.93 on $685m of drilling revenue. The earnings beat can only be explained by the stellar performance of management as well as in the foresight of the Board of Directors granting the share repurchase authorization.
For Q214, the analyst underperformance will continue by missing both top and bottom line numbers. Gregory Lewis, the lead Offshore Analyst for Credit Suisse, currently models earnings of $.51 on $658 million of drilling revenue for Q214. This stumble by a market making investment house can partially be explained by Greg Lewis and his team mistaking the $87.8 million, 1.8 million share buyback for a much smaller $1.8 million share repurchase. This is a huge error and likely reflects in the $40 price target Credit Suisse has on the stock.
My worst-case model for Q214 is $.72 of earnings on $693 million in drilling revenue. This estimate excludes any additional contracts signed above those committed in the latest rig status report and reflects the steps taken by management to reduce cost where able.
Here is the error by Credit Suisse Analyst Gregory Lewis:

(Credit Suisse Research report on Diamond Offshore, 24 APR 2014)
Here is what the company actually did:

(Diamond Offshore Press release, 24 APR 2014)
Errors like this are common in my opinion and explain why Diamond Offshore Drilling has now beat analyst estimates in 11 of the 13 last quarters.

(TD Ameritrade)
My upside 12-month target for the stock remains $62 while downside should be contained to around $45 with a share repurchase commitment now on the table.
Our new CEO Marc Edwards brings a new dimension of leadership to the helm of Diamond Offshore Drilling. I find him knowledgeable, confident and aggressive; very sought after skill-sets in the offshore drilling industry. The calculated aggressiveness of the Board of Directors, along with the renewed company vigor brought by CEO Marc Edwards will serve shareholders well as we move into this very temporary cyclical pause. I am very confident that the Board of Directors will look at distressed rig situations in this current environment. A recent article from Barron's citing Credit Suisse Analyst Greg Lewis (take it for what it's worth) expounded on the rumor that Seadrill (NYSE:SDRL) is marketing some of its rigs for resale. Any distressed rig buy will likely take the form and margin benefits of Diamond Offshore's rig purchases in 2009.
Unlike others, I am unconvinced that we are experiencing anything other than a very temporary cyclical pause. I view it as very positive the recent contracting of two idle rigs Ocean Monarch and Ocean Quest and remain confident in the long-term need for offshore drilling.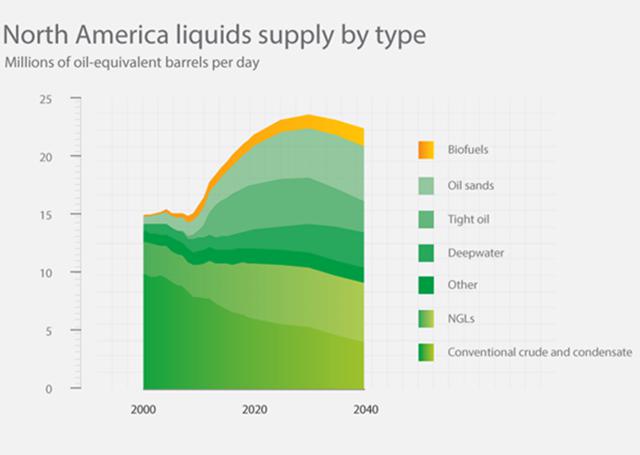 (Exxon Mobil, Energy Outlook 2040)
With 26% of the share float currently sold short, this should make for an interesting summer.
Disclosure: I am long DO. I wrote this article myself, and it expresses my own opinions. I am not receiving compensation for it (other than from Seeking Alpha). I have no business relationship with any company whose stock is mentioned in this article.