Markets set asset prices. Markets determine how much your brokerage account, IRA, and 401(k) are worth. Hedge funds and large institutions drive markets. Therefore, it is prudent to know what large institutions and hedge funds care about and what they see in the current market. Right, wrong, or indifferent, hedge funds and large institutions monitor closely and care about 200-day moving averages.
In oversimplified terms, the big market players like to be in markets that are above their 200-day and out of markets that are below their 200-day. Despite all the calls for the market to head south, both the NASDAQ and Dow closed above their 200-day moving averages on Friday. Last Friday morning, we mentioned some additional potentially bullish developments to watch in Stock Market Outlook Improving Short-Term.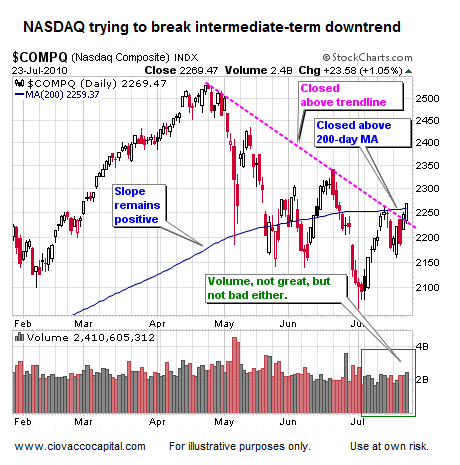 Markets can reverse and be volatile near the 200-day; so one day does not mean all that much. However, the longer these markets can hold their 200-days, and the further they can move away from them in the short-term, the more meaningful it becomes relative to the potential future value of your investments. Shorts will also be much more inclined to cover positions in markets that have recaptured their 200-day moving average, which can fuel a short-covering rally.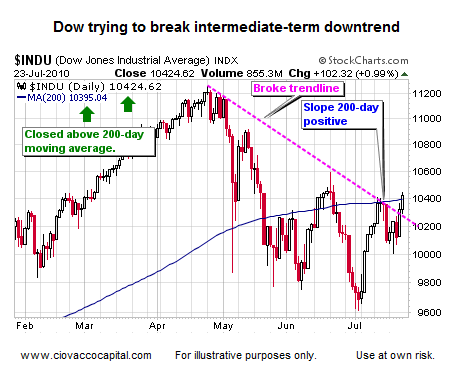 One of the best ways to monitor the health of any rally is to look at the number of stocks participating, which is referred to as market breadth. Wide participation is a sign of a healthier rally; one which has higher odds of continuing for more than a few days. How does market breadth look as of Friday's close? pretty good. The Summation Index (shown below) is an intermediate-to-longer-term measure of market breadth. The Summation Index has made a higher low and recently closed above its 35-day moving average for the first time in eighty-eight calendar days. Both occurrences lean bullish for the intermediate-term.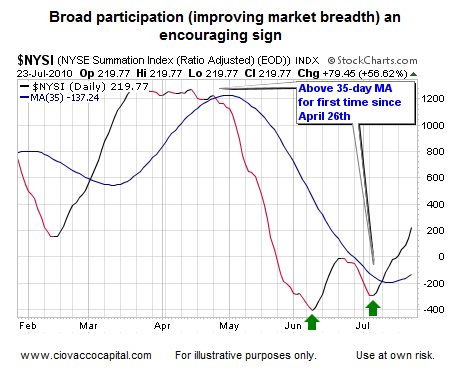 CCM uses a proprietary market model, known as the Bull Market Sustainability Index (BMSI), to help us better understand the market's current risk-reward profile. The current profile looks attractive, especially over the next six months. This ties in well with our comments made on July 2, 2010, Stocks May Surprise By Year-End.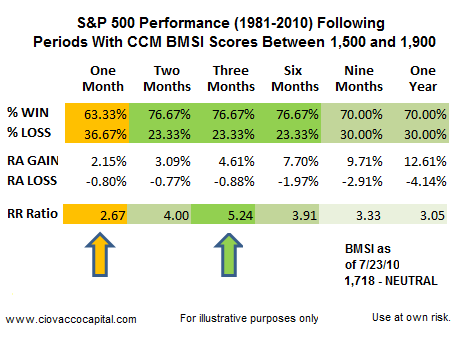 The health of the markets have improved quite a bit in recent weeks, but things still need to be monitored closely, especially as markets congregate near their 200-day moving averages. We would still classify the markets as neutral-to-bullish.
Disclosure: The author and CCM clients have numerous long and short positions in the global stock, bond, commodity, and currency markets. Long EEM, FXA, UDN, EWD, USO, USL, VTI.
The charts and comments are only the author's view of market activity and aren't recommendations to buy or sell any security. Market sectors and related ETFs are selected based on his opinion as to their importance in providing the viewer a comprehensive summary of market conditions for the featured period. Chart annotations aren't predictive of any future market action rather they only demonstrate the author's opinion as to a range of possibilities going forward. All material presented herein is believed to be reliable but we cannot attest to its accuracy. The information contained herein (including historical prices or values) has been obtained from sources that Ciovacco Capital Management (CCM) considers to be reliable; however, CCM makes no representation as to, or accepts any responsibility or liability for, the accuracy or completeness of the information contained herein or any decision made or action taken by you or any third party in reliance upon the data. Some results are derived using historical estimations from available data. Investment recommendations may change and readers are urged to check with tax advisors before making any investment decisions. Opinions expressed in these reports may change without prior notice. This memorandum is based on information available to the public. No representation is made that it is accurate or complete. This memorandum is not an offer to buy or sell or a solicitation of an offer to buy or sell the securities mentioned. The investments discussed or recommended in this report may be unsuitable for investors depending on their specific investment objectives and financial position. Past performance is not necessarily a guide to future performance. The price or value of the investments to which this report relates, either directly or indirectly, may fall or rise against the interest of investors. All prices and yields contained in this report are subject to change without notice. This information is based on hypothetical assumptions and is intended for illustrative purposes only. PAST PERFORMANCE DOES NOT GUARANTEE FUTURE RESULTS.