Seeking Alpha has generated a loyal following by offering individual financial writers a platform for proposing and discussing specific investment ideas. Known as crowdsourcing, SA has been used as a database for a March 2014 academic study. From Estimize Research, an earnings estimate crowdsourcing site, the following is a good description of the study:
The study published by researchers from the City University of Hong Kong, Purdue University, and Georgia Institute of Technology found that bloggers on Seeking Alpha in aggregate were better able to predict earnings surprises and stock returns than Wall Street's sell side pros and traditional financial news outlets.
I took this concept and applied it to articles written on much maligned regulated electric utility and merchant power producer Exelon (NYSE:EXC). Reviewing five positive articles written by Jon Parepoynt on Feb 24, 2014 (Exelon - Keep On Walking, Don't Look Back), Dec 5, 2013 (Exelon Selling at 10-yr Lows), Nov 21, 2013 (Exelon, Entergy - Low Cost Merchant Power Producers For A Market Turn), Sept 19, 2013 (Exelon - Unconventional Buy For A Turn In Natural Gas Pricing) and Feb 7, 2013 (Is Exelon Dividend Cut Enough To Generate Buy Recommendations?) provides an interesting step back in time. Author's note: From late 2012 to March 2014, I used the pen name Jon Parepoynt and the articles cited were written by me.
EXC's share price has been on a tear recently, rising from a 52-week low of $26.45 in January 2014 to a current price of $36.15. A chart from February 7, 2013, corresponding to the articles' timeframe referenced, is below.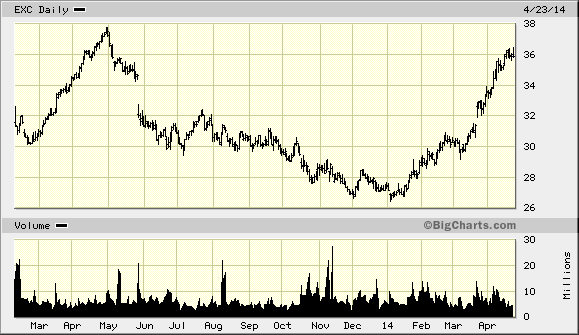 To be fair, longer-term shareholders are probably licking their wounds of capital losses and, at a minimum, a reduction in dividend income. Below is a 10-yr EXC price chart, and it becomes clear that from a capital preservation basis, EXC has left much to be desired.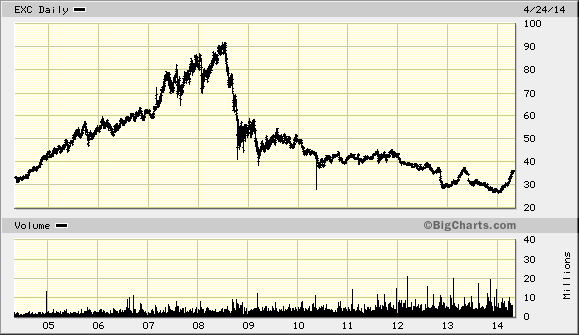 However, on a total return basis (capital gains plus dividends), including a 2:1 stock split in May of 2004, shares purchased on April 1, 2003 would have generated a 60% total return, or about 5% annually, based on an adjusted purchase price of $22.61. The quarterly dividend in May 2003 was $0.23 vs. the most recent quarterly dividend of $0.31. About 20% of the 10-yr total return is from capital gains with the balance from a dividend income stream.
Investors who purchased between April 2003 and July 2005 would have a positive total return, although declining from the 10-yr. period as share prices moved substantially higher. Investors who purchased between July 1, 2005 and December 1, 2011 would currently be underwater, even on a total return basis. Purchases from April 2012 to April 2014 again offered a positive total return. Source: finance.yahoo historical stock data.
Concerning the five articles outlined above, there were a combined total of 187 comments. Of these, 115 were specific to EXC as a current investment option. The balance of comments was concerning other aspects of investing, such as DRIPs or natural gas pricing. The 115 comments do not include author replies.
Of the 115, 83 comments, or 72%, were focused on multiple dislikes of the company and ranged in topics from the dividend cut to overall poor management.
The remaining 32 comments, or 28%, were positive concerning investing in EXC shares. Many of these focused on the value EXC offered along with the connection between rising natural gas and electricity pricing in the Northeast, Middle Atlantic, and parts of the Midwest.
While utilizing a short-term period and limited data points, it would seem that in the specific case of EXC's share price, the crowd source could be considered wrong. With the exception of a 3-week period in April and May 2013, any stock investment purchase since February of 2013 would have generated a positive total return to date.
At its current price of $36.25, EXC could be considered fully valued and a great long-term buying opportunity may have been missed. Staying on the sidelines might be the prudent move as share prices are up 33% since its double bottom in early December 2013 and mid-January 2014. Waiting for a bit of a pullback could add to longer-term total returns. Unless there is a collapse in natural gas pricing that will negatively affect electricity pricing models, I don't expect EXC to retest prices below $30 anytime soon.
Author's Note: Please review important disclaimer in author's profile.
Disclosure: I am long EXC. I wrote this article myself, and it expresses my own opinions. I am not receiving compensation for it (other than from Seeking Alpha). I have no business relationship with any company whose stock is mentioned in this article.