What does it take for Ford Motor (NYSE:F) to reach new 52-week Highs? Top quarterly results with record profits in its most important market, outstanding sales growth results exceeding industry averages, a high cash balance, a low valuation of 8-9 times forward earnings?
Ford Motor has serious upside potential indeed
Some valuations in the market place simply don't make sense and I clearly don't understand Ford Motor's valuation. My experience as a value investor, however, tells me that the market will eventually, though slowly, catch up to Ford's intrinsic value. I have previously pegged Ford's fair value in the neighborhood of $35-36 per share which would translate into a forward P/FCFE multiple of 6.74 (I have estimated that Ford can achieve a 2014 free cash flow to equity of $2.42 per share).
I believe it is no discussion that a free cash flow multiple of around seven and an earnings multiple of less than nine, are indicators of substantial undervaluation of Ford's equity. In fact, Ford's performance has only improved over the course of last year and the domestic auto market has shown significant improvements over the last two years as well. Both of which should trigger a reassessment of Ford's market valuation.
Just recently I pointed out that Ford Motor's recent sales performance was underpinning long-term company value: U.S. retail sales were up 3% y-o-y in March marking the best monthly March performance in eight years -- the United States are the most important revenue and profitability driver for Ford Motor. Ford's Fusion and F-Series have also been widely popular: U.S. Ford Fusion sales stood at 32,963 vehicles in March -- the best monthly performance since product launch in 2005. Ford's F-Series also demonstrated great sales momentum with March sales reaching the highest level since 2008.
In addition, Ford Motor presented impressive sales growth rates in China. China is an extremely attractive growth market for Ford Motor and is likely to continue to post above-average y-o-y sales growth in the coming quarters and years. The Chinese market offers the world's most lucrative penetration potential for U.S. car manufacturers as millions of Chinese are eager to climb up the socio-economic ladder and become part of the modestly affluent Chinese middle class. Its main status symbol: A car from the far West.
Share performance
Some investors might question whether Ford Motor has further upside potential since the stock of the auto manufacturer has had quite a run over the last five years: The stock returned 187%. However, Ford Motor's results have kept up with the rise in stock price and the company, relatively speaking, has not necessarily become more expensive in 2013.
Ford Motor is up 6% YTD but would have probably performed much better if it wasn't for the market sell-off at the end of January/beginning of February 2014. General Motors (NYSE:GM), on the other hand, lost a whopping 17% since the beginning of the year.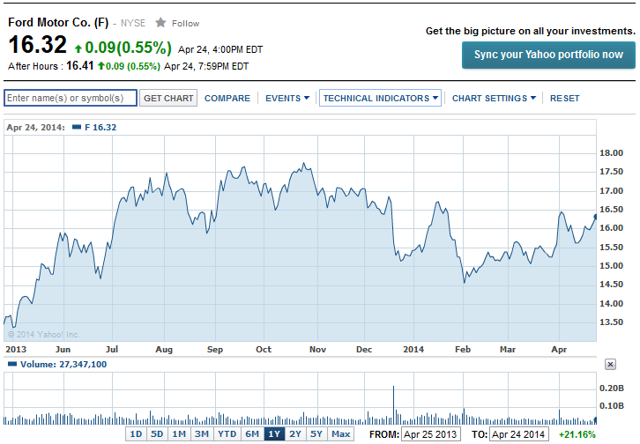 Click to enlarge
(Source: Yahoo Finance)
Quite astonishingly, Ford Motor has underperformed a variety of other car manufacturers over the last two years. I think this relative underperformance is totally undeserved, especially when considering the fundamental improvements in business performance mentioned above.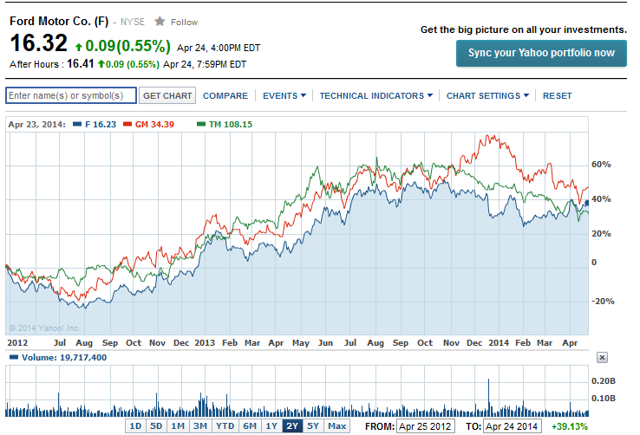 Click to enlarge
(Source: Yahoo Finance)
Don't make the mistake of extrapolating
Many investors feel tempted to extrapolate any current results a company presents. Good results mean good results forever, disappointing results are harshly punished. I believe investors looking for bargains in the stock market should adopt a different mindset: Bad/disappointing results are often a great contrarian investment opportunity while rosy expectations are likely to be disappointed.
Looking forward to Ford Motor's first quarter results today, analysts largely expect negative results. As Marketwatch reports:
Earnings: Analysts polled by FactSet are looking, on average, for Ford to report a 24% drop in profit to 31 cents a share from 41 cents a share a year ago.
Revenue: Total sales for the quarter are expected to be $34.33 billion, up 1% from $33.9 billion a year earlier.
Investors are also likely to scrutinize Ford's European operations which have caused many headaches for the company in the past. Ford's most recent earnings releases have shown, however, that the company is making substantial progress in Europe and past restructuring efforts are starting to pay off.
Conclusion
The bottom line is: Investors should not overemphasize and dramatize Ford's first quarter results should they disappoint investors. The bigger picture is much more important: Ford has one of the most competitive car fleets in the market, a strong U.S. market position (market share 15.7%), a healthy balance sheet capable of supporting growth initiatives and new product launches, a solid dividend yield of 3% and a low valuation based on both earnings and free cash flow. In fact, the attributes of a Ford Motor investment already justify a meaningfully higher equity valuation and new 52-week Highs in the near term.
Disclosure: I am long F. I wrote this article myself, and it expresses my own opinions. I am not receiving compensation for it (other than from Seeking Alpha). I have no business relationship with any company whose stock is mentioned in this article.