"This quarter's results demonstrate the strength of our business, as well as the opportunities we see in a mobile-first, cloud-first world."

-Microsoft CEO, Satya Nadella
Okay, maybe he didn't force me. But the point is, I was holding calls going into earnings, and I like what Nadella delivered.
I argued that going into earnings, the focus wasn't going to be so much on the numbers as it was going to be about Nadella introducing himself to analysts and investors - and sharing what his vision is for growth for his company going forward.
Everybody say, "Hi, Satya!"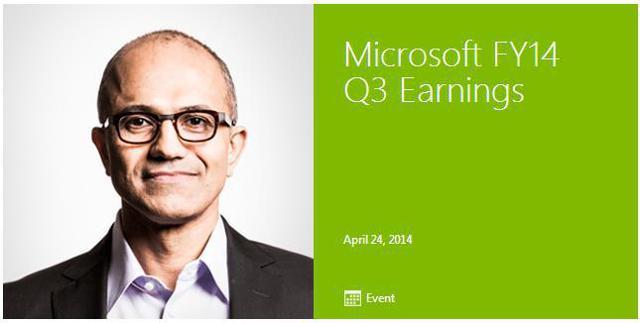 Microsoft's (NASDAQ:MSFT) earnings came in and beat on both lines from what analysts and Mr. Market was expecting. The stock traded 2-3% higher after-hours on Thursday, and has opened pre-market this morning at $40.36, amidst lagging futures that are a result of the Ukraine tensions.
The revenue was off slightly from the year prior as a result of the PC market continuing to drag. Microsoft posted earnings of $0.68/share on revenues of $20.4 billion.
(click to enlarge - source Microsoft.com)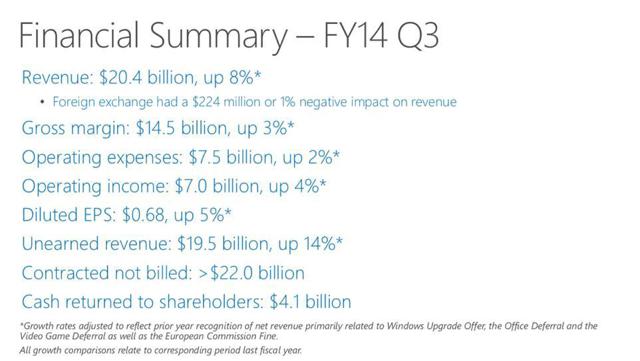 These numbers were compared to earning $0.72/share on $20.49 billion the year prior. Still, the numbers handily beat analyst estimates - EPS beat the consensus estimate by $0.05.
Seeking Alpha reported on the numbers behind the numbers:
Microsoft's Commercial revenue grew 7% Y/Y in FQ3 to $12.7B, a little below FQ2's 10% clip. Devices & Consumer revenue grew 12% to $8.3B after growing 13% in FQ2.
Commercial Licensing (50% of revenue, 65% of gross profit) sales +10% vs. +7%, with Windows volume licensing up 11% and key server productivity offerings (Lync, SharePoint, Exchange) collectively growing double-digits.
Commercial Other +31% vs. +28%; 100% and 150% respective increases for Office 365 and Azure fueled the growth. The division is now nearly 10% of revenue, but still makes up less than 4% of gross profit (lower cloud margins).
D&C licensing rose 1% after falling 6% in FQ2, thanks in part to stabilizing PC sales; Windows OEM revenue rose 4%.
D&C hardware +41% (thanks to Xbox One sales) ahead of the Nokia deal's closing; Surface revenue totaled just $500M. D&C Other +18%; Office 365 Home added almost 1M subs, raising its total base to 4.4M.
Drops in sales/marketing and G&A spend led opex to fall 7% Y/Y to $7.49B. That boosted EPS, as did $1.8B in buybacks.
Perhaps as a result of porting Office to iPad, the number of Office 365 subscriptions jumped by a million in just three months, bringing its total to 4.4 million subscribers.
The growth in Xbox is important - it's turning a profit on the 360, which is still selling well, to counteract the long road to profitability for the Xbox One. I still believe Xbox is crucial, and I'm glad there was no mention of spinning it off.
Though Xbox still lags behind Sony (NYSE:SNE), I contend that getting an Xbox into living rooms is a great way to expand the Microsoft ecosystem through households - and will eventually be a great way to monetize other types of media like streaming TV and movies. In other words, instead of creating a set-top box that also has video game capabilities, Microsoft has a video game box, which it can give set-top capabilities. It can back its way in, in essence.
In addition to that, we saw that Surface revenue grew to $500 million, up more than 50%. $499 of that is thanks to QTR. He digs his Surface.
Additionally, the Boston Globe reported that the ditching of Windows XP helped Microsoft out a bit, as well:
The company also benefited from the end of support for its 13-year-old operating system, Windows XP, on April 8. Many companies upgraded computers en masse to make sure they'd continue to receive support from Microsoft.

That transition - which helped boost Windows revenue by 4 percent - helped Microsoft buck a 2-4 percent decline in shipments in the quarter as estimated by market research firm IDC.
Nadella's focus on the call was sticking to what he's said in the past - creating a dialogue with shareholders, mobile and cloud. He stuck to his guns and pushed these on the call, which Ballmer would usually just sit out. The fact that Nadella cut into Amy Hood's time on the call was refreshing, as Microsoft calls have been, in the past, laden with numbers and a bit stale-sounding.
I argued going into this call that Nadella was going to have to hold his nerve and put up both the numbers and the dialogue. He did both - coming across as cool, calm, collected and with a grip on how things are operating. He does not, however, steal the crown of "coolest customer" on a conference call, which still currently belongs to BlackBerry's John Chen.
I bought Microsoft calls heading into earnings, and rather than sell them off immediately on the open today, I plan on holding them, as I believe Microsoft has a few bucks towards the upside to go before settling into another trading range.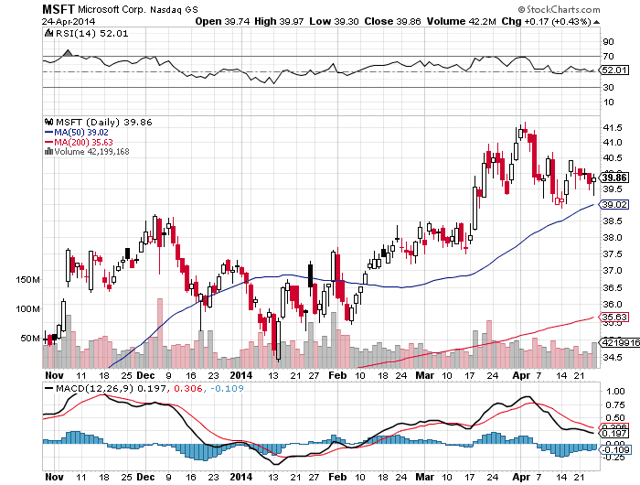 The company's trading leading up to the calls has been bullish. Microsoft has been in an uptrend since the beginning of February of this year - climbing from $35.50 all the way to $41 with ease. With yesterday's price of $39.86 as the jumping off point, these bullish numbers should send Microsoft onto another leg up, where hopefully $41.50 will become the support, as opposed to the resistance shown in this chart.
I'm hoping to go along for the ride, as I'll be holding my Microsoft calls and hoping Mr. Market is as happy with the results and the presentation from Mr. Nadella as I was.
Great work, Satya - keep it coming. Best of luck to all Microsoft investors.
Disclosure: I am long MSFT. I wrote this article myself, and it expresses my own opinions. I am not receiving compensation for it (other than from Seeking Alpha). I have no business relationship with any company whose stock is mentioned in this article.