We live in a thirsty world.
Global non-alcoholic ready-to-drink (NARTD) consumption is expected to advance at nearly a 6% compound annual growth rate over the next four years. Since the beginning of this decade, NARTD retail value has increased by $135 billion, and the market is expected to grow by another $300 billion before the end of 2020. The global beverage industry is fueled by a number of global macro trends: 20% growth in urban population, 70% increase in personal expenditure per capita, 50% growth in middle class, and 1 billion teens today. Coca-Cola (NYSE:KO) and Pepsi (NYSE:PEP), which both reported results last week, are poised to benefit from these strong market demand trends, and Pepsi has a faster-growing snacks business to boot.
Coca-Cola recently reported first-quarter results. Global unit case volume advanced 2% at the firm, thanks primarily to relatively better international volume growth. Comparable currency-neutral net revenue growth of 2% drove a 7% increase in currency-neutral operating income. Comparable currency-neutral earnings per share increased 5%, and the company noted that it gained both volume and value share in the NARTD beverage industry. Though we liked the adjusted numbers, the financial performance was decidedly worse, including the impact from currency. Still, Coca-Cola continues to make progress across all five of its strategic system priorities:
1) Accelerate sparkling growth, led by Coca-Cola
2) Strategically expand its profitable still portfolio
3) Increase brand investments by maximizing productivity
4) Win at the point-of-sale by unlocking the "power of the system"
5) Invest in its next generation of leaders
Volume in the firm's developed markets fell 1%, impacted by the timing of the Easter holiday, though Coca-Cola noted resilience in key developed markets, including Japan and Australia. Volume grew 3% in the company's developing and emerging markets, with China up 12% and Brazil up 4%, both accelerating sequentially due to strong marketing campaigns. India and Russia grew volume 6% during the period. Worldwide sparkling beverage volume (carbonated NARTD beverages) was down 1%, while worldwide still beverage volume (non-carbonated NARTD beverages) advanced 8% for the quarter. Free cash flow totaled $617 million in the quarter, roughly 5.8% of sales, and the company ended the quarter with $16 billion in cash and $18.6 billion in long-term debt. Looking ahead, Coca-Cola plans to continue to focus on its five strategic priorities. While we like how the firm's underlying operations are trending, currency will continue to provide a stiff headwind, as management outlined in the release:
Currency exchange rates are expected to have an unfavorable impact on our reported results in 2014. Based on current spot rates, our existing hedge positions, and the cycling of our prior year rates, we estimate currency will be an approximate 7% headwind on our full-year operating income, and an approximate 7% headwind on our second quarter operating income. This outlook reflects the negative impact of the Venezuela devaluation, partially offset by slight improvements in other currencies as compared to the outlook we provided at the time of our year-end 2013 earnings release.
Within the valuation context, we tend to focus on underlying, operational results (excluding currency fluctuations), as with global giants such as Coca-Cola, currency movements across a broad swath of countries tend to offset each other over the long haul. However, over short periods of time, currency can have a material impact. In this light, Coca-Cola's high-single-digit currency headwind in 2014 is something we cannot completely ignore. We'd like management to do a better job hedging currency so that investors can capture operational upside, instead of retaining exposure to unnecessary currency risk.
Pepsi released its first-quarter results Thursday. Most investors were anxiously awaiting commentary about the firm's thoughts on potentially acquiring SodaStream (NASDAQ:SODA) to combat Coca-Cola's new stake in Green Mountain (NASDAQ:GMCR), but there wasn't a hint of it on the firm's conference call. This could mean that Pepsi is considering a deal, or it could mean that it's not at all. We wouldn't expect management to show its cards in any case, as any hint would have sent shares of SodaStream higher, making it more difficult to consummate a transaction, as the price offered would then have to be sweetened. Starbucks (NASDAQ:SBUX) and Dr. Pepper Snapple (NYSE:DPS) could be potential buyers of SodaStream, as well. Starbucks has been rumored to be the most likely suitor.
Pepsi's organic revenue growth of 4% came in better than that of Coca-Cola during the calendar period, though core constant-currency operating profit advanced 7%, matching the pace of growth of its global peer. Organic revenue grew 5% for global snacks and 3% for global beverages in the quarter. Core constant-currency earnings per share advanced 10%. The strength in Pepsi's snack business was largely driven by price increases, something we're quite fond of. Developing and emerging-market organic revenue grew 9% in the quarter. Core gross margin and core operating margin advanced 40 basis points and 50 basis points, respectively. We think the operating performance of Pepsi was better than Coca-Cola's during the first quarter.
Looking ahead, Pepsi released a relatively optimistic forecast for 2014, and noted that it will face currency headwinds as well. Our initial take is that the firm will fall short of its operating cash flow forecast for the year. During the first quarter, Pepsi generated a mere $181 million in cash from operations, and free cash flow was negative during the period. For the full year, Pepsi is targeting $10+ billion in operating cash flow and $7+ billion in free cash flow, as outlined below.
Consistent with its previous guidance for 2014, the company expects 7 percent core constant currency EPS growth versus its fiscal 2013 core EPS of $4.37. Based on the current foreign exchange market consensus, the company currently expects foreign exchange translation to have an unfavorable impact of approximately 4 percentage points on full-year core EPS growth in 2014.
Excluding the impact of structural changes and foreign exchange translation, organic revenue in 2014 is expected to grow mid-single digits versus 2013, consistent with the company's long-term target. Based on the current foreign exchange market consensus, the company currently expects foreign exchange translation to have an unfavorable impact of approximately 3 percentage points on full-year net revenue growth in 2014.
For 2014, the company expects low single-digit commodity inflation and productivity savings of approximately $1 billion. The company expects higher interest expense, driven by increased debt balances and a core effective tax rate of approximately 25 percent.
The company is targeting over $10 billion in cash flow from operating activities and more than $7 billion in free cash flow (excluding certain items) in 2014. Net capital spending is expected to be approximately $3 billion in 2014, within the company's long-term capital spending target of less than or equal to 5 percent of net revenue.
The company expects to return a total of $8.7 billion to shareholders in 2014 through dividends of approximately $3.7 billion and share repurchases of approximately $5.0 billion.
Though both Coca-Cola and Pepsi will face currency headwinds, we think Pepsi's snacks portfolio positions it slightly better for 2014, or until beverage volumes accelerate back to intermediate-term growth projections (about 6%). Pepsi's snack business also provides it with an opportunity to spin it off in an initial public offering or sell it to a peer for a lofty price. The idea continues to be on the table, though not all investors agree this is the right path for Pepsi.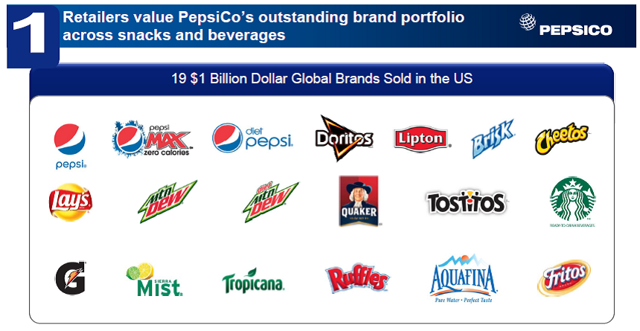 Image Source: Pepsi
Valuentum's Take
We like both Coca-Cola and Pepsi, but we continue to prefer the former. Coca-Cola boasts a stronger balance sheet, and we view its dividend to be safer. At this juncture, Coca-Cola and Pepsi boast a 3% and 2.7% annual dividend yield, respectively. Coca-Cola's cash flow generation is stronger, and we think Pepsi may come up short of hitting its cash flow targets for the year, though Pepsi is a strong cash flow generator in its own right. We don't include either Coca-Cola or Pepsi in the actively-managed portfolios. At the time of this writing, we estimate shares of Coca-Cola are worth $36 each, while shares of Pepsi are worth $73 each. Both of these fair values are below their respective share prices at present. The Valuentum Buying Index ratings for both equate to a "hold" rating, neither a "consider buy" nor "consider sell" rating equivalent for new investors. The best ideas are always included in the actively-managed portfolios.
Disclosure: I have no positions in any stocks mentioned, and no plans to initiate any positions within the next 72 hours. I wrote this article myself, and it expresses my own opinions. I am not receiving compensation for it (other than from Seeking Alpha). I have no business relationship with any company whose stock is mentioned in this article.