Sunday, May 6 will conclude the 180 day lockup period following the November 6, 2013 IPO of LGI Homes Inc. (NASDAQ:LGIH), allowing the entry-level home builder's major pre-IPO shareholders, directors, and executives to sell some of their outstanding shares. In this instance, the majority of shares that will be unlocked are owned by executives and directors.
The sudden bump up in the supply of LGIH shares available for sale on the market will likely lead to a temporary dip in price for the firm's shares, potentially creating a shorting opportunity for aggressive investors.
Though the firm's IPO priced disappointingly at $11 per share, well below the expected range of $13-$15 per share, the LGIH stock price has performed solidly ever since. LGIH has primarily held between $16 and $18 per share over most of last six months, peaking at $20.75 per share in mid-January. LGIH closed at $15.32 per share on April 24.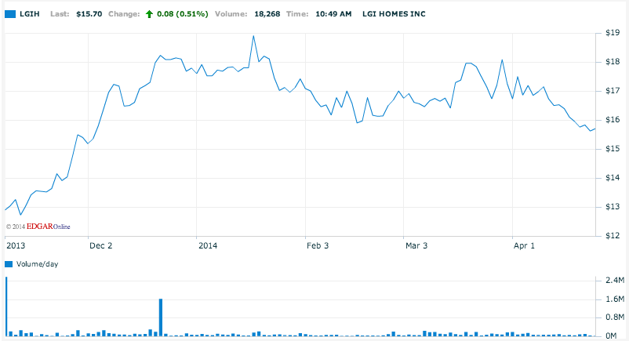 (Nasdaq.com)
Outlook Strong For Share Unlocking
The May 6 unlocking will free some 10.4 million shares of LGIH for sale, slightly more than the 9.0 million shares offered in LGIH's IPO. Over half of these shares are held by CEO Thomas Lipar and LGIH consultant Eric Lipar, owners of 2.7 million shares and 2.9 million shares, respectively.
Although LGIH has shown a strong performance on the market thus far, the Lipars and the company's other executives and directors will likely take the chance to sell at least some of their shares, having had no opportunity to do so since the IPO and having seen the price fall off to a small degree in recent months.
Business Overview
LGIH designs and builds entry-level homes in communities in Texas, Florida, Arizona, and Georgia. The firm places emphasis on convincing renters to become homeowners by targeting low-cost locations for affordable home construction. LGIH's local sales offices, which feature on-site loan officers and sales professionals to simplify the home buying process, attempt to establish communication with nearby renters and show them the benefits and feasibility of home ownership through LGIH.
LGIH has built and sold more than 4000 homes since commencing operations in 2003, and has impressively posted profits every year since its inception, even through the devastating housing downturn from 2006 to 2008. The firm owns or controls the equivalent of seven years' worth of land supply for future building.
See our previous articles on the IPO and quiet period expiration of LGIH for additional information.
Strong Competitors
LGIH competes with other home builders, which vary from market to market. Significant competitors include DR Horton Inc. (NYSE:DHI), AV Homes, Inc. (NASDAQ:AVHI), Beazer Homes USA, Inc. (NYSE:BZH), Toll Brothers (NYSE:TOL), Hovnanian Enterprises, Inc. (NYSE:HOV), and Standard Pacific Corp. (SPF), some of which have access to greater financial and marketing resources than LGIH.
What LGIH Investors Should Watch For
Given LGIH's strong market performance since its IPO, investors should see the upcoming lockup expiration as a shorting opportunity.
We invite readers wishing to read and join the discussion about lockup expirations to click the +FOLLOW button above the title of this article.
Disclosure: I am short LGIH. I wrote this article myself, and it expresses my own opinions. I am not receiving compensation for it (other than from Seeking Alpha). I have no business relationship with any company whose stock is mentioned in this article.