As the mobile gaming landscape continues to mature, two Silicon Valley giants, which host games on their mobile phone operating systems, Apple (NASDAQ:AAPL) with its iPhone iOS and Google (NASDAQ:GOOG) with its Android, are battling for supremacy in the space.
The two companies are employing a strategy for the mobile gaming application space that has been successful in attracting users to stationary gaming devices.
What is the strategy?
By offering temporary exclusive promotion rights to game development companies, Apple and Google hope to increase sales of the games over their mobile phones and ultimately cause users to switch mobile phone platforms in order to take advantage of games that are available only on their platforms during the period of exclusivity.
Here's how the exclusivity agreements work: Apple, for example, offers a game development company premium advertising placement on its Apps Store. The game development company benefits by enjoying increased sales of its game during the exclusive rights period due to prominent placement in front of potential buyers. Apple benefits by drawing more users to its platform and increased commissions from the sales of the game over its mobile device platform. Apple offers no money to the game development companies to lure them into exclusivity with its iOS platform as opposed to the Android platform, but only marketing and promotion advantages.
Android Snatches Shares, Google Moves Ahead
In the early days of its iOS platform on iPhones, Apple was the clear winner of the game due to the ease with which game developers could create their games using iOS. However, as Android mobile phones have snatched up market share from Apple, Google has benefited by more games being developed for its system. Game developers cite tools that make Android easier to use and the surge in market share as reasons for the increase in games developed on the Android platform.
Under increasing pressure to stand out from their peers, some game developers are choosing to enter into the exclusivity agreements. Game developers such as Electronic Arts and ZeptoLabs have taken advantage of these kinds of agreements recently with their highly anticipated offerings of "Plants Vs. Zombies 2" and "Cut the Rope," respectively. Other game developers, such as French company Gameloft, claim that a strong enough case has not yet been made to lure them into one of the exclusivity agreements. The increase in revenue from being on one platform is not enough, they reason, to forfeit the steady revenue from releasing the game on all available platforms simultaneously.
Is Google Starting To Tire?
The heavyweight struggle may be beginning to take its toll on the company, as shares of Google stock have struggled in recent months.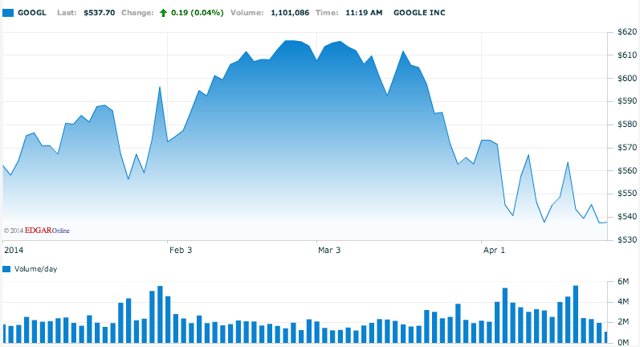 (Nasdaq.com)
Having endured a successful court battle with shareholders over its decision to split the company stock, analysts are questioning whether the tech giant is overextending into new markets.
Google has been on an absolute investment tear in recent years, diversifying its already strong portfolio even more into emerging technologies, which it feels will dominate in the future. Having invested in its Google Glass wearable technology and acquiring Boston Dynamics and its military robotics technology, Google recently acquired smart home appliance maker Nest Labs for $3.2 billion in cash.
Analysts have questioned whether these bets Google has made will come back to bite them and shareholders, as Google may have bit off more than they can chew.
Investors have sold off Google stock since the beginning of the year to the tune of 4% while the overall market has seen an uptick of close to 2%.
Recommendation for Investors
Google investors should continue to monitor the company's moves and results. If Google fundamentals continue to dip, investors might consider shifting positions to more promising companies in 2014, such as Amazon (NASDAQ:AMZN).
We invite readers wishing to read and join the discussion about Google to click the +FOLLOW button above the title of this article.
Disclosure: I have no positions in any stocks mentioned, and no plans to initiate any positions within the next 72 hours. I wrote this article myself, and it expresses my own opinions. I am not receiving compensation for it (other than from Seeking Alpha). I have no business relationship with any company whose stock is mentioned in this article.