This Great Graphic was posted on the Wall Street Journal's MoneyBeat by Neelabh Chaturvedi, who got it from Morgan Stanley. It shows how the euro movement (yellow line) has been tracking portfolio flows in the euro area, excluding Germany (blue line).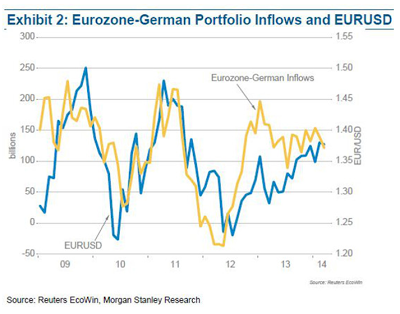 This is another way to illustrate how flows into the euro periphery, including Spain and Italy, help explain the euro's resilience.
While some buying may have been encouraged by speculation that the ECB will soon engage in bond purchases, that factor can shed some light on only the latest data point, which is February. We have argued that the decline in inflation and redenomination risk largely explains what is drawing foreign investment.
In this context, the premiums over Germany can fall, even if not all the way back to pre-crisis levels. Recall, for example, that 10-year yields traded through Germany then. The dynamics of fixed exchange rates and reduced risk of default suggest yield compression, though debt levels are higher than before the crisis. However, the risk of default and redenomination is, though, perceived to be higher than it was back then, so it is unreasonable to anticipate that the spreads can return to those levels.
Disclosure: I have no positions in any stocks mentioned, and no plans to initiate any positions within the next 72 hours. I wrote this article myself, and it expresses my own opinions. I am not receiving compensation for it. I have no business relationship with any company whose stock is mentioned in this article.