By Brian Nelson, CFA
The fast-food (quick-service) breakfast wars have intensified. It has become a high-stakes game for all participants, and most have gone all-in to capture market share, to use poker parlance. The NPD Group, a leading global information firm, noted that the pace of expansion for fast-food breakfast across the restaurant industry has been a key bright spot, and executives across the industry are taking note (from NPD):
"Quick service, which accounts for about 80 percent of total restaurant morning meals, showed the strongest increase in breakfast visits of all restaurant segments with a 4 percent increase in the year ending December 2013 period compared to year ago, reports NPD CREST, which every day tracks how consumers use restaurants and other foodservice outlets. Morning meal visits to midscale/family dining restaurants declined by 3 percent..."

"...Breakfast continues to be a bright spot for the restaurant industry as evidenced by the number of chains expanding their breakfast offerings and times…A restaurant morning meal serves a variety of needs. In addition to helping us jump start our day, it satisfies the need for convenience, is less costly than other restaurant meals, and is readily available to us."
McDonald's (NYSE:MCD) has been evaluating whether it can efficiently capture more of the early-morning eaters by expanding its breakfast hours. The firm is in the early stages of this evaluation, but market research clearly indicates the weekend cutoff at 10:30am doesn't resonate very well with people in their 20s and 30s. The Egg McMuffin maker understands the significant importance of breakfast to its future comp growth, particularly as traffic across much of the restaurant space faces pressure for lunch and dinner, according to NPD. Morning meals only account for about 20% of all visits, but they represent the area with the greatest untapped potential for organic expansion.
It should be no surprise then that McDonald's is fighting tooth-and-nail to retain its 30%+ share position in this lucrative and growing $30+ billion market. The company launched its first-ever national Free Coffee Event, where it offered a freshly-brewed small coffee for free during breakfast hours from March 31 to April 13. Perhaps to no surprise, this unprecedented promotion coincided with the introduction of breakfast food at Yum! Brands' (NYSE:YUM) Taco Bell, which is now offering a morning menu of Waffle Tacos, egg burritos, Cinnabon Delights, and the bacon A.M Crunchwrap. Taco Bell's price points are a bit higher than McDonald's, with the Waffle Taco and A.M. Crunchwrap costing $1.99 and $2.49, respectively, versus sausage burritos and sausage biscuits that go for $1 each at McDonald's.
We think Taco Bell will do much better than Wendy's (NYSE:WEN) breakfast debacle a number of years ago, and our market tests have indicated that consumers trying out Taco Bell's breakfast will likely return for more, even if they don't abandon McDonald's altogether. The menu is different and unique, and Taco Bell has been innovating in the US market so well that it has the momentum to pull this move off. The company doesn't have to unseat the Egg McMuffin because the fast-food breakfast market continues to grow nicely. We think there's room for top-tier quick-service providers to continue expansion efforts, even as White Castle steps into the breakfast market, Burger King (BKW) adds $1 price points for breakfast items (see image below), and Starbucks (NASDAQ:SBUX) and Dunkin' Brands (NASDAQ:DNKN) continue to innovate their respective breakfast menus. Chipotle (NYSE:CMG), which could be considered the biggest direct competition to Taco Bell's breakfast success, has backed off plans to enter the breakfast market. We don't think the decision had anything to do with the market for breakfast burritos, but more a result of consumers not venturing far from what they already know they like at Chipotle.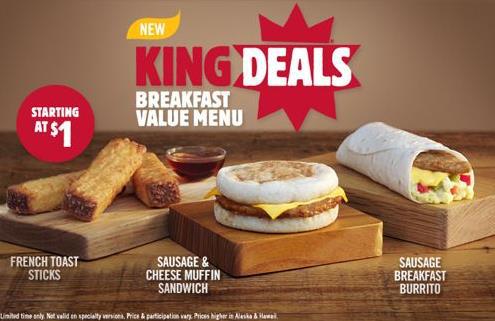 Image Source: Burger King
Brewed coffee at Taco Bell is $1.49 compared to $1 at McDonald's, and while Taco Bell will launch more sophisticated coffee offerings down the road, we don't think its coffee will be an immediate threat to participants. Over the long run, however, that may be different. Nonetheless, McDonald's is not taking any chances. The company has made coffee its top strategic priority in the US through 2016 because it's well-aware of the importance of "coffee-driven breakfast visits." The fast-food giant is battling Starbucks and Dunkin' Brands in an effort to attain the "gold standard" status in premium coffee, something that may be out of its reach given the company's legacy past and consumer perception. The coffee and snack business is expanding at a faster rate than the quick-service breakfast industry, but it's going to be difficult for McDonald's to keep up with competitors in both areas. Our fair value estimate of McDonald's is $92 per share at the time of this writing.
We may already be starting to see cracks forming in McDonald's US foundation. US same-store sales declined 3.3% in January and fell 1.4% in February. On a global basis, same-store sales at McDonald's fell 0.3% in February. Though weather may have played a part to a certain extent, The National Restaurant Performance Index (RPI) remained above 100 (at 100.5) for the 12th consecutive month in February, signaling expansion:
Restaurant operators continued to report net positive same-store sales results in February, despite customer traffic levels that were challenged by the weather…Looking forward, operators are generally optimistic about sales gains in the months ahead, although they aren't as bullish about the overall economy.

The RPI is constructed so that the health of the restaurant industry is measured in relation to a steady-state level of 100. Index values above 100 indicate that key industry indicators are in a period of expansion, while index values below 100 represent a period of contraction for key industry indicators.
Though Chipotle's upscale focus puts it more in the fast-casual segment, the company's breakneck 13.4% comparable store sales increase during the first quarter ended March 31 indicates that traffic wasn't terrible across the entire industry, even if weather did play a role. The comp number at Chipotle was its best in some time, though on a firm-specific basis, food costs continue to impede earnings expansion. Food costs were up 150 basis points (as a percentage of revenue) during the firm's quarter as avocado, beef, and cheese prices were all higher. Our fair value estimate of Chipotle is $424 per share at the time of this writing.
All things considered, Valuentum is not underestimating Taco Bell's entrance into the US breakfast wars. For one, Taco Bell delivered its eighth consecutive quarter of same-store sales expansion in the US during the fourth quarter, and it has the momentum and commitment to see this new endeavor through. Still, its parent, Yum! Brands, which also owns KFC, is facing encroaching competition from Chick-fil-A, which has overtaken the company as the top chicken fast-food chain in the US. Yum! Brands has responded with a new concept called Super Chix, which it has rolled out in Texas, but the concept remains in its infancy.
In China, which remains absolutely critical to KFC, the firm has announced plans to aggressively revamp its menu and redesign stores in hopes of driving consumers back following concerns over poultry sourcing and avian flu. We think consumers will eventually return to the brand, though local, home-grown competition has intensified in the country. As KFC navigates a difficult environment in China, McDonald's is getting more aggressive in the country, launching heightened franchise efforts in first-tier cities such as Shenzhen and Shanghai. McDonald's expects to double the number of its restaurants in China to over 4,000 in the next three years. The restaurant industry may never have been more competitive than it is today. We think Yum! Brands' shares are worth $71 each at the time of this writing.
Disclosure: I have no positions in any stocks mentioned, and no plans to initiate any positions within the next 72 hours. I wrote this article myself, and it expresses my own opinions. I am not receiving compensation for it (other than from Seeking Alpha). I have no business relationship with any company whose stock is mentioned in this article.