The 180 day lockup period that began with the November 6, 2013 IPO of Norcraft Companies Inc (NYSE:NCFT) will come to a close on May 6, allowing pre-IPO shareholders in the cabinetry manufacturer to sell their outstanding shares. Most of the major shareholders in NCFT are private equity firms.
The supply shock resulting from the sudden increase in NCFT shares available for sale will likely lead NCFT share prices to temporarily fall, and may generate a shorting opportunity for aggressive investors.
After pricing at $16 per share in its November IPO, at the low end of its expected price range, NCFT made consistent gains through early January, topping out at $19.82 per share. The stock has since been inconsistent, bouncing between $15 and $18 per share. NCFT closed at $16.27 on April 24.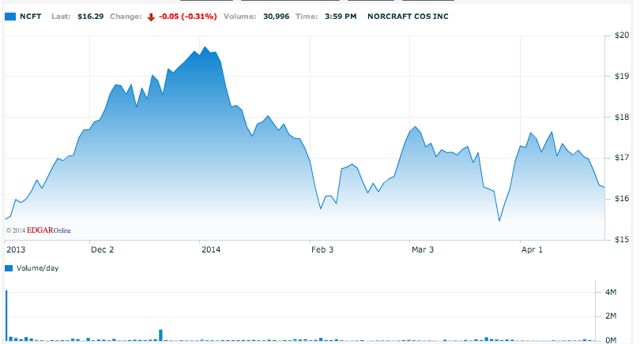 Click to enlarge
(Nasdaq.com)
9.95 Million Shares Could Be Eventually Unloaded
The May 6 lockup expiration will allow pre-IPO shareholders to sell some 9.95 million shares of NCFT, more than the 6.4 million shares offered in the IPO.
The private equity firms that hold significant shares of NCFT will likely sell at least some of their shares in order to raise capital and return funds to their investors. Major shareholders include SKM Equity Fund III LP with 5.5 million shares; Trimaran Fund II LLC with 1.2 million shares; Trimaran Parallel Fund II LP with 490,705 shares; CIBC Employee Private Equity Fund with 758,911 shares; and CIBC Capital Corporation with 827,949 shares.
NCFT directors and executives will also be free to sell their shares for the first time since the IPO.
Profile of NCFT
NCFT is a leading North American producer of bathroom and kitchen cabinetry. The firm categorizes its products into seven different brands, including Mid Continent Cabinetry, Brookwood Cabinetry, Norcraft Cabinetry, StarMark Cabinetry, UltraCraft, Fieldstone Cabinetry, and Urban Effects; the majority of its sales come through cabinet dealers. NCFT's diverse product offerings across the various brands, along with more than 600,000 available door and finish combinations, allow Norcraft to appeal to a wide array of consumers.
The collapse of the housing market was devastating for cabinet makers, as it was for other elements of the home construction industry. Freedonia Group estimates that cabinet sales will regain their 2006 level of $15 billion dollars by 2016.
Competitors
NCFT must compete in the highly fragmented cabinetry manufacturing industry, much of which is composed of local firms operating with few employees. NCFT believes that some 5000 cabinet manufacturers are currently in operation in the US. Major competitors include Fortune Brands Home & Security Inc (NYSE:FBHS), American Woodmark Corporation (NASDAQ:AMWD), and Masco Corporation (NYSE:MAS).
Potential Opportunity For Investors
Given NCFT's inconsistent performance on the market since its IPO, major shareholders will likely take advantage of the May 6th lockup expiration to take some profits in the company, re-deliver money to shareholders and/or shift their position to a more reliable business.
We recommend this stock as a short opportunity for aggressive investors.
We invite readers wishing to read and join the discussion about lockup expirations to click the +FOLLOW button above the title of this article.
Disclosure: I am short NCFT. I wrote this article myself, and it expresses my own opinions. I am not receiving compensation for it (other than from Seeking Alpha). I have no business relationship with any company whose stock is mentioned in this article.