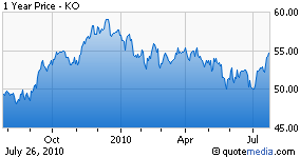 Click to enlargeCoca-Cola (NYSE:KO) was founded in 1886 and has become the most widely recognized brand name in the world. It went public in 1920, paying dividends annually since then. KO became a Dividend Aristocrat and now has an almost half century (48 years to be precise) streak of annual dividend increases.
KO is the world's number 1 provider of sparkling beverages, juices, juice drinks and ready-to-drink teas and coffees. Popular brands include Coca Cola, Diet Coke, Minute Maid, Sprite, Dasani, Powerade, vitaminwater, Coca-Cola Zero and Fanta. Over 1.6 billion KO drinks are consumed daily (out of 54 billion worldwide). KO has had a global outlook since the early days; it began sponsoring the Olympics in 1928.
The financial strength of KO is impressive. It has been buying treasury stock for years, acquiring more than 1.2 billion shares at a cost of $25 billion, now worth more than $66 billion at the current market price. Just those treasury shares alone would represent a very substantial company. Because of its treasury stock, the total equity is cut in half to "only" $25 billion. However, its debt is $4.4 billion, giving KO a very modest debt/equity ratio.
After purchasing $1½ billion in treasury stock last year, share repurchase have been put on hold this year due to the purchase of Coca Cola Enterprises's (NYSE:CCE), its largest bottler with 75% of US bottler volume, North American assets. The deal is expected to close in Q4.
During 2Q 2010, half the sales came from Eurasia, Africa, Latin America and the Pacific, which are high growth regions with very large populations and generally low per capita consumption of KO beverages. Growth will come from capturing a growing share of the projected $1 trillion market for nonalcoholic beverages by 2020, called 2020 Vision.
The strategy for growing the company is adding new drinks (carbonated and non carbonated) and expanding business around the world. The purchase of Glaceau enables KO to market vitaminwater across the US and into foreign countries. KO is building its presence in fast growing markets like China, India, Russia, Brazil, Indonesia, etc. with very large populations that have very low per capita consumption of KO's drinks.
The stock had a rapid rise in the late 1990s, reaching record levels above $85/share by 1998, but since then the stock has just lumbered along. After declining it has been trading in the $40s and $50s for the last decade. That record could be viewed as dismal but KO saw limited suffering during the sharp decline of 2008-9 and so does not look so bad when compared with other stocks.
The stock has been strong in July, rising to $54.75/share with a yield of 3.2%. EPS is expected to grow 13% to $3.47 in the 2010 and up 8% next year to $3.75. 2011 will begin in a few months and the dividend will be increased again, bringing KO's dividend streak to 49 years. Patient investors may wait for a pullback in price to receive a higher yield. I'm happy with the purchase of KO for my IRA in 1993. As Coca Cola used to say: "things go better with Coke!"
Disclosure: Author is long KO