The dots connect from the housing marketplace to banks and involve equipment leasing as one of the industries affected. From writing the Bank Beat column every Monday, and also seeing the news from the bank trade publications, the construction and land development industry has taken a very large hit. In almost all the bank failures, the huge write offs and non-current loans fall into this category. A survey recently found 80% of the regional and small banks out of this market place. Driving down the street and seeing a sign that says, "Construction Financing by First National" is rare today.
One reason is the "take out" loan being available, another is the interim financing not be available, and thus the construction industry is down, one of the largest numbers of activity in the Equipment Leasing and Finance Industry monthly report. This in turn affects employment, property values for schools, taxes for cities and counties and states, and gives many business fear about spending cash or extending credit to expand their business.
In addition, it takes away a profit center from smaller banks that are being squeezed out of other products by the very large banks and their pricings as well as products.
According to Al Schuler, who we have been quoting for almost ten years as the US Agriculture forecaster, involved in wood products ( the key to understanding construction of new houses and commercial property), new housing will continue to fall not only due to mortgage money available, but the over building of homes in many areas of the United States:
"Regionally new housing starts were weak everywhere: the northeast was off 11.3%; Midwest was off almost 7%; the south was off 2.4% 5 and the west was down 5.9%."
He predicts new home construction will continue to fall, particularly without tax stimulus or other government incentives.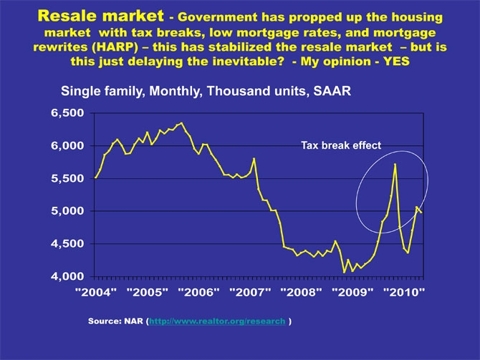 "Although we have a number of difficult problems facing the economy, there are two "elephants" that will hold back the economy for an extended period of time.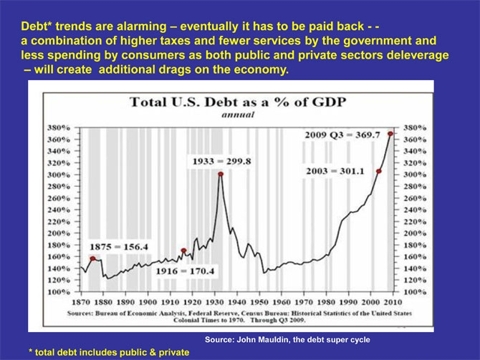 "(1) Debt - which exists at both the government level (federal, and state), and the private sector, particularly individual citizens. Those sectors that don't have access to "printing presses" ( i.e., you and me) are deleveraging or paying off debt.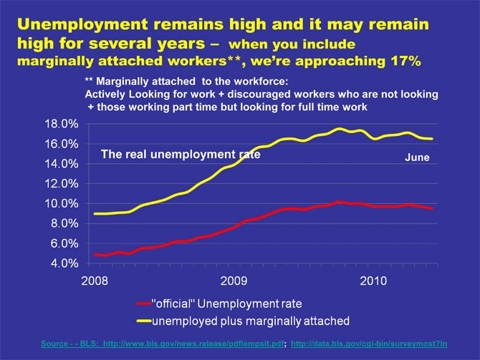 "2) Jobs - the job market is stabilizing 5 but consider these alarming numbers:
14 million remain unemployed -
8.6 million working part time, but want full time jobs -
3.8 million discouraged so not counted
Total = 26 million - 18% of the workforce
Both the debt problems and the weak job market will continue to impact consumer spending ( 70% of the economy) including housing expenditures. An indicator of consumer spending is confidence that too is feeling the impact of the weak job market.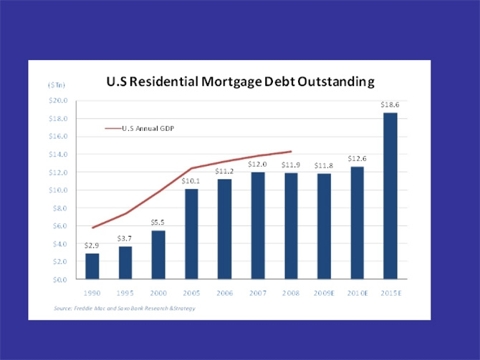 "Another set of issues the mortgage market, foreclosures, and housing supply:
--The mortgage market is in a state of disarray to put it mildly 95% of the mortgages written, held, or insured in the past 24 months were by the GSE's ( Fannie, Freddie, etc.). They hold/insure about 53% of all residential mortgages here in the USA. Fannie and Freddie have an enormous amount of debt, and by the way, they were placed in conservatorship two years ago ( i.e, insolvent).
--Foreclosures will continue to be a problem 24% of U.S. mortgages are underwater."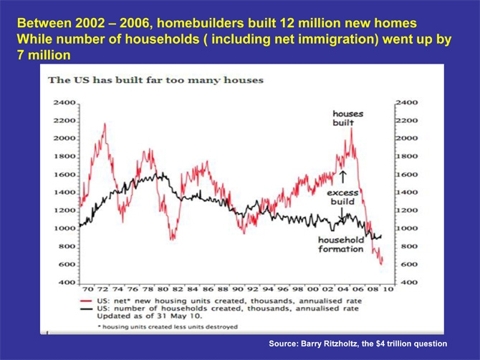 "--- We built too many homes over the past decade according to some analysts, this one included. If you compare houses built ( net of houses torn down) with household formations, beginning in the early 1990's, we probably built about 4 million excess homes. (e.g., between 2002 and 2006, we built 12 million new homes while the number of households went up by 7 million.)
"If you subtract about 1 million destroyed (beyond economic life, etc.), the "net" is 11 million new supply compared with 7 million (household formations) demand: 11 million 7 million = 4 million excess supply."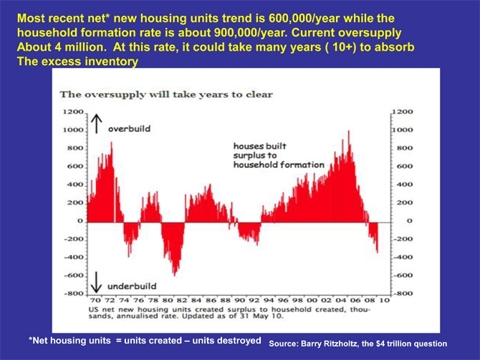 The question is, does this mean Florida, Arizona, Nevada, and California or areas hardest hit by unemployment, such as Michigan, or suburban areas from larger population areas that were at one time expanding and today are not?
Or is this a trend for home re-modeling or tearing down old homes or just abandoning them, which are happening in areas of Illinois and Michigan?
Disclosure: No position