The economic recovery that has been Europe ongoing over the past few months appears to be sustainable and European stocks are currently attractive after being out of favor, especially among U.S. investors, over the past few years. For U.S. investors, Europe is interesting as valuations are, on average, cheaper than in the U.S. and dividend yields are higher. Recent M&A rumors have also reinforced Europe's attractiveness for U.S. investors, namely Pfizer's (NYSE:PFE) interest in AstraZeneca (NYSE:AZN) and General Electric (NYSE:GE) possible takeover of Alstom (OTCPK:ALSMY). This means the rally observed over the past few months in Europe may have further room to grow, especially in peripheral markets like Spain that were out of favor during the past few years.
Following a decade of outperformance in the Eurozone, Spain lost part of its shine since the 2008 financial crisis, which burst its real estate and construction bubble. During 2009-13, the banking and economic crisis in Spain led to a huge underperformance of Spain's (NYSEARCA:EWP) equity market compared to other European markets, such as the German DAX (NYSEARCA:EWG). Over the past three years, Spain has made substantial efforts to digest the real estate bubble and adjust the economy to the challenges it faces.
These efforts have been recognized by investors and since mid-2013 the risk perception towards Europe's peripheral markets has improved considerably. Specifically, Spanish 10-year sovereign bond yields are currently slightly higher than 3%, compared with a record high of 7.75% reached during 2012. This improved risk perception towards Spain is also evident in equity prices. During the last 12 months, Spain's equity market, measured by the iShares MSCI Spain Capped ETF, rose by close to 40% outperforming the S&P 500 index (NYSEARCA:SPY) during the same period.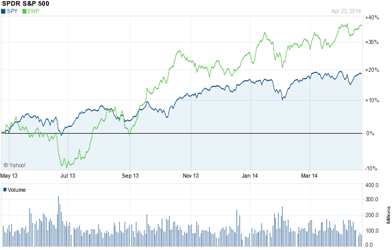 Over the next two years, the economic recovery in Europe is expected to be broad-based. According to the European Commission, GDP growth in the European Union is expected to be 1.5% in 2014 and 2% in 2015. Although Spain has pulled out of recession, its GDP growth is expected to be below the European Union average in the next two years, at around 1%. The country continues to face strong economic headwinds, such as high levels of private debt, high structural unemployment, and high fiscal deficits. Nevertheless, Spain's economic activity has surprised positively recently and further upwards revisions may follow over the next few months. Namely, its export growth has been strong and should continue to benefit from the ongoing European recovery, as the largest share of Spain's foreign trade is made within the European Union.
Spain's exports currently account for over 30% of the country's GDP and its export growth is stronger than in France, Italy, Portugal and Greece. Outside Europe, the largest and most important trading partners are the U.S. and China. The principal exports from Spain include agricultural products, motor vehicles, machinery and electric equipment, chemical products, and clothing and footwear.
Spanish companies have been able to grow their exports over the past years, and the ongoing diversification of Spanish exports is one of the main reasons for increased sales abroad. In 2013, exports to non-Euro countries were especially strong, especially for some countries in Africa (for example, Algeria +11.4% year-on-year) and Latin America (Brazil +28.9% yoy). The number of exporting companies has also increased significantly over the past few years, supporting the country's export growth.
For those considering investing in Europe's recovery, a play on the Spanish market seems interesting. It benefits from broad based recovery in Europe through Spain's exports and is also a play on the domestic recovery following several years of adjustment. Among the largest companies within EWP are many world-leading companies, like Banco Santander (NYSE:SAN), Telefonica (NYSE:TEF), BBVA (NYSE:BBVA), Repsol (OTCQX:REPYY) or Inditex (OTCPK:IDEXY). These companies are global leaders in their sectors of activity, where they hold important market shares both domestically and abroad. EWP's two largest holdings are SAN and BBVA, accounting for close to 35% of its total exposure.
Therefore, the financial sector is a major part of the Spanish equity market. Since 2008, Spain's central bank has been very active to establish a range of measures to increase the resilience of the sector, including the increasing provisioning and transparency, promoting mergers between savings banks, and setting up an asset management company to which non-performing real estate assets of banks were transferred. Thus, Spain's financial sector is now stronger and its outlook is good, being one of the main beneficiaries of improved economic fundamentals. Banks are sensitive to the economic cycle and tend to represent the economy at large. If growth picks up or surprises to the upside, banks will likely perform well and lift EWP as well.
Conclusion
For U.S. investors, Europe has been out of favor over the past few years due to the European debt crisis and the continent's double-dip recession. However, GDP growth has returned and Europe's outlook is currently much brighter than a few months ago. For those considering a macro play in Europe, Spain seems to be interesting as it benefits both from a domestic recovery and stronger trading partners. EWP seems to be a good investment vehicle to play this theme, due to its large exposure to banks that are especially sensitive to the economic cycle.
Disclosure: I have no positions in any stocks mentioned, and no plans to initiate any positions within the next 72 hours. I wrote this article myself, and it expresses my own opinions. I am not receiving compensation for it (other than from Seeking Alpha). I have no business relationship with any company whose stock is mentioned in this article.