Arena (NASDAQ:ARNA) investors have had a measured excitement over the past week and a half. The company's anti-obesity drug Belviq is now featured in a television ad campaign called "Willpower". The two minute ad gets the name out there, stresses keeping weight off, and offers consumers a free trial of the drug.
According to iSpot.tv, a unique company that tracks television advertising, Belviq ads have run 498 times over the past 12 days and marketing partner Eisai has spent just over $500,000. Simple math gets us to a figure of about $1,000 for each airing of the commercial. Investors may want to check out iSpot.tv. That company sells its data in many ways, including by category, and covers airings, ad spend, music, actors used, etc. They even track social media. If you trade in the market a lot, you can gain some valuable insights into the marketing of a company you are invested in as well as the competitors of that company.
Drilling down into the iSpot data, we can see that peak advertising was run in the first 10 days and that the last couple of days have seen ad frequency taper a bit. The good news is that the awareness level is still trending higher (I will cover later in the article) even if ad frequency is slowing down.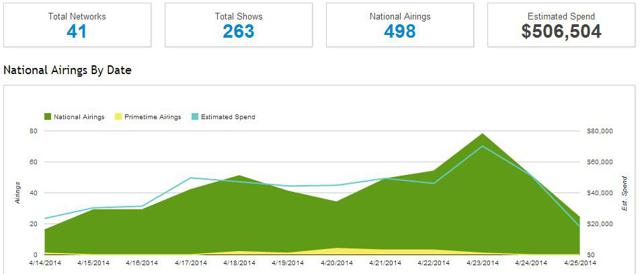 Chart Source - iSpot.tv
The chart above is just one example of the data collection that is possible for investors that are interested. Additional data shows that the network where ads have run most frequently is the Oprah Winfrey Network (OWN), and the most popular show on OWN where the ad is aired is Dateline.
What we can see thus far with the television ad campaign is that Eisai is concentrating its efforts on cable networks and in off-peak hours. Essentially, Eisai is seeking value and bang for its buck. Google Trends indicate that the Eisai strategy is very sound in raising awareness, and that is good.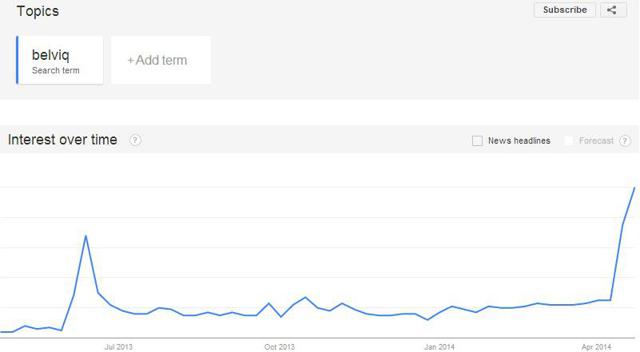 Chart Source - Google Trends
For some perspective, we need to look at the weight loss sector as a whole. iSpot.tv shows that there are currently 47 brands in the weight loss category with 72 different ads running in the past 90 days. There have been over 31,000 ads in the category aired in that same time period and over $89 million spent. Thus, in the past 90 days, Belviq is responsible for about 1.5% of the ads aired, and less that 1/2 of 1% of ad dollars spent.
Given the data, it would seem that Belviq is not grabbing that much attention. However, the devil is in the details. iSpot has Belviq as the #2 spot rank in the past two weeks. The #1 company is Jenny Craig, and the #3 is Weight Watchers. You read that correctly. Despite being very new on television, and despite a lower budget, Belviq is fairing very well in the ad world against established competitors like Jenny Craig and Weight Watchers. An additional nugget of information is that 30% of men do not like the ad while 79% of women do. General sentiment on the ad is neutral.
With all of that, one key thing that investors need to understand is the process of how advertising translates to sales, and over what period of time. We should not expect sales to increase quickly, and certainly should not expect them to increase 9 or 10 fold. Consumers typically need to see an ad several times before they are compelled to act. Remember, there is always different reactions. Two recent Tweets on the subject tracked by iSpot:
"MT @MegHalll: I just related to the "Belviq" commercial wayyy too much omg #fatlife"
and
"Has anybody else heard this belviq medicine commercial all these side effects just to suppress hunger n make u lose weight. Tf"
With all of this information, what should investors expect? We should expect awareness to increase. We should expect sales to increase. We should expect free trials to increase. We should expect a larger pool of patients which breaks down into more success stories and more stories of people without success. Overall, the positives of this campaign should begin to demonstrate themselves in the next month or so.
Over the past 6 weeks Belviq sales had flattened out a bit. The ad campaign was a needed catalyst. It is unfortunate that the launch of the ad campaign coincided with the expiration (or perceived expiration) of discount cards with consumers. Eisai has extended the discount program, but as yet it would appear that many consumers are not aware of that fact.
In the very near term Arena will react to weekly scripts as if the ad campaign should be reflected in them. This past week will represent the first week that the sales figures would have even possibly carried an impact, and as discussed above, ad campaigns take time. A savvy investor will realize that the script growth from the advertising is still a few weeks away and seize opportunities to grab this equity at low and depressed prices. Stay Tuned!
Disclosure: I am long ARNA. I wrote this article myself, and it expresses my own opinions. I am not receiving compensation for it (other than from Seeking Alpha). I have no business relationship with any company whose stock is mentioned in this article.