Altria Group (NYSE:MO) presented first-quarter results yesterday (April 24), which were about in line with analyst expectations. Altria reported that diluted EPS declined to $0.59, compared to $0.69 in the year-ago quarter (a decline of 14.5%) due to NPM settlement charges: ($0.02) per share in NPM adjustment settlement items impacted Q1 2014 results, compared against ($0.15) in the year-ago quarter. The tobacco company also reported a first-quarter 2014 adjusted diluted EPS of $0.57, which compares against $0.54 in the year-ago quarter (up 5.6%). A better pricing environment for tobacco products contributed to results that were largely in line with analyst expectations. Altria also took the opportunity to reaffirm its adjusted EPS guidance: The tobacco company continues to expect an adjusted EPS for 2014 in the range of $2.52-2.59, which would translate into a y-o-y growth rate of approximately 6-9%.
Share performance
Altria had a good run since February, which is when the stock really got into gear: Shares gained a respectable 13% in value since the beginning of February. Over the last twelve months, Altria returned 7% and has at least outperformed its major competitor Philip Morris (NYSE:PM), which lost 12% over the same time period. Philip Morris remains my top income pick in the tobacco sector, with substantial upside potential.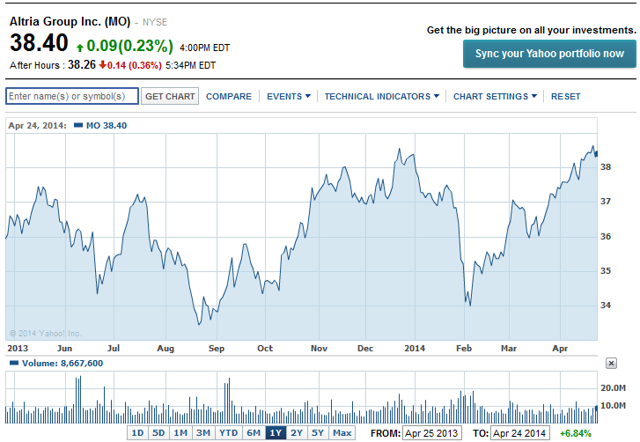 Click to enlarge
(Source: Yahoo Finance)
Despite occasional short-term bursts in volatility, tobacco companies actually did have an amazing run over the last five years. The entire tobacco peer group consisting of Altria, Philip Morris, Lorillard (NYSE:LO) and Reynolds American (NYSE:RAI) consistently edged higher over the last five years. Reynolds American gained 179% over the most recent five-year performance measurement period, while Lorillard returned 161%, Altria 135% and Philip Morris 125%.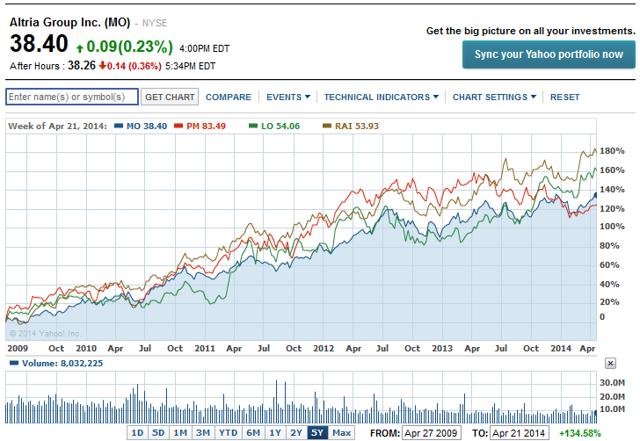 Click to enlarge
(Source: Yahoo Finance)
Opportunistic income investment
Last time I wrote about Altria on February 2, 2014, I recommended the company for opportunistic investors; mainly because the tobacco sector experienced a sharp sell-off that, I believed, was unwarranted. I like falling stock prices for high-yield income investments. Many investors panic too quickly and abruptly abandon their investment thesis when faced with short-term volatility, especially when reasons for a sell-off are not immediately recognizable. High-yield income investments like Altria get more attractive when the stock price goes down, not less.
Market valuation
Falling stock prices immediately translate into higher entry yields, and I believe this approach to income investing is both more productive and constructive as opposed to constant trading determined by volatility.
Altria currently trades at 13.94 times forward earnings, which is equivalent to an earnings yield of 7.2%. Altria is also still the cheapest tobacco company in the sector, trading at a 3% discount to the average peer group P/E ratio of 14.44.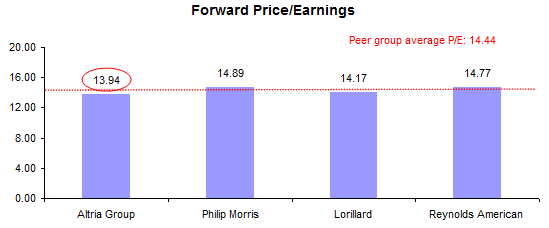 (Source: Achilles Research, Finviz.com)
Income investors whose primary investment criterion is the dividend yield could certainly consider Altria as a top choice in the high-yield tobacco sector. Altria pays investors $0.48 per share per quarter, translating into annual payments of $1.92 per share. Altria's forward dividend yield is also the highest in the tobacco peer group, with 5%.
Dividends, however, are not the only instrument that Altria utilizes to reward its shareholders. Altria also regularly repurchases its own shares, and has bought back about 7.5 million shares worth $272 million in the first quarter of 2014 alone.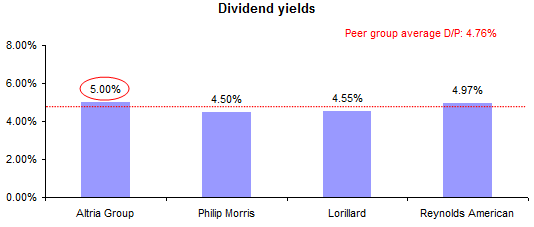 (Source: Achilles Research, Finviz.com)
A summary table comparing the valuation metrics of tobacco companies is presented below:

Click to enlarge
(Source: Achilles Research, Finviz.com)
Conclusion
Altria Group might be a good choice for yield-conscious investors who want to venture out of traditional high-yield sectors, such as Real Estate Investment Trusts or Utilities. Altria Group does face revenue challenges and quite a significant amount of regulatory risk, but the company has shown over and over that it is committed to increasing its distribution stream to shareholders. Moreover, Altria supplements its high dividend with regular share repurchases, which should support Altria's share price going forward. I believe setbacks in Altria's share price make for excellent investment opportunities for investors to add a high-yield income play to their portfolios.
Disclosure: The author is long PM. The author wrote this article themselves, and it expresses their own opinions. The author is not receiving compensation for it (other than from Seeking Alpha). The author has no business relationship with any company whose stock is mentioned in this article.