Fundamental analysis
In this article we will focus on the 24 largest mobile network operators in the world, taking a close look at some fundamental key ratios that we think are important in determining a quality company. Our criteria for a well-managed company are as follows:
High ROE (high quality)
Revenue and EPS growth (high growth)
Many years of positive revenue and EPS growth (consistent growth)
Years of paid dividends (stability/profitable companies)
Payout ratio below 100% (professional management)
High EBIT margin (good at lowering costs -- i.e., long-term competitive advantage)
Low debt/equity (strong financials long term)
High current ratio (strong financials short term)
We believe that these key ratios represents fundamental knowledge crucial in determining, which company that stands out from the rest of its competitors. After handpicking a small group of the strongest competitors, we will examine how ROE, profit-margin, book value and debt/equity has evolved over the last 10 years. If a company has a growing or stable and relatively high ROE, a low debt, high profit-margin and positive growth in book value, then we believe we found a quality company. After selecting the best company, we will look at current valuation to determine if it is a good investment at the moment.
Let's get started with Tables 1 and 2, which shows the above-mentioned key ratios for the 24 largest mobile operating companies, and the EBIT margin over the past five years.
Table 1 -- Fundamental Key Ratios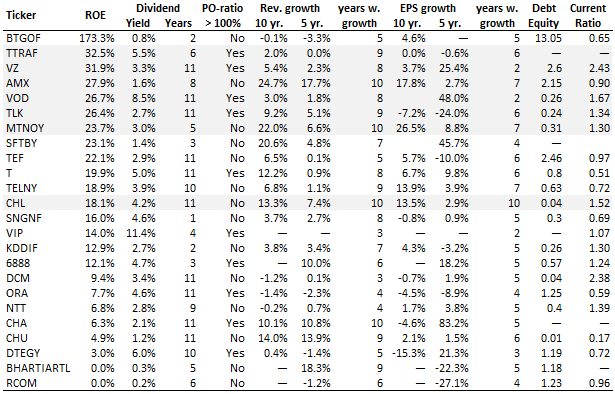 Source: Morningstar, April 2014. Tickers refer to the search engine on Morningstar's website, data collected for the respective company profile on Morningstar in both the Key Ratios and Financials tabs.
Table 2 -- EBIT Margin, 2008-14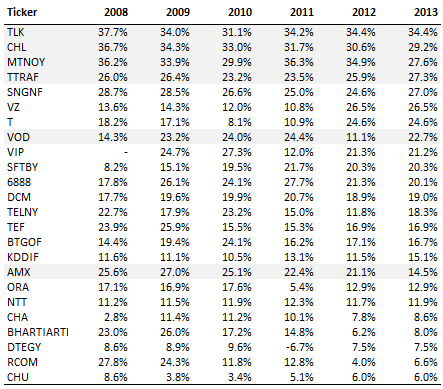 Source: Morningstar, April 2014. Tickers refer to the search engine on Morningstar's website, data collected for the respective company profile on Morningstar in both the Key Ratios and Financials tabs.
We have highlighted the companies that we find most impressive:
Specified Analysis
For each of these, we present the development in ROE, profit-margin, book value and debt/equity over the last 10 years.
Table 3 -- Selected Key Ratios for the Six Candidates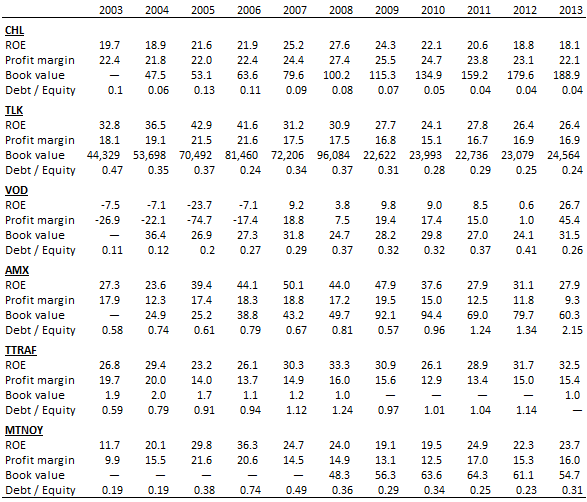 Source: Morningstar, April 2014. Tickers refer to the search engine on Morningstar's website, data collected for the respective company profile on Morningstar in both the Key Ratios and Financials tabs.
We make following observations from Table 3:
China Mobile Limited has had a stable profit-margin and ROE with a lesser fall after the crisis in 2008, which we still take as a positive sign of stability. Even though their EBIT margin has been falling (Table 2), it is still relatively high compared the sector in general, which in our opinion makes the negative tendency more acceptable. The company has almost no debt, which is a big plus in our book, as it makes it well prepared for future negative market shocks. CHL has also increased book value every year over the past 10 years.
Telekomunikasi has the highest overall numbers, but this might mask a greater problem. ROE and profit margin has been declining over the last 10 years, which shows to us that this company does not take advantage of its growth and size, but is becoming less efficient as years go by on several parameters. This is not the sort of company we are looking for, with safe and positive long-term prospects.
Vodafone appeared to be good in our initial screening, but from Table 3 it is clear that ROE and profit-margin is quite volatile. We see stability as a very important quality in a company, and this rules out Vodafone in our further analysis.
American Movil has had a declining ROE, profit and EBIT margin and has a debt/equity of 2.15, which, compared to its peers, is far too high.
Telstra Corp. Ltd. has had a growing ROE and stable margins. This is positive, but the debt of 1.14 is too high in our opinion and the fact that TTRAF has had a payout ratio above 100% might witness of a management who put too much emphasis on short term performance, which is a bad match for our investment strategy.
Mtn Group have had a rising ROE and profit margin, which is very positive, and the company seems to constantly improve as the years go by. Their EBIT margin is stable and their book value is rising. To wrap it all up, the company has a low debt/equity compared to its competitors.
Looking at all three tables, we end up with two stand-out companies. These are quality businesses, who improves every year and thus are companies we would like to buy at an attractive price.
China Mobile Limited
Mtn Group
China Mobile is the largest Chinese mobile network operator and is twice as big as its two domestic competitors. China Mobile experienced the first profit decline in 10 years this year, because of rising costs. Despite the recent underperformance, we believe that the numbers speak for themselves and we prefer China Mobile over its two domestic competitors.
Mtn Group is the largest South African mobile network operator and is exposed to both Africa and the Middle East. These geographical areas are, as well as China, places we would like to be exposed to, since we believe China, Africa and the Middle East has great growth potential in the near future, and as the regions become more prosperous, more citizen will demand services of which CHL and Mtn are expert providers.
Valuation
The industry is highly profitable and therefore we use price in relation to earnings (P/E) as our valuation tool. To start of with we see that both and are selling below sector average of P/E = 21.1, thus fulfilling our first valuation criteria.
This leads us further to a historical perspective, we want to look at how the two companies have been priced in relation to their respective earnings each year, over a longer period of time.
First is China Mobile Limited, and the graph shows the stock price since 1997.
Source: Historical prices are collected from finance.yahoo.com, the two other curves are computed from historical values of EPS from both Morningstar and Investorshub.
China Mobile is currently valued at P/E = 9.1, which is the third lowest valuation of our 24 companies. has been traded between a P/E of 7 and 20 historically, making its current valuation seem rather attractive. Charlie Munger once said, "In the long term a stock is worth the value created -- i.e., book value per share."
The stock price of CHL rose 12,8% annually over the last 10 years, while book value per share rose 19,2% annually during the same period of time. We find China Mobile Limited to be a quality company selling at attractive price.
Now, let's take a look at Mtn Group and its stock price since 2001.
Figure 2 -- Valuation, 2001-14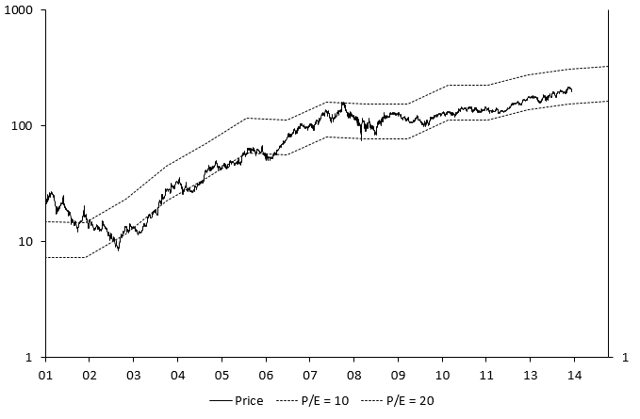 Source: Finance.yahoo.com and Morningstar.com.
We see that MTN currently has a P/E = 17.7 and that the stock has been traded between a P/E of 10 and 20. Once we find a quality company we have to be greedy with the price. Right now, we do not find MTN to be cheap enough, but we will keep an eye out for it in the future, and once its valuation is around P/E = 12, we will buy.
Conclusion
To sum it all up, we find that China Mobile Limited and MTN Group are both quality companies, who beats their industry peers on several parameters, but at this moment only China Mobile appears to be a selling at a bargain price for the long-term investor.
Disclosure: The author is long CHL, MTNOY.
Business relationship disclosure: The article has been written by WJ Invest. WJ Invest is not receiving compensation for it (other than from Seeking Alpha). WJ Invest has no business relationship with any company whose stock is mentioned in this article. This is not a buying recommendation, but merely an expression of our own opinion. We recommend that every reader do their own research, before drawing any conclusions or perhaps buying one of the stocks mentioned in this article.
Editor's Note: This article discusses one or more securities that do not trade on a major U.S. exchange. Please be aware of the risks associated with these stocks.