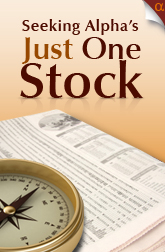 Several times a week, Seeking Alpha's Jason Aycock asks money managers about their single highest-conviction position - what they would own (or short) if they could choose just one stock or ETF.
---
Bret Jensen has nearly 20 years of experience in financial services, and is responsible for portfolio management and investment selection as chief investment strategist for Miami-based Simplified Asset Management.
If you could only hold one stock position in your portfolio (long or short), what would it be?
If I only had one position to hold through end of year, it would be to have a short position in Salesforce.com (NYSE:CRM).
The company provides customer and collaboration relationship management (CRM) services to businesses and industries worldwide. It also offers a technology platform for customers and developers to build and run business applications. Its CRM services enable customers and subscribers to systematically record, store, analyze, share, and act upon business data, and to enable businesses to manage customer accounts, track sales leads, evaluate marketing campaigns, and provide post-sales service.
The company markets sales force automation features of its application services under the Sales Cloud brand name; and customer service and support automation features under the Service Cloud brand name.
How does your choice reflect your investment approach?
We run a boutique long/short hedge fund based in Miami. We employ a top-down contrarian strategy. Our longs consist primarily of stocks selling at the low end of their historical valuation based on their five-year average of Price/Earnings, Price/Sales, and Price/Cash Flow; have strong management and some visible catalysts; and that occupy sectors that have underperformed the market in the previous six to 12 months.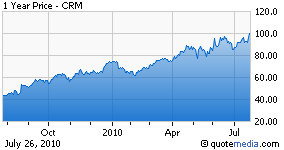 Our shorts consists of stocks that come from sectors that have been market leaders for the past six to 12 months, appear vastly overvalued when compared to their historical valuation metrics, and have heavy insider selling and/or seem driven by their "story" rather than their true business prospects. Our goal as a fund is to provide superior returns in flat, choppy, or bear markets while reducing overall portfolio volatility. We employ option strategies to capture additional premiums and/or hedge positions.
Can you talk about the sector? How much is your selection based on the company's industry, as opposed to a pure bottom-up pick?
The information technology sector is in a good position in our view, as it operates in a space that is primarily driven by the corporate sector. Corporate balance sheets currently have one of their strongest cash positions in history, and companies are focusing on productivity growth given the uncertainty of sustained economic growth, an increasing amount of new regulation, and unknowns around the future course of taxes and labor costs. That being said, we still believe from a bottom-up perspective CRM is vastly overvalued for a variety of reasons.
How is Salesforce.com positioned with regard to competitors?
The company is the undisputed market leader in the customer relationship management software space. However, given the growth of cloud computing and the 80% gross margins available in this space, it can count on deep-pocketed competitors - Oracle (NASDAQ:ORCL), Microsoft (NASDAQ:MSFT), SAP (NYSE:SAP), etc. - offering compelling alternatives at some point in the future.
I am also not impressed with the product itself. I spent eight years as a technical director of software development at a Fortune 100 company. None of my contacts from my previous career that have deployed the main CRM software are impressed with its ease of use, technical architecture or overall performance. The most common feedback I have received on the software is that it is adequate, but a somewhat "clunky" tool.
How does CRM's valuation compare to its competitors?
Probably the closest comparison in cloud computing is VMware (NYSE:VMW), which I think is very overvalued itself but looks like an absolute steal when stacked up against CRM:
| | | |
| --- | --- | --- |
| | | |
| PEG | 3.12 | 2.48 |
| Trailing P/E | 162 | 155 |
| Forward P/E | 66 | 46 |
| Projected 2010 Revenue Growth | 20% | 37% |
| Price/Sales | 9 | 14 |
(from Yahoo Finance)
How does your view differ from the consensus sentiment?
The sentiment on CRM could not be more positive. The stock has more than doubled in the past year and more than quadrupled since its recent low in late 2008. It is the S in Jim Cramer's CANDIES, which he hypes on a weekly basis. Every week there is another big story or a hundred on the wondrous growth of "cloud computing." Salesforce.com's CEO is being profiled in Fortune and other magazines on a regular basis. Sentiment has not been this positive on a tech stock since the Internet Boom of the late '90s.
So sentiment is positive - short interest is 10% of float, and with lighter volume it seems short ratio is moving up around 5.0; how would you rate worries about being squeezed on a position like this?
Personally I think a squeeze probably would not happen at these valuations, percentage short, or market cap. The stock is certainly not being driven by valuation and sentiment would be hard pressed to be any more positive… I am short CRM, but I have a hedge position, so, not concerned over the short term.
And speaking of the CEO, does the company's management play a role in your selection?
Yes, management does play an important part of our evaluation. First, they are selling stock incessantly. CRM is consistently on Barron's weekly top 20 companies with heavy insider selling. They also lost a key executive to Hewlett-Packard (NYSE:HPQ) recently.
Finally, the CEO is famously prone to hyperbole in interviews and events. One recent interview spent quite a bit of time talking about his Zen-like management philosophy, swimming with dolphins and how he works one week a month out of his house in Hawaii. Personally, I like the CEOs for my long picks to be from the old school: nondescript, blunt and totally focused on running the business.
What catalysts, near-term or long-term, could move the stock significantly?
1) Any quarterly earnings or revenue number that just meets or misses estimates would seriously crater the stock immediately.
2) Tepid guidance during an earnings conference call.
3) Any market pullback will result in a significant sell-off of high-beta stocks like CRM.
4) The pending increase in the capital gains tax rate in 2011 could facilitate selling towards the later part of the year, given the large run-up in the stock over the past 18 months.
5) The "cloud computing" story will stop driving the stock incessantly upward as investors focus on several red flags, including:
Significant, consistent and sustained insider selling;
Operating cash flow that has grown just over 30% during the last two completed fiscal years, during which time net income has grown over 300%;
GAAP earnings of only $0.13/share in last reporting quarter;
Consensus earnings estimates for this year and for 2011 have come down over the past 90 days.
What could go wrong with this position?
As Keynes famously once said, "The market can stay irrational longer than you can stay solvent." Momentum stocks almost always run up much farther than they should. Given that, I am going to protect the short position initiated at close of day Friday, at a price of $99.77, with one Jan. 11 125 call for $3 for every 100 shares shorted.
Thanks, Bret, for sharing your choice with us.
Disclosure: Simplified Asset Management is short CRM.
Read more Just One Stock articles »
If you are a fund manager and interested in doing an interview with us on just one stock or ETF position you'd hold, please email Rebecca Barnett.