When natural gas is cooled to minus 260 degrees Fahrenheit at a liquefaction facility, the fuel condenses to roughly 1/600th of its original volume, facilitating overseas transport in specially designed ships.A
Regasification terminals heat the liquefied natural gas (LNG) to restore the delivered volumes to a gaseous state before pipelines transmit the product to end-users.
This network of LNG carriers and import and export terminals effectively releases natural gas from the geographical constraints of the pipeline network, enabling producers to deliver their output to overseas end-markets.
LNG accounted for about 32 percent of the global trade in natural gas in 2012, compared to 26 percent in 2005. At the same time, LNG represents only 9.8 percent of global gas consumption, making it a niche market.
Surveying the Supply Side
The build-out of LNG import and export capacity has accelerated over the past decade, with global shipments increasing at an average annual rate of about 13 percent between 2001 and 2011.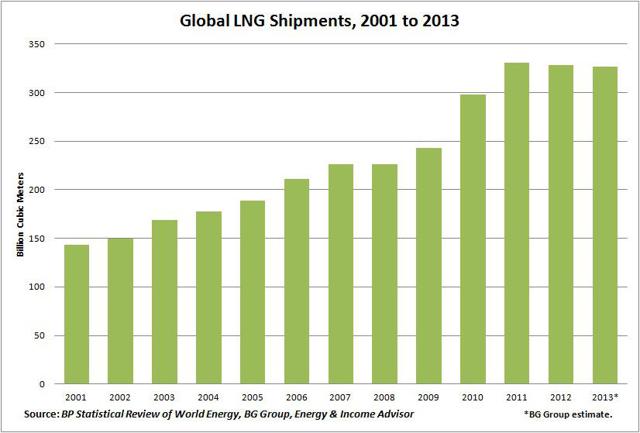 However, global LNG volumes have stagnated over the past two years, reflecting a lull in the completion of new liquefaction capacity.
Of the two export terminals slated to come onstream last year, only the long-delayed Angola LNG project commenced operations; in Algeria, the start-up of Sonatrach's Skikda liquefaction train slid from 2013 to the end of January 2014.
Angola LNG, the US$10 billion facility operated by Chevron Corp. (NYSE:CVX), sent out its first cargo in June, and then five more over the next six months. But a deadly accident involving a pipe-laying rig left the terminal operating at 20 percent of its capacity in the fall. Management indicated that the operation would ramp up to its nameplate capacity by the end of 2014.
These limited capacity additions and higher utilization rates at certain facilities were offset by supply disruptions in Nigeria and waning production in Egypt, where an unstable political situation, reservoir issues and domestic demand curtailed exports by 44 percent.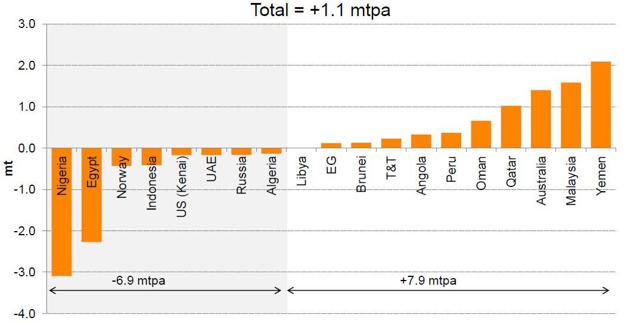 Source: BG Group, Global LNG Market Overview 2013-14
At the end of 2013, 17 exporting countries boasted of 86 liquefaction trains, with a total capacity of 286 million metric tons per annum (mmtpa).
And the pipeline of new projects remains robust, with 15 new export projects (102.6 mmtpa, or 35 percent of existing capacity) under construction at the start of 2014.
Australia accounts for about 60 percent of this forthcoming liquefaction capacity, a trend that reflects the resource-rich nation's proximity to China and other key demand centers in Asia.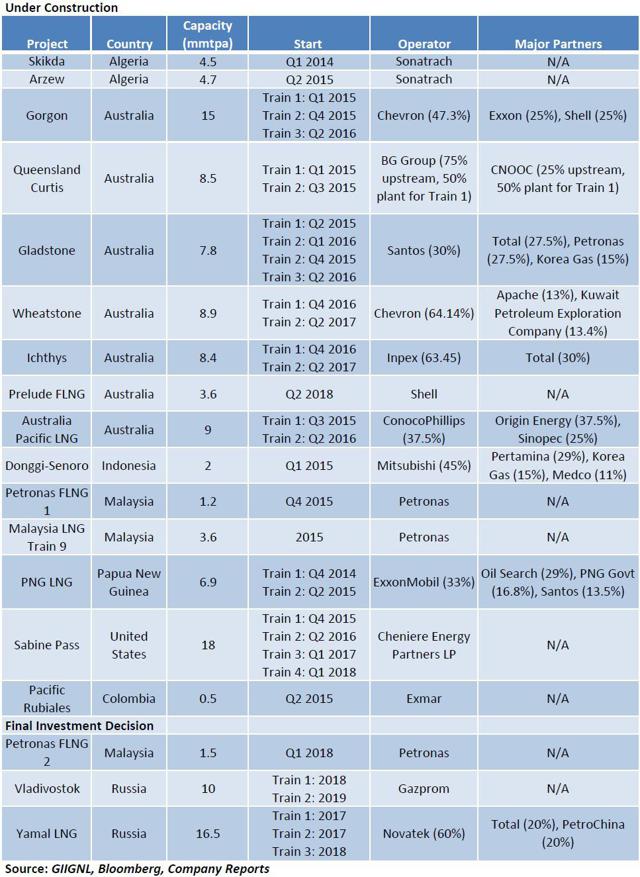 Oil and gas companies have also reached final investment decisions on three projects, with a combined 28 mmtpa of production, bringing the total capacity of confirmed additions to 130.6 mmtpa.
Beyond these established projects, operators have announced 22 potential liquefaction facilities that are in some phase of front-end engineering and design (FEED), the stage where the contractor conducts studies to address any technical issues and estimate construction costs.
With a total liquefaction capacity of 186.5 mmtpa, these FEED-stage projects would eclipse widely-cited estimates that call for the industry to construct another 135 mmtpa to 150 mmtpa through 2020 to meet anticipated demand growth.
Given the complexity and capital intensity of building a liquefaction facility, announced projects that fail to secure long-term contracts - a prerequisite for financing - likely will fall by the wayside. This hurdle helps to prevent overbuilding.
Meanwhile, the emergence of the US as a viable LNG exporter has raised questions about the feasibility of some proposed projects, and put pressure on international operators to lock up longer-term contracts.
Many prospective US liquefaction schemes involve the addition of export capacity to existing import-only facilities, reducing construction costs relative to projects in Australia and offshore East Africa.
And whereas the majority of existing LNG export facilities exploit a specific basin, US liquefaction sites would draw their volumes from a wide range of producers and basins, reducing exploration and development risks.
Reliable supply and the prospect of pricing indexed to Henry Hub natural gas - as opposed to Brent crude - holds significant appeal to countries that rely heavily on LNG to meet their energy needs.
After a prudent period of study, the Obama administration in May 2013 ended the moratorium on approving LNG exports to countries with which the US doesn't have a free-trade agreement - a crucial component for most proposed terminals to move forward.
The 37 LNG export applications that the Dept. of Energy has approved or is in the process of reviewing include a contemplated 38.56 billion cubic feet per day of capacity - equivalent to almost 55 percent of US natural gas production and 90 percent of global LNG exports in 2013.
The US Dept. of Energy ostensibly will play a role in picking the winners by determining which projects ultimately secure permits for exports to nations with which the US lacks a free-trade agreement.
Thus far, the regulator has approved a total of 10.9 billion cubic feet per day (83.5 mmtpa) of export capacity for unrestricted shipments, a volume that would propel the US into the ranks of the top three LNG producers.
The agency will consider each application on an individual basis and weigh the cumulative effect of previous authorizations when granting approvals. Accordingly, the projects at the top of the review list stand the best chance of gaining approval.
Nevertheless, the markets ultimately will dictate which projects go ahead and which fall by the wayside.
Building natural gas liquefaction and export facilities requires a significant capital investment, especially greenfield developments; the financial markets should favor projects that have secured long-term capacity reservation agreements from customers.
The table below highlights the five US LNG export projects that have secured long-term supply agreements with potential customers.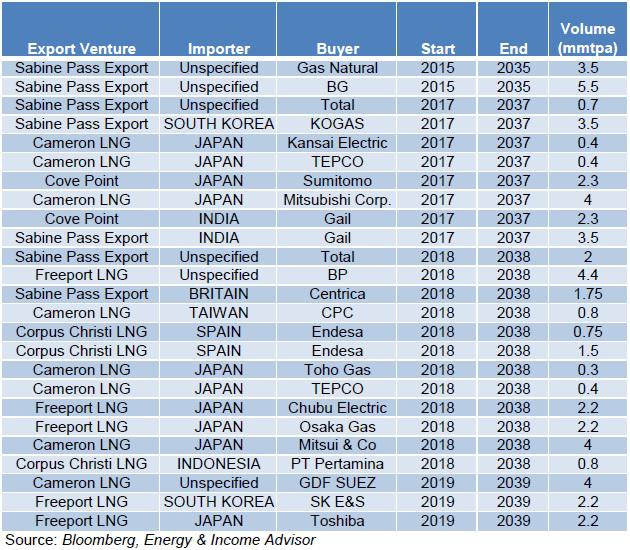 Fortunately, the need for long-term contracts to secure project financing should help to prevent the market from slipping into an oversupply - barring a major shift in demand, akin to what happened when the US shale gas revolution came into its own.
Surveying the Demand Side
On the demand side, 12 regasification facilities came onstream last year, including five floating units - a less capital-intensive solution that continues to gain favor, especially with countries that place a premium on flexibility.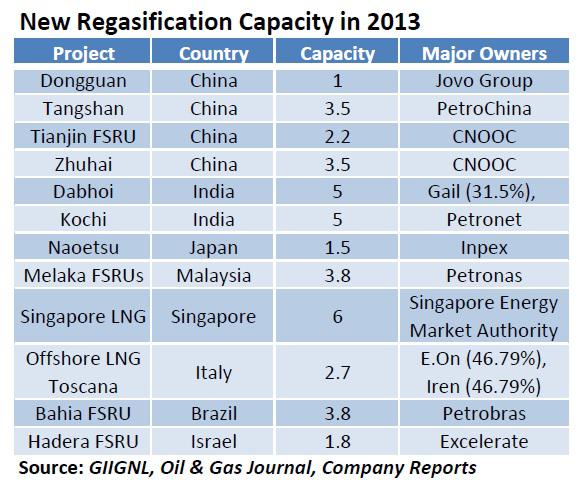 These additions bring the number of receiving terminals to 104 and the total capacity to 721 mmtpa. The facilities are spread across 29 different nations.
Israel, Singapore and Malaysia received their first LNG volumes last year. Meanwhile, the current project slate suggests that Jordan, Egypt, Lithuania, Poland and Ukraine could join the ranks of importers in 2014.
Other countries that have announced plans to develop LNG receiving facilities include Croatia, Finland, Ireland, Sweden, Bahrain, the Philippines, Sri Lanka, Vietnam, Colombia and Uruguay. If these proposals come to fruition, the number of importing nations could reach 50 by the end of 2016.
Although the number of potential end-markets for LNG exporters continues to increase, the Asia-Pacific region continues to dominate the global market, accounting for 75.1 percent of LNG volumes in 2013.
Japan and South Korea traditionally have accounted for the bulk of global LNG demand. Not only does a paucity of domestic energy resources force Japan and South Korea to rely on imports, but formidable geographic obstacles - the Pacific Ocean and North Korea, respectively - also prevent these nations from accessing the continental pipeline system.
This trend still holds: In 2013, Japan received about 88 million metric tons of LNG (37 percent of the global market), while South Korea's imports increased by 9.8 percent year-over-year to about 40 million metric tons (17 percent).
However, China remains the primary growth driver on the demand side. The Mainland's appetite for LNG cargos has increased dramatically in recent years, thanks to ongoing urbanization, rising household incomes and concerns about air quality.
To understand the outlook for the global LNG market, we must consider the evolving dynamics in these key markets and their implications for overall demand.
China: Gassing Up
Over the past five years, Mainland China's consumption of natural gas has grown at an average annual rate of 22 percent, reaching 16.4 billion cubic feet per (NYSE:BCF) day in 2013.
This trend should accelerate over the next half-decade. The National Development and Reform Commission's 12th five-year plan calls for annual gas consumption to hit 22.2 Bcf per day by the end of 2015. To meet this goal, Chinese demand would need to expand by 17.5 percent in each of the next two years.
And PetroChina estimates that domestic consumption of natural gas will expand to 38 Bcf per day by 2020, implying an average annual increase of 19 percent over the next seven years.
Massive investments in pipeline, generation and liquefaction capacity will abet this upsurge in the Mainland's gas consumption. Based on planned projects, China's network of gas pipelines will grow to more than 90,000 kilometers from about 50,000 kilometers in 2012. Meanwhile, the country also continues to build out power plants to burn thermal fuel supplied by these pipelines.
Although China's upstream operators have expanded production of natural gas significantly over the past decade, domestic supply has failed to keep pace with the rapid increase in consumption.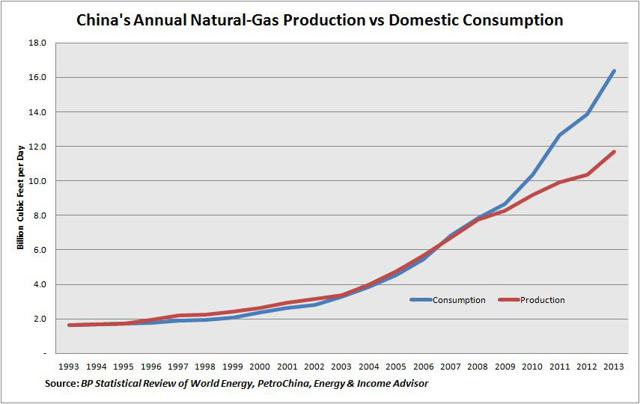 Despite the government's commitment to developing the Mainland's shale gas resources and growing domestic output, policymakers also expect imported natural gas to play an important role in meeting rising demand.
Not only is natural gas subject to a lower value-added tax than crude oil, but the Ministry of Finance also instituted a tax rebate (relative to a benchmark) on losses from gas imports via pipeline and LNG terminals.
China's LNG imports have quadrupled over the past five years and climbed to about 18 mmtpa in 2013 - an increase of 27 percent.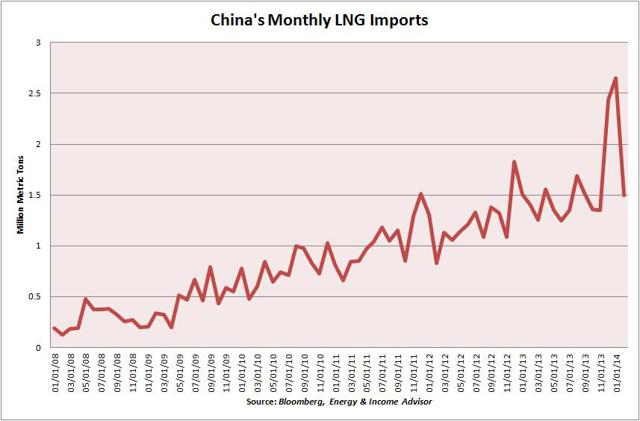 China's growing demand for natural gas hinges on two factors: rising domestic demand for supplies, and the expansion of LNG import terminals.
At present, the country boasts 10 operational regasification units, with a total capacity of 32.2 mmtpa, which implies a utilization rate of about 56 percent last year.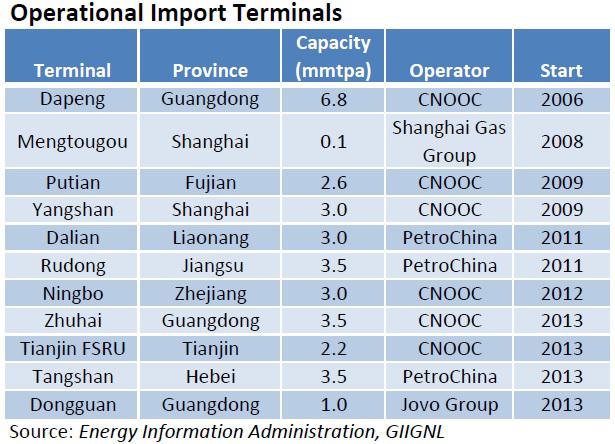 The Mainland's LNG import terminals don't operate at nameplate capacity throughout the year; imports usually increase in the fall, when customers prepare for peak demand during the winter heating season and turn to the spot market for cargoes.
China's three national oil companies have six additional projects (17.1 mmtpa) under construction, suggesting that domestic consumption will continue to grow in coming years. And this list of potential projects excludes potential expansions to existing facilities.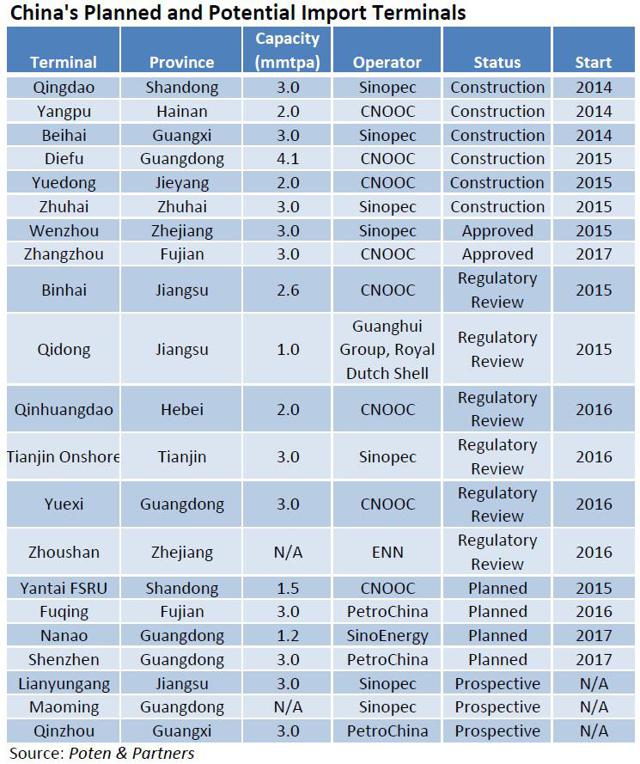 Although critics question whether potential pipeline imports from Russia and Central Asia and domestic shale gas production could curb China's appetite for LNG, the equity interests that the country's state-owned oil companies have taken in Australian and East African export concerns imply an ongoing reliance on imports.
Assuming that natural gas will grow to 9 percent of China's energy consumption, global gas giant BG Group's (OTCQX:BRGYY) base scenario - which factors in additional pipeline supplies and domestic production - projects that the nation's LNG demand will expand to 65 mmtpa by 2025. This outlook implies average annual growth of 23.7 percent.
Japan
Japan accounts for 37 percent of the global LNG market, and remains the world's leading importer by a wide margin.
Over the past decade, the country has provided a source of steady demand growth, posting larger jumps in imports whenever a slug of new liquefaction capacity comes onstream.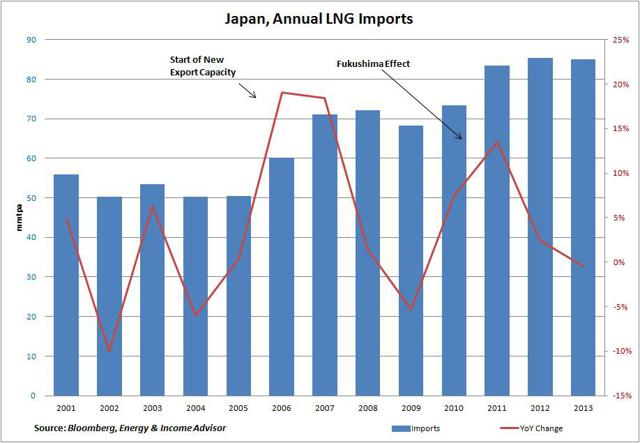 However, the sudden surge in the nation's LNG imports in 2011 had nothing to do with the addition of liquefaction or regasification capacity.
In spring 2011, the magnitude-9.0 earthquake and resultant tsunami that devastated Japan's Tohuku region and crippled the Fukushima Daiichi nuclear power plant prompted authorities to temporarily shutter the bulk of the nation's nuclear reactors.
Two of Japan's nuclear power plants resumed operation, but all of the nation's 48 reactors have remained offline since the No. 3 and No. 4 reactors at Kensai Electric Power's Oi plant closed for maintenance in September 2013.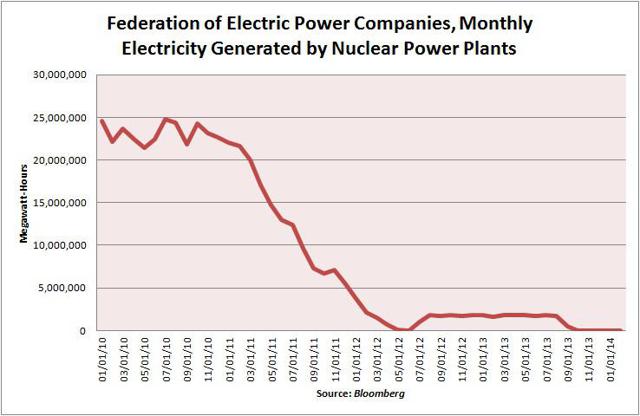 To offset the loss of about 30 percent of Japan's baseload power, the country's 10 largest electric utilities have stepped up their consumption of coal, heavy fuel oil and LNG.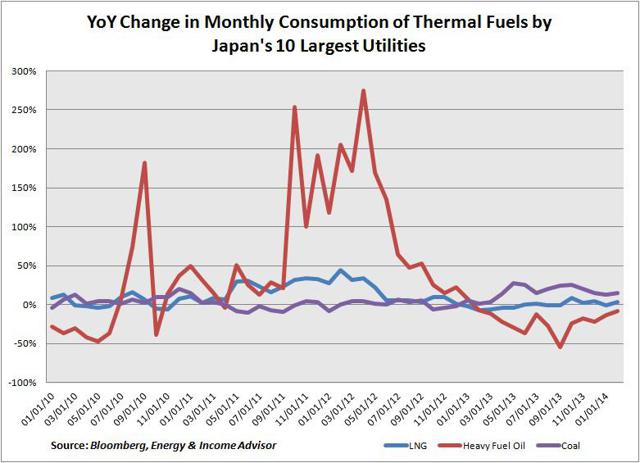 With Japan's LNG imports surging unexpectedly in 2011 and growing further in 2012, the so-called Fukushima effect has intensified competition for volumes in the spot market and elevated prices to levels that incentivize producers and traders to redirect volumes from Europe to Asia.
This inflection point is clear when you compare the recent price histories of natural gas at the Henry Hub in the US, the UK National Balancing Point and the average price that Japan pays for its liquefied natural gas.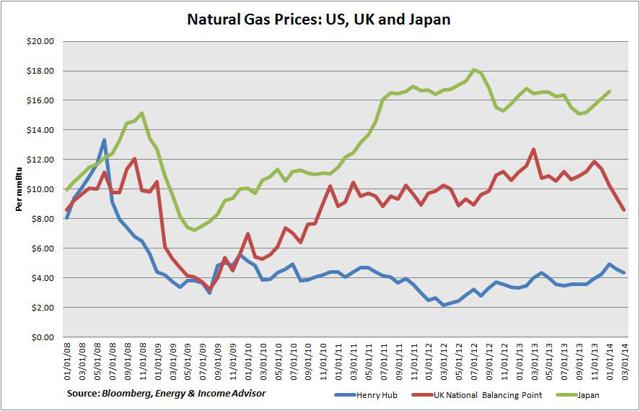 For example, LNG imports to Europe in 2013 declined for the second consecutive year, tumbling by 28.5 percent and sinking to their lowest level since 2005. The price competitiveness of coal-fired power plants and the Continent's ongoing economic malaise ensured that Europe once again served as the source of swing volumes to meet Asia's robust demand.
If we compare Japan's LNG imports to the volumes covered by existing contracts in a given year, we can approximate the extent of the nation's activity in the spot market for natural gas. (This rough calculation assumes that Japanese importers received all their agreed-upon LNG shipments, and doesn't account for any potential supply disruptions or shortfalls).
Japan's LNG imports fell short of contracted volumes in 2009 and 2010, reflecting reduced demand during the global economic downturn. However, the gap between the nation's contracted LNG volumes and total imports widened to 17.39 million metric tons in 2012 - almost 3 times 2008 levels and 11.3 percent of the Asia-Pacific market.
The question looming over the LNG market: When will Japan's shuttered nuclear reactors come onstream, and how many will be in operation?
Only nuclear power plants deemed safe after a rigorous inspection by the Nuclear Regulatory Authority will be allowed to restart.
The government has also indicated that nuclear power plants must be decommissioned after 40 years of operation, and has instituted a ban on the construction of new nuclear reactors and the expansion of existing facilities.
On April 11, 2014, Japan's cabinet approved an energy policy reversing the previous government's plans to shutter nuclear power plants gradually.
However, the document didn't set a target for nuclear power's contribution to the nation's energy mix, and questions remain about exactly how many of the nation's 48 reactors will return to service.
Based on questionnaires and interviews with industry experts and comments from Japan's 10 plant operators, Reuters earlier this year estimated that Japan would restart about 14 of its reactors, and pegged another 17 as likely closed forever. The jury is out on the remaining 17 units.
Although the timing and magnitude of reactor restarts remains uncertain, these decisions and long-term policies regarding the country's energy mix will hold significant ramifications for international LNG prices in the next few years and global demand in the long term.
Japan's utilities have already reduced their consumption of crude oil and heavy fuel oil - the most expensive feedstock for electricity generation - by ramping up their coal consumption.
Although short on details, Japan's plan to restart some of its nuclear reactors serves as a reminder that too many industry observers conveniently take the prevailing abnormal supply-demand picture for granted in their assessment of international LNG markets. We will continue to monitor this situation.
Investment Implications
US and Canadian oil and gas producers have long coveted exports of liquefied natural gas as a potential release valve for the domestic oversupply of natural gas, a product of the industry's aggressive drilling in the Marcellus Shale and other prolific unconventional resource plays.
Although surging output from US shale fields enabled the US to offset declining volumes from the Gulf of Mexico and overtake Russia as the world's leading producer of natural gas, upstream operators' drilling success hasn't necessarily translated into financial outperformance.
Robust production from prolific unconventional fields sent North American natural gas prices spiraling lower, while the no-show winter of 2011-12 increased this oversupply and depressed prices even further in the first half of 2013.
Prices have recovered somewhat in the new year, thanks to robust demand for heating during the frigid 2013-14 winter. However, the price of the commodity has merely recovered to historically depressed levels from ultra-depressed levels.
Looking for arbitrage opportunities, the US oil and gas industry pushed hard for the Dept. of Energy to approve increased LNG exports via specialized tankers. A quick glance at the difference between Henry Hub prices and international prices underscores the appeal of US LNG exports to companies on either side of the trade.
Given the expenses, uncertainties and extended timelines associated with building liquefaction infrastructure, our inclination is to steer clear of pure plays on LNG exports. We prefer names that offer exposure to this trend, but also stand to benefit from other upside drivers in the near term.
We would steer clear of Cheniere Energy Partners LP (NYSEMKT:CQP), which trades at a stratospheric valuation even after you factor in management's projections of future earnings before interest, taxes, depreciation and amortization (EBITDA).
Disclosure: I have no positions in any stocks mentioned, and no plans to initiate any positions within the next 72 hours. I wrote this article myself, and it expresses my own opinions. I am not receiving compensation for it. I have no business relationship with any company whose stock is mentioned in this article.
Editor's Note: This article discusses one or more securities that do not trade on a major U.S. exchange. Please be aware of the risks associated with these stocks.