Down almost 50% over the last nine months and trading near its 52 week low, Travelzoo Inc. (NASDAQ:TZOO) stock is reflecting well the pains of weak Search and Local business. Weak North American travel market, weak Getaways business, weak spending by airlines and weak local voucher business all contributed to the stock weakness. To make matters worse, EPS was negatively impacted by higher effective tax rates and investments in its upcoming hotels booking engine.
Problems of these two businesses are somewhat due to underinvestment and lack of product innovation, but the following comments from Christopher Loughlin, CEO, in a recent conference call suggest that management seems to finally get it.
One thing I can say is that we didn't invest heavily in innovation & search, and the market did.
Although the company has not been the most innovative in the space, a closer look at upcoming products and functionalities suggest that momentum may turn in the coming months and quarters. Some of the more promising catalysts may be
Full launch of its hotel booking engine across all devices.
Roll out of mobile solutions & Apps to help search and local businesses.
Pent up demand after the severe weather related slowdown, especially the Getaways.
Growth from Europe.
The stock should gain from an improved revenue and earnings outlook. Growth estimates, even conservative ones, of the upcoming hotel booking engine and consistent subscriber growth, helped by mobile offering, point to a materially improved growth outlook. Earnings, negatively impacted by weak revenues and increased investments in new products, should also benefit from top line growth and better operating margins.
Search and Local business are bad, but things should turn from here
Looking at the stock's performance or the valuation, the market has clearly given up on the company, but the problems are manageable and some of the steps underway should address some of these growth related issues.
The Problem: As the chart below shows, a closer look at the revenue reveal that weakness can mainly be attributed to the weak Search and Local business.

Source: Travelzoo Inc.
Search business, especially in North America, has been in a secular decline with customers moving to mobile, increased competition and rising acquisition costs among other factors. Non-availability of any mobile solution for SuperSearch or any App for Fly.com has added to the company's revenue growth problem.
Solutions are underway: Biggest acknowledgement of the problems is the new management in place for both Search and Local businesses. For Search, David White, who recently joined from Yahoo (NASDAQ:YHOO), is working on strategy to drive growth. As the traffic shifts to mobile, it offers Travelzoo a window of opportunity to gain an edge and some easy pickings might be to launch a mobile offering for SuperSearch, Apps for Fly.com and travel offerings using exact date, all of which are under development.
Similarly, Michael Stitt, who was instrumental in bringing Local business to Travelzoo, is back in the driver's seat for that business. Like other players in the industry, including Groupon (NASDAQ:GRPN), the company is also working on to change the format of the voucher. Overall, the industry is suffering from poor revenues and moving from Push model to Pull model of marketing discount vouchers (where the customer looks for a deal based on specific date etc.), rather than the company pushing for specific vouchers or deals.
Getaways, which grew at 40% after few quarters of its launch does instill confidence in the company's ability to launch a successful offering. Mobile version of Fly.com processed 750k search queries in its first full quarter of operation. Expect Travelzoo to benefit from date searchable deals, reviews and search functionality on its properties.
Hotel booking is a potential game changer, in terms of growth
The new hotel booking engine is set to launch this year, which should allow customers to search for deals based on a specific date, which was not the case earlier. The company has already offered early access to 200k subscribers and initial reports are encouraging. Over 84% of the subscribers who booked on the platform are new customers and paid full price for the booking. For Travelzoo, hotel revenue from these bookings jumped more than 400% on average from $13/subscriber (including advertising and voucher sale) in the previous two years to $54.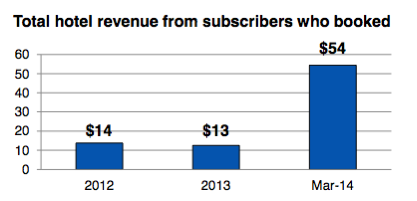 Source: Travelzoo earnings presentation
The company is working on enhancing user interface, improving rates and adding more hotels. The product is expected to launch on all devices and platforms. Strategically, this should substantially expand the hotel's acceptance of the Travelzoo hotel offering, since hotels start to look it as a sales commission rather than an advertising fee and the company should be able to cater to the peak season demand as well.
Competitively, the offering may stand somewhat in direct competition to Blink, which was acquired by Groupon last year. With increasing hotel rates and rising hotel cost per click prices, the timing seems perfect, since material revenue contribution from the offering should start to hit by the second half.
High operating leverage
Even though operating expenses are expected to stay high due to investments (development and marketing) in the upcoming hotel booking engine, but there is still high operating leverage in the model, which is somewhat typical of the industry.
Earnings leverage analysis (Approx.)

Growth of

Metric

EPS improvement

5%

Revenue

30-35 cents

1%

Gross margin

7-8 cents

2%

Operating margin

15-17 cents
As the above estimates show, even at $10-15 million revenue contribution from these new products can do wonders for the earnings. Besides revenue, tapering of development costs and taxes should also help the EPS.
Estimates are based on conservative estimates, so right to expect improvement from here
Other than North American Search and Local business, most businesses are doing relatively well. With the new hotel booking engine and other product launches discussed earlier, growth should come back in the coming quarters.
| | | |
| --- | --- | --- |
| IF target achieved | 2014 | 2015 |
| Revenue Growth | 2% | 9% |
| Revenue | $161 | $176 |
| Gross Margins | 89% | 90% |
| Operating Margins | 17% | 22% |
| Net margins | 12% | 15% |
| Shares Outstanding (M) | 14.8 | $14.66 |
| | | |
| EPS | $1.26 | $1.78 |
As the worksheet above shows, street estimates may be proven short, even on a mild recovery. I highly encourage investors to do their own analysis, but for the estimates above
For 2014, revenue estimates used are close to the street and for 2015, expecting growth from the upcoming hotel booking engine, albeit a conservative one.
These operating margins may be proven conservative, if the operating expenses decline due to completion of development projects.
Expecting a small buy back, consistent with the trend.
Worth noting that there is very limited street coverage in the name.
Management is conservative, but good custodians of cash for this market
Looking at the balance sheet, cash and active share repurchases, investors can doubt management's aggression in product development or acquisitions, but not the fiscal conservatism of the management. Part of it might be due to very high insider ownership.
This conservatism is not getting any respect from the markets, which are fascinated by growth alone, but the low enterprise value attached to this solid franchise should drive value investor's interest.
| | |
| --- | --- |
| Market Cap (M) | $263 |
| Cash | $61 |
| Enterprise Value (M) | $201 |
| Subscribers | 26 Million |
| EV/ Subscriber | $8 |
| Subscriber acquisition cost 2013 | $6 |
| Rev/ Subscriber | $7 |
As the worksheet above shows, the current enterprise value per subscriber works to mere $8, which is close to the acquisition cost of new subscribers; so effectively investors are getting a profitable business with promising new products in the pipeline for next to nothing.
Conclusion
The stock suffered as topline growth deteriorated and investors started to bake in risk of product irrelevance, while the market was fascinated with the growth. Launch of a new hotel booking engine and other features should help the company turn corner, financially and strategically. As the company, and industry, shifts from Push to Pull, Travelzoo has an advantage of a strong brand and huge subscriber base. Consistent share buybacks, large insider ownership, no expensive acquisitions and smart operating expense management may help the stock as the market looks beyond temporary growth dips. Target of $23-25 is based on 18-20 times this year's expected earnings plus cash.
Disclosure: I have no positions in any stocks mentioned, and no plans to initiate any positions within the next 72 hours. I wrote this article myself, and it expresses my own opinions. I am not receiving compensation for it (other than from Seeking Alpha). I have no business relationship with any company whose stock is mentioned in this article.