Rite Aid (NYSE:RAD) reported excellent quarterly results supported by strong pharmacy sales growth and expanding margins. Earnings estimates have thus surged, sending this drugstore chain to Zacks rank #1 (Strong Buy).
About the Company
Rite Aid Corporation, headquartered in Camp Hill, Pennsylvania, is the third largest retail drugstore in the U.S., based on revenues. The company has 4,592 stores currently in 31 states across the country and in the District of Columbia.
Excellent Quarterly Results
Rite Aid reported its Q4 earnings on April 10, 2014. Revenues for the quarter came in at $6.6 billion; up from $6.5 billion in the same quarter of prior fiscal year, thanks mainly to a 3.5% increase in pharmacy same store sales.
Adjusted net income for the quarter was $44.1 million or $0.10 per share, handily beating the Zacks Consensus Estimate of $0.04 per share.
The company recently acquired Health Dialog — a provider of in-store care coaches and RediClinic — a leading operator of retail clinics. These will further support RAD's growth initiatives. The management however does not expect a material impact from the acquisitions on the current fiscal result.
RAD also continues to expand its partnership with drug wholesaler MsKesson and expects a working capital benefit of $150 million as a result of the agreement, to be fully realized in the latter half of the year.
Rite Aid completed its 1,200th wellness store remodel during the quarter as they continue to see positive results for these stores compared to the rest of the chain.
Management Raises Guidance
Following solid quarterly performance, Rite Aid management now expects sales for fiscal 2015 to be between $26.0 billion and $26.5 billion, with same store sales growth in the range of 2.5% to 4.5%.
Adjusted EBITDA for fiscal 2015 is expected to be in the range of $1.325–$1.4 billion and net income is expected to be between $313.0 million and $423.0 million or of $0.31 per share to $0.42 per share.
Per management "improved guidance is based upon the anticipated benefits of our wellness remodel program, customer loyalty program, and other initiatives to grow sales and drive operational efficiencies".
Estimates Revisions
As a result of a strong quarterly report and updated guidance, analysts have raised their estimates for RAD. Zacks Consensus Estimate for the current fiscal year now stands at $0.36 per share up from $0.32 per share, 30 days ago. The consensus estimate for the next fiscal year is also up to $0.48 per share from $0.43 per share earlier.
RAD beat estimates in all the quarters last year, with an average quarterly surprise of 225%. Rising estimates sent RAD back to a Zacks Rank#1 (Strong Buy) earlier this month.
The following chart shows RAD's excellent record of beating or meeting estimates in the last few quarters: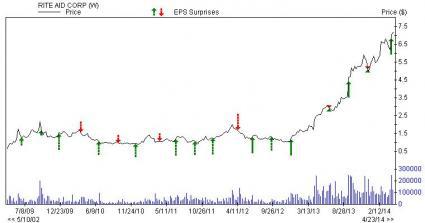 The Bottom Line
With its strong national footprint and recent strategic initiatives like expanding the health care offering, growing Wellness+ and investing in its stores, the company should be able to expand its customer base and continue its strong performance in the coming quarters. Aging US population and Affordable Care Act will further support the stock.
RAD is a Zacks Rank#1 (Strong Buy) stock.Further the industry rank of 69 out of 265 (top 26%) indicates a likelihood of outperformance in the short- to medium- term.