This week, the script data for Arena's (NASDAQ:ARNA) Belviq showed a modest recovery of a bit over 3%, according to industry tracker IMS Health, above last week's number, which showed a 10% decline on the heels of a discount card that expired on March 31st. Symphony Health, another industry tracker, showed this week's sales as flat (up 0.5%) from last week. One small note to the numbers for last week was the inclusion of Good Friday, a holiday for many. That being said, last week also included the first week where the television ad campaign would have been in effect as it relates to weekly script reporting. Essentially, the discount card issue will still have a couple of more weeks to iron itself out, while the ad campaign will be doing its part to raise awareness.
As investors should be aware, the weekly scripts do show an impact on the share price of Arena in the near term. Like it or not, this is a volatile stock that is a favorite of active traders. Thus, there will always be near-term sensitivity to the weekly numbers. Savvy traders and investors understand this noise, and use the weekly progress to gauge what will be happening in the months and quarters ahead. For some, the weekly numbers are important because they trade actively. For others, their importance lays in the trend and the projections.
As stated, this week, sales were flat to modestly up. Adjusted IMS numbers came in at just above 7,400, while Symphony numbers were at just below 8,100. Two weeks ago, prior to the Eisai discount card issue, adjusted IMS was at just above 8,000, while Symphony was at just above 9,000. As you can see, sales have not yet fully recovered from the dip.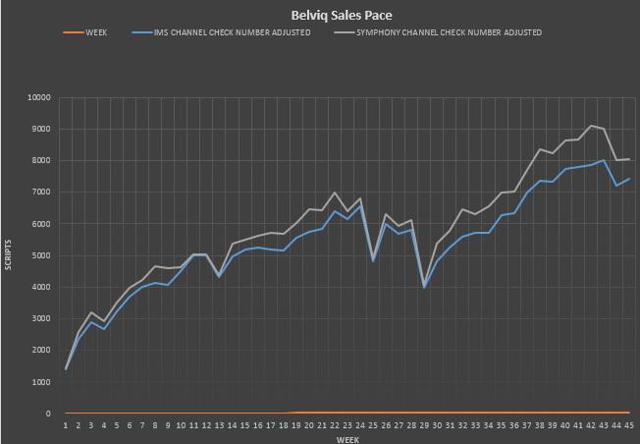 Chart Source - Spencer Osborne
On a quarter-over-quarter basis, Belviq sales are tracking about 50% better in Q2 than they did in Q1. Had the discount card issue not arisen, the quarter-over-quarter improvement would be over 60% at this point. You can see that the traction in scripts is indeed growing with Belviq. The chart below illustrates the pace in Q4 of 2013, Q1 of 2014 and the current sales for the current quarter. You can clearly see that the gap between the lines is bigger in the current quarter. As investors, this is what we want to see.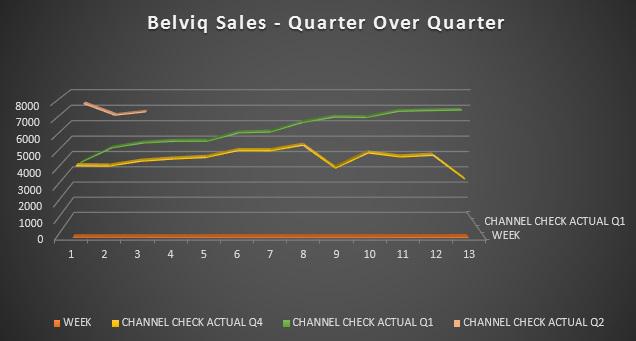 Chart Source - Spencer Osborne
In tracking 2014 sales, I outline the script data vs. a projection of $100 million in gross sales, which is an interpretation of Arena's "guidance" and $150 million in sales, which represents a number that I have felt Arena can attain this year. Thus far, the IMS Health data is just below the $100 million pace and the Symphony data is just above the pace for $150 million. If you split the difference, you would be at about $125 million. In looking at analyst reports, expectations seem to range between $125 and $150 million. Thus, beating $150 million or demonstrating with current sales that it is possible presents upside opportunity for the stock. In the second chart below, you can see that over the next few weeks, the pace needed for additions to stay on pace for $100 million and $150 million is a bit more aggressive. The discount card issue has impacted how the perceived pace will play out. Advertising can make that up, but that impact is still a few weeks away.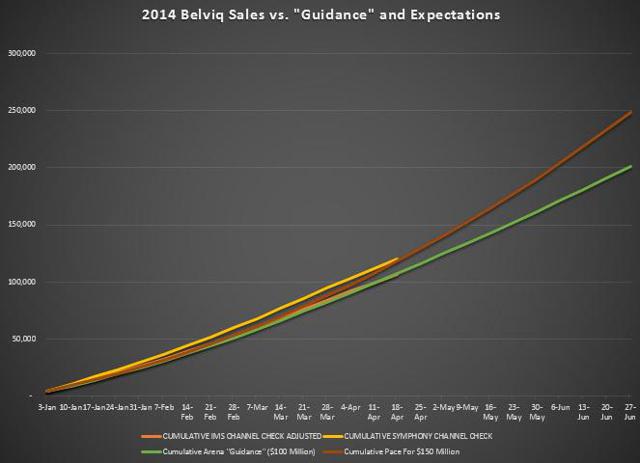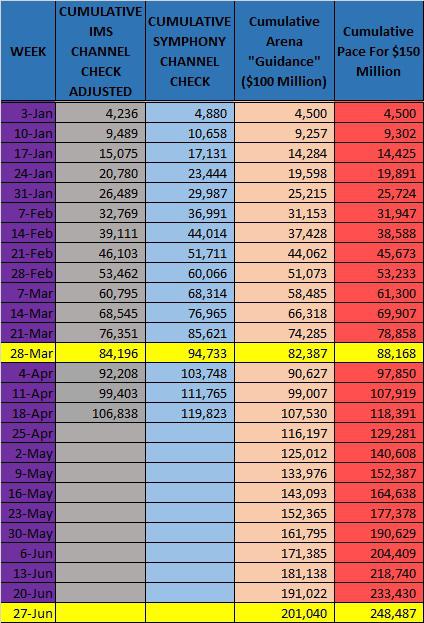 Chart Source - Spencer Osborne
Looking at this from a dollars perspective, we can see that weekly gross sales to consumers stands at just under $1.5 million currently vs. the almost $1.6 million we saw a couple of weeks ago. I anticipate that we will get to $1.6 million two weeks from now. By my estimation, 2014 gross sales to consumers stands at $21.3 million at 16 weeks into the year. My estimate for year-to-date sales revenue to Arena is just under $3.7 million.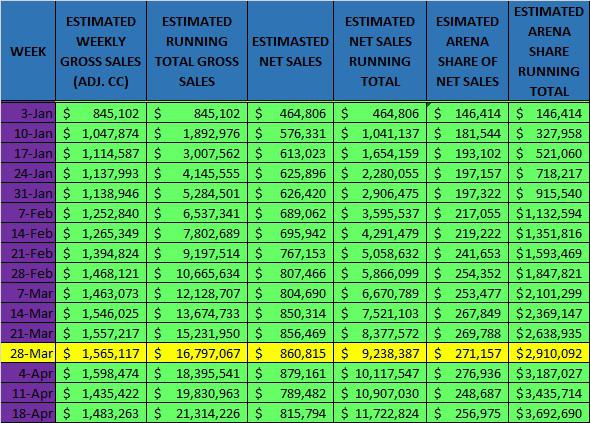 Expectations are a key element now. This is not only true for Arena and Belviq, but for the sector as well. Some good news that we saw this week was a positive sentiment from analysts on competitor, Orexigen (NASDAQ:OREX). Orexigen's anti-obesity drug, Contrave is pending a decision from the FDA in June, and potentially garnering approval in Europe in Q3. While it may seem counter-intuitive for some investors to root for positive feelings on a competitor, the headwinds of the sector are an issue that all of these companies need to deal with. Orexigen is trading at more than a 50% discount to Arena. Arena carries a market cap of $1.3 billion, whereas Orexigen's cap is about $640 million. If you are an Arena investor and feel that Arena should trade at a premium to Orexigen, then you would want to see the valuation of Orexigen improve. If Orexigen gains approval, it will then be a true competitor in the marketplace. The bottom line is that the sector overall needs catalysts as much as each company does.
In summary, we should anticipate a drag on script numbers for another couple of weeks from the discount card issue, while we should see the beginnings of a boost to script numbers from an ad campaign that is raising awareness on Belviq. Next week, I anticipate another modest rise that gets us back to the sales levels of two weeks ago. I am looking for bigger boosts in scripts beginning 2 to 3 weeks from now. Positive news in the sector, at this point, should be welcomed by Arena investors. Stay tuned!
Disclosure: I am long ARNA. I wrote this article myself, and it expresses my own opinions. I am not receiving compensation for it (other than from Seeking Alpha). I have no business relationship with any company whose stock is mentioned in this article.
Additional disclosure: I have no position in Orexigen