The headlines are blaring on the MSM that new home sale soared 23.6% over last month. Of course, the government overestimated last month's sales by 11% and reduced its originally published number. How much do you want to bet it has overestimated this number too? Strange, but the errors always make things appear better. Must be a coincidence.
Now the facts. June home sales will always be higher than May. People move when their kids are out of school. The fact is that after billions in worthless home stimulus, this June's sales were 17% below the 2009 June sales of 396,000. This was the lowest amount of new home sales in June EVER. I thought Obama's housing plan was supposed to increase home sales. We spent hundreds of billions of dollars and got a 17% reduction in home sales. Another Government success story. Is anyone on CNBC discussing how truly bad this June home sales number was? To give you some perspective about the 330,000 annual pace, the annual pace in June 2005 was 1,380,000 home sales. So, we are only down 76% from the peak. Look out below.
The 267 thousand annual sales rate for May is the all time record. This is a very sharp downward revision. The 330 thousand in June is the worst June on record.
Sales of new single-family houses in June 2010 were at a seasonally adjusted annual rate of 330,000 … This is 23.6 percent (±15.3%) above the revised May rate of 267,000, but is 16.7 percent (±10.9%) below the June 2009 estimate of 396,000.
Click to enlarge: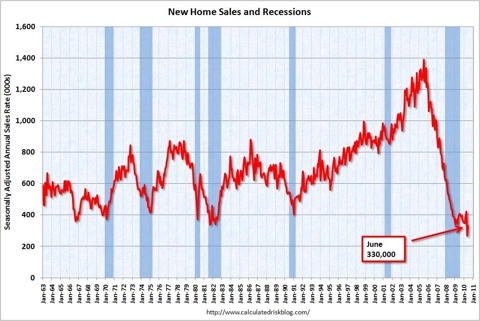 Disclosure: No positions