In our previous article we mentioned how NQ Mobile's (NYSE:NQ) supposed $82.5 million investment for a 58% stake in a company called Tianjin HuaYong Wireless Technology Ltd. (vLife) seemed highly suspicious and how absurdly overpriced the deal appeared. We tooks a look into the company with some help to see what we could dig up on this company.
It seems not many who work in the internet/mobile industry in China have heard of this company or their mobile wallpaper products. However we were able to find out this company was started around June of 2006 and was apparently founded by some graduates of Tianjin University and Nankai University.
Prior to the vLife live wallpapers, Tianjin HuaYong had a failed social networking and messaging type of app called "Mimo" (seen below). This app was created for the old Nokia Symbian phones and appears to be defunct for some time now.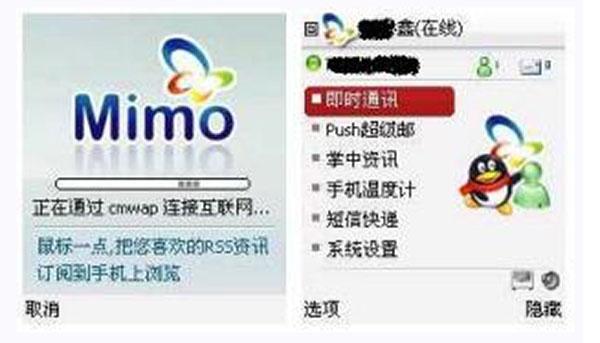 Also it seems that Tianjin HuaYong Wireless appears to have under 100 employees and is located in the Tianjin Economic-Technological Development Area, a free-market zone in Tianjin, China.
Some vLife Wallpapers Appears To Be Violating Copyrights
In addition after we took a look at their smartphone wallpaper products, some of the live wallpapers created by vLife appears to be copyright violating . Below are just a few of the examples we found.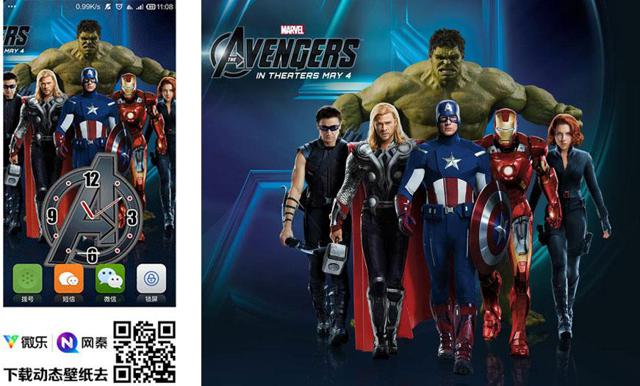 From the image above, on the left side is an Avengers movie live wallpaper from vLife and NQ Mobile. It seems they just stole the image from a movie poster of the Avengers and added a clock to it to create a live wallpaper. On the right side is the original image which vLife took to create the wallpaper.
On the live wallpaper in the top left corner you could see the letters "R and S" from the "Avengers" and the "May 4" date which is on the original movie poster image. This is why it is highly unlikely vLife actually has the permission or license from Disney to actually create this wallpaper for their own commercial use.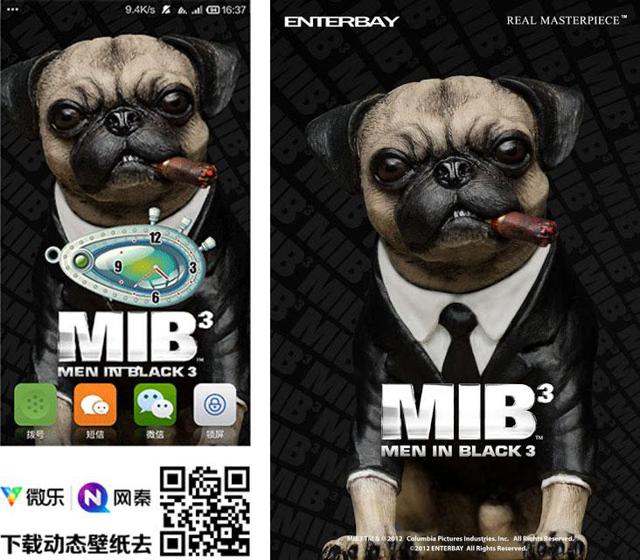 In this instance it appears vLife once again stole part of an image for a movie poster for Men In Black 3 and added a clock to it to create a live wallpaper.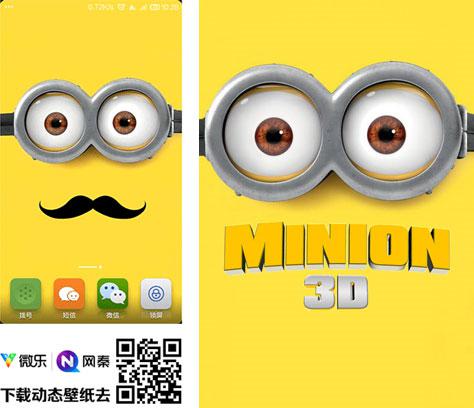 In this example it seems vLife took the image of a movie poster for the upcoming The Minions movie (spinoff from Despicable Me) and added a moving mustache to it to create a live wallpaper.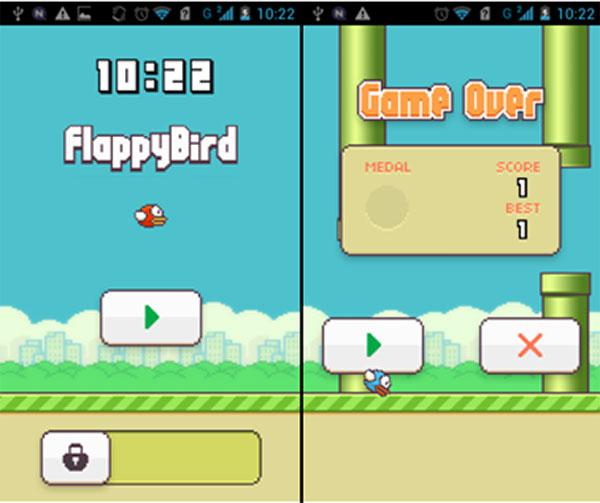 Also from a Chinese news article it seems vLife had made a FlappyBird live wallpaper which lets you play the game from the lockscreen. However this is more than likely a knockoff/counterfeit version of the game created without permission from the original developer. This is because the actual developer of FlappyBird has chosen personally to remove his game from all app stores.
While actual enforcement of copyright laws in China is almost nonexistent the majority of the time, the seemingly blatant copyright violations of vLife makes the costly acquisition by NQ Mobile even more questionable.
App Developers See Very Little Business Potential For Live Wallpapers
We also contacted two app developers and asked them a few questions regarding the potential of live wallpapers for smartphones seeing the price NQ Mobile paid for the vLife stake and how the company have been touting to investors this is a big part of their future business. We have previously spoken with these app developers who let us know that FL Mobile (NQ Mobile's wholly owned Chinese mobile gaming publisher) appeared to have been engaging in rankings fraud on the Apple App Store, which we shared in one of our previous articles. Unlike NQ Mobile, they did not see a lot of business potential for live wallpapers.
One of the developers told us that he felt live wallpapers are mostly just a gimmick. The animation effects might look nice the first few times a user sees them but eventually they will get bored of seeing the same animation over and over again. So there is little long term benefit over static wallpapers. Also he said that depending on how intensive the animated effects are, live wallpapers can cause a noticeable battery drain on a phone.
The other app developer took a look into NQ Mobile's claimed benefits of having interactive content on the live wallpaper itself. He told us that many smartphone users have a lot of icons of their favorite apps on the home screen. Therefore for those users either the icons well get in the way of the interactive content or the interactive content will get in the way of the icons. So there could end up being a lot of clutter on the home screen. He said that if a user has to swipe to another page on the home screen without icons just to see or access the interactive content, they might as well open up an app instead.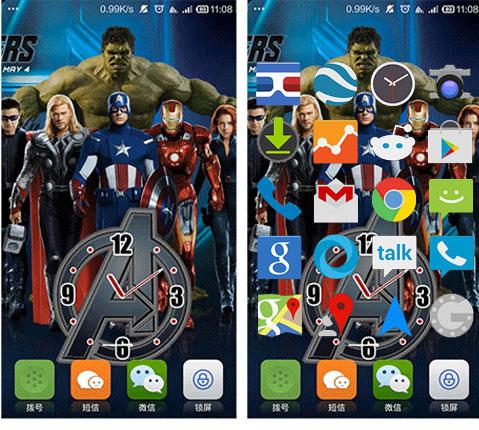 A mockup of the clutter is shown above using vLife's seemingly copyright violating Avengers live wallpaper.
When asked about the monetization potential of live wallpapers, we were told that it is highly unlikely that a significant percentage of smartphone users are willing to pay for live wallpapers when there are so many free wallpapers available, especially in the China market. One of the app developers said that the current method for monetizing mobile wallpapers usually involves making an app that allows users to download a large collection of different wallpapers for free but having advertisements in the app itself, such as banner ads or pop up ads.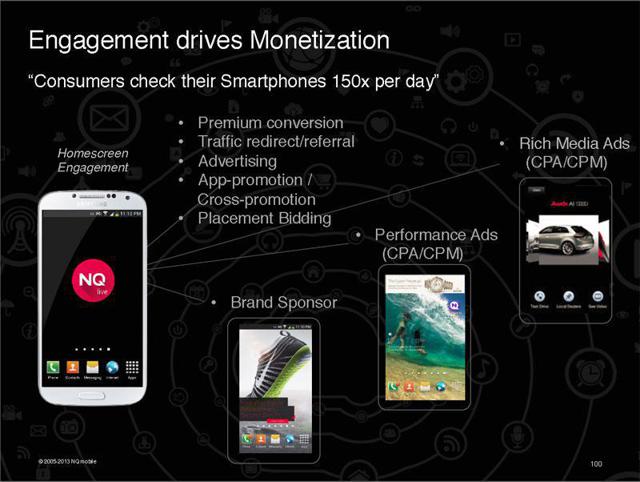 We asked what about having advertisements on the live wallpaper itself, which seems to part of NQ Mobile's strategy for NQ Live (as seen above from their investor day presentation). The response we got from the app developer was that he was extremely doubtful any smartphone users would like having advertisements on their home screen wallpaper, especially if it is traditional banner ads or interstitial ads. Most users will likely get annoyed unless it is a very subtle way of advertising but however that may provide very little value to the advertisers.
We also asked it is normal for a company that makes live wallpapers to be valued at almost $140 million based on the $82.5 million NQ Mobile paid to acquire 58% of vLife. One of the app developers said he's seen crazy amounts paid for stakes in social networking types of apps but for a company which only makes live wallpapers that sounds like a real stretch. This is because wallpapers can easily be duplicated by others and there is very little if any user stickiness or loyalty when it comes to wallpapers.
Afterwards we asked what about the technology for creating live wallpapers and would that warrant a valuation of over $140 million for a company? The app developer responded that making live wallpapers requires very little programming knowledge. He said that in fact there are cheap and even free software out there anyone with some intermediate computer skills can use to create basic live wallpapers for Android without having to write a single line of code. So it is hard pressed having the know-how to make live wallpapers alone would command such a lofty valuation.
NQ Mobile Appears To Be Planning To Continue Their Dilutive Acquisition Spree
We also discovered another Chinese news reports which says that NQ Mobile is now also planning to invest in companies which are designing smart car operating systems.
So it would seem the dilutive acquisition spree of NQ Mobile that we find highly suspicious is continuing on as least in the near future. In around 2 years or so, NQ Mobile had invested in and bought Chinese companies that are supposedly involved with mobile gaming (FL Mobile), reselling hardware and mobile device management (NationSky), music search (Yinlong), messaging apps (Hesine Technologies), educational apps (NQ Shenzhen), mobile advertising (WAPS), healthcare apps (RuiFeng & Tianya), live wallpapers (vLife), and knockoff Segways (Inmotion SCV) just to name a few.
And now apparently they are interested in companies which are designing an OS for smart cars? Quite a stretch from their original core business of mobile security with all these acquisitions.
In addition our based on our reasearch we believe NQ Mobile may have recently acquired a stake in another Chinese company called Beijing Trustek Technology, or Trustek for short.
At a brief glance, on the surface Trustek appears to be a tiny Chinese enterprise mobility management company which was started in 2010 and currently has under 100 employees. We'll look deeper into this company when or if NQ Mobile does publicly confirm this acquisition.
With each additional acquisition in all these different verticals where they have no business experience in, it is looking more and more like a highly questionable business strategy for NQ Mobile. Investors have to ask even if these acquisitions aren't fraudulent does NQ Mobile really have some grand plan for all these investments and acquisitions? Or did they do all these acquisitions just so they can try to convince investors that the company has growth potential in all these different markets for the future while turning attention away from their struggling (if not possibly fraudulent) original core business of consumer mobile security?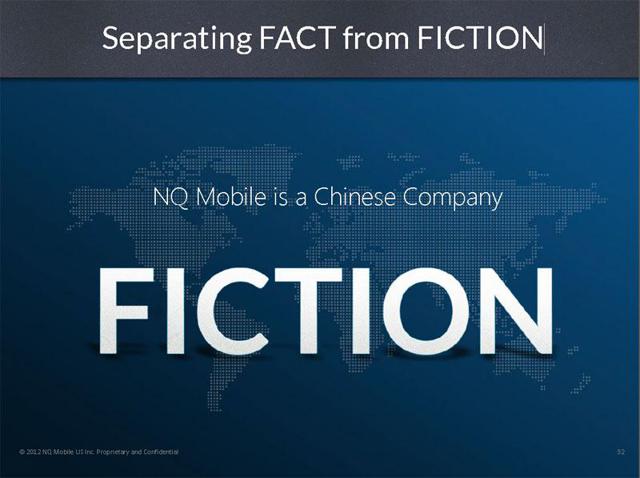 Previously during their 2012 Investor Day Presentation, NQ Mobile had a section called "Separating Fact or Faction". In the presentation they said it was fiction to believe NQ Mobile is a Chinese company because in fact NQ Mobile is a global company.
Except how many global companies do you know of which only acquires China-based companies and has been doing so regularly for almost every quarter during the past year? We certainly can't think of any. If NQ Mobile wasn't a "Chinese company" as they claimed, they are certainly becoming more and more Chinese with each additional Chinese acquisition.
Increasing Percentage Of Revenue Mix is Also From Within China
Furthermore if the reported financial figures from NQ Mobile is accurate than it appears a larger and larger percentage of revenue for NQ Mobile is coming from within China. This is because now it appears almost all of the revenue growth for NQ Mobile is derived from FL Mobile's mobile gaming business, advertising, and the enterprise business of NationSky.
FL Mobile is a Chinese mobile gaming publisher and almost all their revenue should be from within China. According to the company when including advertising, FL Mobile's revenue is around $15 million in Q4 of 2013 compared to $10 million in Q3 of 2013.
The advertising business (which we find questionable but well assume it is legitimate for calculation purposes) should also be derived mostly in China. In Q3 of 2013 advertising revenue was $11 million and increased to $16.7 million in Q4.
NationSky is a Chinese mobility enterprise company which resells hardware and provides software services to businesses. Almost all their revenue and customers would be from within China as well. Product revenue from reselling hardware increased from $11 million in Q3 of 2013 to $18.5 million in Q4 while service revenue was $4.3 million in Q3 and $4.9 million in Q4.
The only significant portion of overseas business NQ Mobile has should be from paying users for their consumer mobile security apps. However NQ Mobile now no longer breaks down how much revenue is from paying users overseas and how much is from within China like they use to.
Rather the company now classifies all their consumer mobile security revenue from paid users along with the non-advertising revenue from the mobile gaming business under "Mobile Value Added Services" (MVAS). As a result investors now can't really tell how much revenue is coming from overseas.
However total MVAS revenue was $26.9 million in Q3 of 2014 and was $27.1 million in Q4 of 2014. So it barely budged from Q3 to Q4. But keep in mind that MVAS revenue includes both consumer mobile security and mobile gaming revenue. If the mobile gaming business in China did grow strongly in Q4 as NQ Mobile claimed but MVAS revenue barely increased at all, this more than likely means the total revenue from paid users of their mobile security product has declined quarter over quarter. What we can't tell is how much of the decline is in China and how much of the decline is from overseas. Or if revenue from paying users in China declined and the growth from overseas was nowhere near enough to offset it.
Either way a larger percentage of revenue reported by NQ Mobile is coming from China as it seems only the Chinese businesses outside of mobile security is really growing. It also appears this will continue on in the near future.
Although if all of NQ Mobile's acquisitions and most of their revenue growth is coming from within China, the question is why is the well compensated executives in Dallas, Texas even necessary, aside for PR and investor relations purposes? We certainly don't believe the US executives would know how to manage the new business areas of Chinese mobile gaming, Chinese mobile advertising, Chinese enterprise mobility, Chinese healthcare apps (which NQ co-CEO Dr. Henry Lin Yu said could become their largest vertical), Chinese educational apps, or even the knockoff Segways better than Chinese executives. Nor do we believe they have more expertise in acquiring Chinese mobile related companies than the Chinese executives.
For those unfamiliar with NQ Mobile, the company has two global headquarters with one in Beijing and one in Dallas. Omar Khan and other American executives works from the Dallas office with a small number of employees. However the overwhelming majority of the other executives and employees are still in China.
Originally NQ Mobile claimed the US executives were hired and an office set up in the United States so they can expand their overseas business more quickly. This can be seen from an interview dated January 15, 2013 where NQ Mobile co-founder and co-CEO Dr. Lin stated that:
In January 2012, we invited ex-Samsung Mobile executive Omar Khan, who is known as the Father of Samsung Galaxy, to join our company and be our co-CEO to take care of the overseas business.

The key strategic time frame for the global mobile Internet market is the next two-three years. We have to aggressively develop our business and market share. There are not many strong incumbents right now. But in the next two years, there will be. It will be too late if we take action then. So we are actively working on building the best teams around the world and aim to capture the market opportunity faster than peers.
In another article dated August 08, 2013 it stated that,
(Omar) Khan says he proposed the dual-CEO, dual-headquarters structure as a means of speeding up partnerships with carriers and retailers outside China. Lin says he agreed because doing that job from Beijing would be too challenging. "Maybe I could do it just by myself, but it would take a long time for me to build relationships, to find talented people one by one," says Lin. "It's a time issue, and the mobile Internet moves so quickly."
However with more and more acquisitions of Chinese companies and most of the revenue growth coming from within China, the claim the US executives are vital for international growth and expansion seems less and less credible. Rather it gives more credence to the theory that NQ Mobile set up the US office and hired the American executives to make their stock more attractive to US investors and so they made claims such as "NQ Mobile is not a Chinese company".
No Response From NQ Mobile
We emailed NQ Mobile's investor relations regarding the issues we addressed here 3 days ago. This includes:
Why is NQ Mobile buying so many tiny Chinese companies which have businesses in so many different areas of the mobile industry and how does it fit into a long term strategy or plan?
What makes Tianjin HuaYong Wireless Technology (vLife) and their mobile wallpapers so valuable that NQ Mobile had to pay over $80 million for a 58% stake?
Did NQ Mobile acquire a company called Beijing Trustek Technology?
Why are the US executives in Dallas, Texas vital for the company when all of NQ Mobile's acquisitions and now almost all the revenue growth seems to be coming from within China?
So far we have not received a response.
Disclosure: I am short NQ. I wrote this article myself, and it expresses my own opinions. I am not receiving compensation for it (other than from Seeking Alpha). I have no business relationship with any company whose stock is mentioned in this article.
Additional disclosure: While I hold a short position on NQ at the time this article was submitted, I have been actively trading NQ both long and short the past month. I may continue to do so in the near future