Below is an updated valuation from my previous article.

Recent quarterly results:

1. Q1 / Q2 account for less than 20% of annual sales as in case of Gencor, ordering pattern of the US gov't. Q3 and Q4 are revenue heavy and are a better indicator of company's health.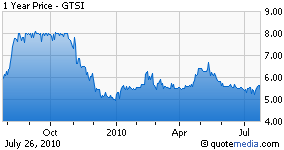 2. Receivables collected, paid down some debt, and increased cash. EPS was negative in recent quarter but cash flow was postive due to incoming of significant receivables.
3. EyakTek stake: Q1 2010 earnings doubled compared to Q1 2009; value of stake increased but will significantly rise, if positive results continue.
4. Valuation has increased, pls see adjusted values in bold vs stated:
Stated - Adjusted
Cash $24m - $24m (100%)
Net receivables $113m - $107m (95%) uncle sam always pays
Inventory $9m - $4.5m (50%) conservative value
Other current assets $7m - $3.5m (50%) conservative value
Long term receivables (lease) $26m - $20m (75%) conservative value
EyakTek stake $8.5m - $64m (37% ownership interest) rolling 4 qrt earnings = $23m *PE 7.5 (Q1 2010 earnings doubled compared to Q1 2009), value of stake likely to be higher in 2010
Plant & Property $11m - $5.5m (50%)

----------------------------------------------------------------------
Total liabilities - $112m
Shares outstanding: 9.6m (Q2 2010)
Adjusted book value: $121.5m or $12.65 per share
(increase from our previously stated $12.10)
Key points:
Book value driver
Valuation to rise further if EyakTek keeps increasing net income
Earnings engine
Government IT spending should rise as economy recovers (it has to rise anyway later as IT systems age)


Disclosure: Long GTSI