Tired of rising gas prices? With the average price of gasoline in the U.S. having risen around 9% so far in 2014, it would sure be nice to get a little payback at the pump. You may not know it, but you've probably been forking over some of your money to this week's focus stock, Getty Realty Corp., (NYSE:GTY), which we've just added to our High Dividend Stocks By Sector Tables. (The conundrum was, though, which table to add it to - Energy, since its assets are leased for selling gasoline and fuel, or Consumer Staples, since gasoline is a staple, or Financial, since it's a REIT? We opted for Consumer Staples, since gasoline is such a basic retail need.)
Profile: GTY is the leading publicly-traded real estate investment trust (REIT) in the U.S. specializing in ownership, leasing and financing of retail motor fuel and convenience store properties and petroleum distribution terminals. GTY's properties are located in 21 states across the United States with concentrations in the Northeast and the Mid-Atlantic regions. As of September 30, 2013, GTY owned 891 of our 1,016 properties and leased the remaining 125 properties from third-party landlords under long-term leases.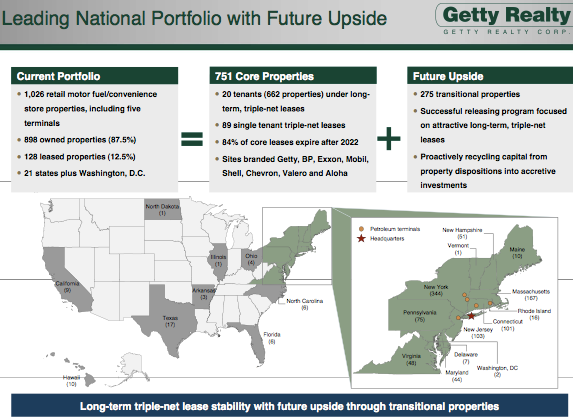 (Source: GETTY website and Investor Presentation)
Getty Realty Corp. has emerged from a lawsuit and bankruptcy case involving Getty Petroleum Marketing and Getty Petroleum Marketing's parent firm, Lukoil. Getty reached a settlement in July 2013 which entitled it to a $93 million reward. Thus far, GTY has received around $.70/share in settlement funds.
The lawsuit created murkiness in comparing GTY's 2013 vs. 2012 figures since the company was in flux. EPS, Revenue nd Funds From Operations, FFO, aren't that representative, as they included the settlement payments.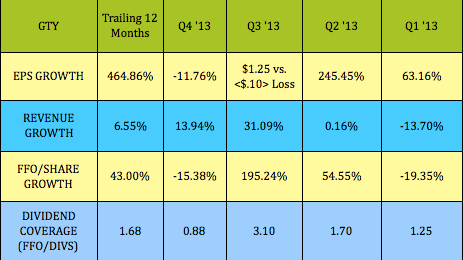 So, we stripped out the Lukoil settlement money that GTY received in order to come up with a clearer picture: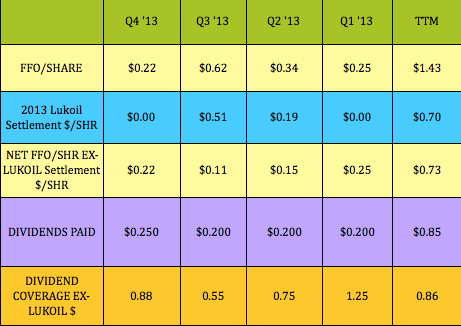 Valuations: Here's how these 3 valuations appeared as of 4/24/14: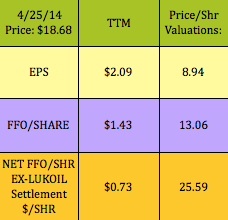 Dividend Coverage: However, GTY's dividend coverage looks much better going forward and should lead to eventual dividend increases. We held the $.20 quarterly dividend steady and took the average and the lowest analysts estimates to analyze GTY's estimated dividend coverage going forward for the next 2 quarters and for 2014 and 2015. (GTY paid a special $.05/share dividend in Q4 2013 in addition to its normal $.20 payout.)
Even using the lower estimates, GTY's dividend coverage looks healthy and poised to grow, and should lead to future dividend increases, which would be in line with its REIT designation - (REITs must pay out 90% of their income to shareholders).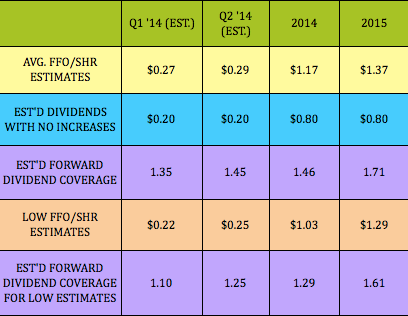 Options: GTY does have options, but we haven't yet added any put or call trades to our Covered Calls Table or our Cash Secured Puts Table since its options yields aren't currently that attractive. In addition, they're very thinly traded.
Stable Cash Flow: Like some of the other dividend stocks we've covered in recent articles, Getty's cash flow stems from long-term triple net leases, the overwhelming majority of which, (over 72%) don't expire until 2027. Its customer base includes many well-known brand names such as 7-11 and BP: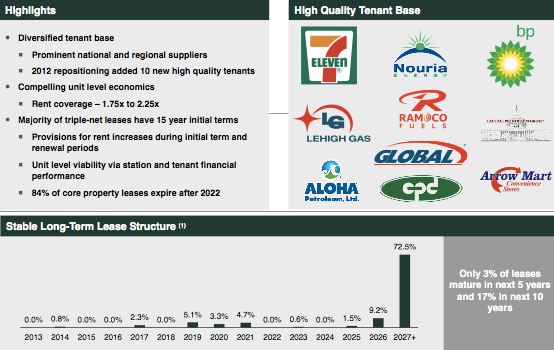 (Source: Investor Presentation)
The fact that GTY's properties are concentrated in very densely populated Northeast and Mid-Atlantic areas is another plus: there's strong demand and also many environmental hurdles for gas station operators to jump in these areas.
GTY has also been repositioning its portfolio - selling off its five terminals and its "de-tanked" sites. It's still awaiting a decision in Connecticut State Appeals Court on 30 of its properties, in which the tenants are part of the NECG case - it served eviction papers to them in 2013. In addition, it has re-let 50 of its month-to-month properties to national operators and is auctioning off another 100 of these properties.
More Valuations: GTY looks cheap on a Price/Sales basis, and is in line on a Price/Tangible Book basis.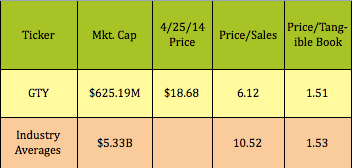 Financials: GTY's management efficiency ratios look better than industry averages. It also has lower leverage than its peers: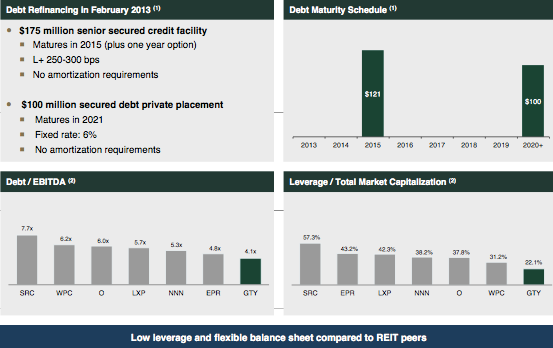 (Source: Investor Presentation)
Performance: GTY has lagged the market over the past year but is a bit ahead of the S&P year-to-date:

Disclosure: Author had no positions in GTY as of yet, at the time of this writing.
Disclaimer: This article was written for informational purposes only.
All tables in this article are furnished by DoubleDividendStocks.com, except where otherwise noted.
Disclosure: I have no positions in any stocks mentioned, but may initiate a long position in GTY over the next 72 hours. I wrote this article myself, and it expresses my own opinions. I am not receiving compensation for it (other than from Seeking Alpha). I have no business relationship with any company whose stock is mentioned in this article.