Canadian Solar (NASDAQ:CSIQ) is one of the world's largest solar manufacturers producing solar cells, panels, solar power systems and other solar solutions. Though a Canadian-headquartered company, most of its manufacturing facilities are based in China. The company lost quite a bit of money during 2011-2012, when solar panel ASPs fell drastically. However, it has showed a smart recovery when compared to the other solar companies. It was one of the best-performing solar stocks in 2013, giving industry-leading returns. Canadian Solar's downstream project business has been a major success story and one of the strongest reasons for the company's success in recent times. It started its systems business in 2009, which contributed 28.6% of the company's total annual revenue in 2013, compared to just 11.5% in 2012. Solar stocks have taken a big beating in the recent times due to concerns about impending duties on Taiwanese cells by the U.S. government and doubts about China installing more than 10 GW this year. The 40% pullback in CSIQ in the past couple of months provides a good opportunity to enter this quality stock in the rapidly-growing solar industry.
1) Strong Shipment Growth
Canadian Solar shipped ~1894 MW solar panels in 2013, registering a 22% growth YoY from 2012. One-third of which (~ 621 MW) were shipped in Q4 '13 itself. The company continued increasing its shipments to the Asia Pacific countries like Japan, India and China, and also the U.S. through its marketing activities there. CSIQ is amongst the top three companies in shipments for the year 2013, after Yingli Green Energy (NYSE:YGE) and Trina Solar (NYSE:TSL), which shipped 3.3 GW and 2.6 GW respectively.
Analyzing the chart below, we can see that there has been a remarkable increment in the shipment numbers by Canadian Solar. The company has shown a 68% CAGR in the last 6 years, which is faster than the industry growth rate.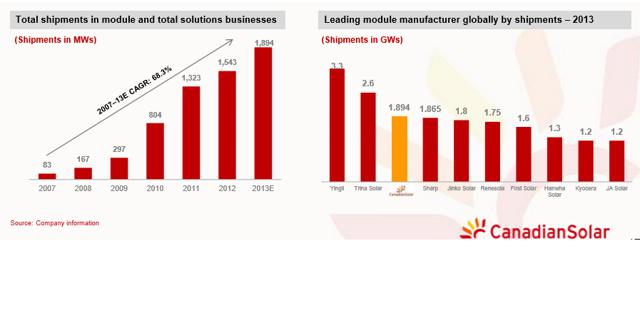 2) Strong Project Pipeline and Solar Development Expertise
Canadian Solar has expertise in all three solar segments - residential, commercial and utility. It has built large carports and supplied solar modules to solar parks as well. CSIQ acts as an EPC Solution and O&M Provider to these projects. The company handles the project right from the nascent stage of development, evaluation, design and management to its financing.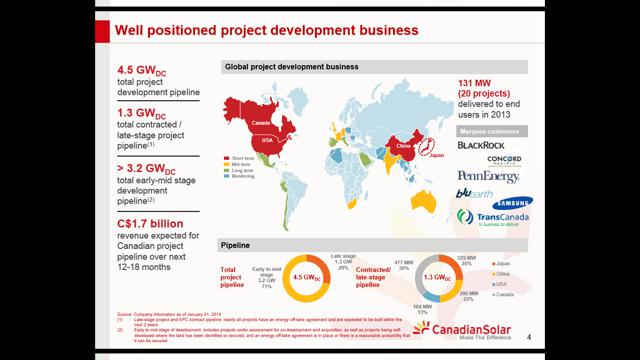 Source: Canadian Solar
The company has close to 4.5 GW DC of solar projects development pipeline, which is one of the largest pipelines in the world. The company has most of its projects in the U.S., Japan and China, which were the three largest markets in 2013. In comparison, most North American solar companies such as First Solar (NASDAQ:FSLR) have very weak presence in China and Japan. This makes them vulnerable to slowdown in the North American markets.
We also increased our pipeline of late-stage solar project to approximately 1.3 gigawatts, mostly in low-risk countries, expanding our business visibility well into the future. Our results for the year underscore the successful execution of our strategy to extend our higher margin total solutions business, which contributed 28.6% of total annual revenue in 2013 compared to 11.5% in 2012.
(Source: SA Transcripts)
3) Benefiting from Chinese roots - Canadian Solar is essentially a Chinese company, as it has got most of its manufacturing facility in China, and its top management is also Chinese. However, the company has got its headquarters in Canada, and has benefited from strong solar demand in Ontario. The company is one of the largest solar companies in Canada, with a strong project pipeline.
4) Diversified Customer Base - The company has a diversified customer base in over 70 countries, with proper distribution in the leading solar zones of Asia, Americas and Europe.
Sales Breakdown (in %)

Q1

Q2

Q3

Q4

Asia Pacific

57

52

44

62

America

18

38

47

32

Europe

25

10

9

6
Sales Breakdown (in mn $)

Q1

Q2

Q3

Q4

Asia Pacific

152

196

214

324

America

47

144

230

167

Europe

65

40

46

29
Source: Canadian Solar
5) Return to profitability - Canadian Solar reported good 2013 results, with the company returning to profitability and increasing its gross margin to ~20% in the second half of 2013. The revenues also showed a steady quarterly increase from $264 million in Q113 to $520 million in Q4 2013.
Importantly during 2013, we have returned the company to profitability and significantly strengthened our balance sheet. Established a track record of success in utility-scale project development from greenfield origination, permitting, financing to final and customer delivery, and successfully repositioned us as a leading provider of total solar energy solutions and Tier-1 brand name solar modules.
(Source: SA Transcripts)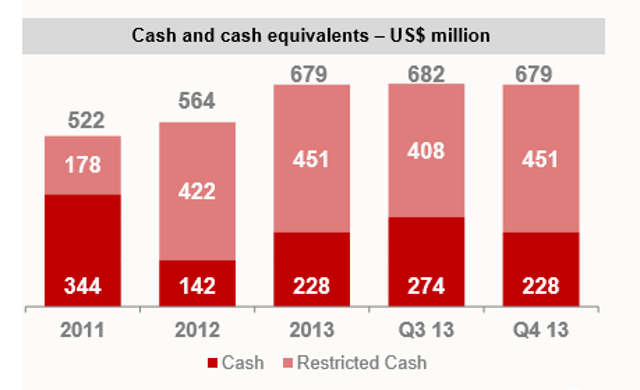 The only concern for Canadian Solar is its big debt position, which is presently at $930 million, though it has decreased from the previous quarters ($993 million in Q3, $1069 million in Q2 and $1074 million in FY 2012). Hence, the company needs to be extremely careful in execution, otherwise it might face the fate of Suntech (NYSE:STP).
CSIQ Risks
a) China may miss the 14 GW Target - There are concerns that China may not be able to meet the 14GW target it set for 2014. If this happens, major solar companies would feel the heat, who have made big plans for this year.
b) The U.S. may impose another round of duties - The U.S. government may impose further duties on Chinese imports by bringing Taiwanese made solar cells into the duty net. This will hurt solar companies like Canadian Solar which use Taiwanese cells. This would weaken CSIQ's position when compared to First Solar and SunPower (NASDAQ:SPWR), which have manufacturing bases in Malaysia and Philippines. This has already forced the Chinese companies to open factories elsewhere to avoid these duties. ReneSola (NYSE:SOL) has already opened factories in different countries through OEM contracts.
Stock Price and Valuation
CSIQ is currently trading at ~$26.23, which is way below its 52-week price of ~ $44. Despite this fall, the company has returned more than 500% in the last couple of years. CSIQ has a market capitalization of $1.4 billion with a P/E of 20.2x, compared to First Solar with a market capitalization of $6.9 billion. I think that the company is now trading at below fair value after the sharp fall, and presents a good entry point. FSLR too gave good results and has outperformed CSIQ in the past quarter, but we think CSIQ is better off. First Solar suffers from its absence in the Asia Pacific region, with most of its projects located in the U.S. First Solar is also too dependent on the utility segment, and lags behind in the residential segment.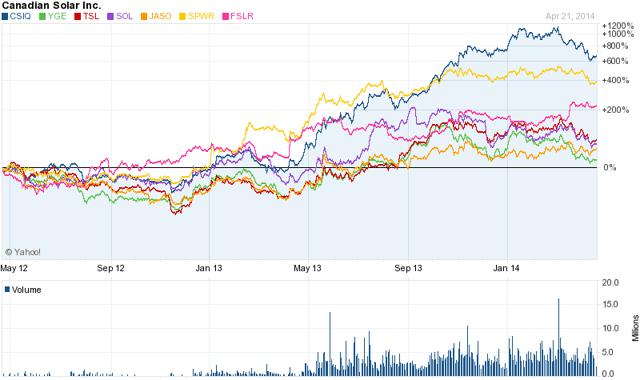 Summary
The solar industry has started to see some normalcy, and is returning to a more realistic supply-demand relationship. With the Chinese government's decision not to keep the bankrupt solar companies afloat, there is finally some good news for well-run solar companies, such as Canadian Solar. It has its home base advantages both in China and North America, and it is now spreading its foothold in the Asia Pacific regions; especially Japan, which is witnessing a solar boom. CSIQ has industry-leading margins and a large pipeline of projects for 2014. The stock has given multi-bagger returns in the last couple of years before taking a breather in the last couple of months. We would recommend a buy for Canadian Solar at the current stock price.
Disclosure: I have no positions in any stocks mentioned, and no plans to initiate any positions within the next 72 hours. I wrote this article myself, and it expresses my own opinions. I am not receiving compensation for it (other than from Seeking Alpha). I have no business relationship with any company whose stock is mentioned in this article.