In my previous article, I highlighted declining competitiveness as a long-term problem for the Japanese economy, which Abenomics has yet to address. I ended the article by pointing out that the rise in sales tax from 5% to 8% on April 1, 2014 may present a near-term challenge to economic growth by dragging down consumption. Consumer expenditure forms 60% of the Japanese economy and the last time the sales tax was raised in 1997, a recession followed. Stock markets are already showing signs of fear in 2014 over the potential slowdown.
Japanese stocks anticipating slowdown
Japanese stock markets have significantly underperformed global peers on a year to date basis in 2014. After a 42% gain in 2013, the Nikkei 225 is down about 9.4% as of March 28th compared to a 0.64% gain for the S&P 500 and a -0.12% loss for the DAX. The iShares MSCI Japan ETF (NYSEARCA:EWJ) has also declined 6% from 12.08 at the start of the year to 11.36 as of April 1.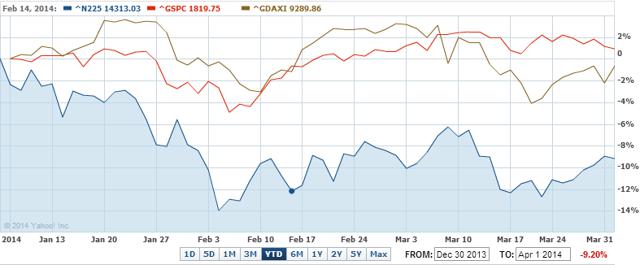 Chart 1: The Nikkei 225 (blue) has underperformed global peers like the S&P 500 (red) and the German DAX index (purple). (Source: Yahoo Finance)
Investors seem wary of the uncertainty surrounding economic growth introduced by the sales tax increase, and have been rushing to exit long positions on Japanese stocks.
Consumer spending shows signs of weakening
Japanese consumption was already weakening before the tax increase took place. Retail sales dropped 1.3% in February from a month earlier, while household spending dropped 2.5% (the first monthly drop in half a year). Such drops in February are not seasonal in nature.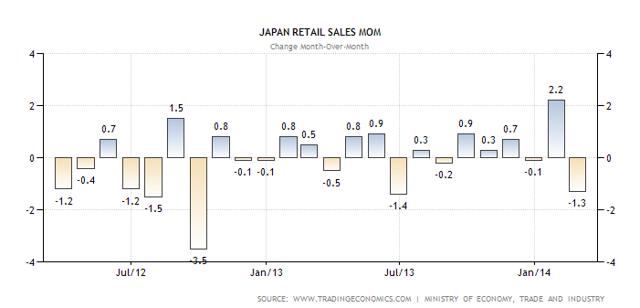 Chart 2: Retail sales dropped 1.3% in February from the previous month. (Source: tradingeconomics.com)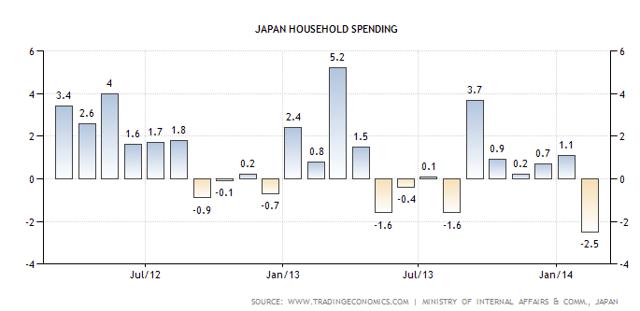 Chart 3: Household spending dropped 2.5% in February from the previous month. (Source: tradingeconomics.com)
Other consumption-related indicators are reinforcing the pattern exhibited in the current spending slowdown. For example, consumer confidence for the month of March plunged to 37.5 in the April release, the lowest level in two years.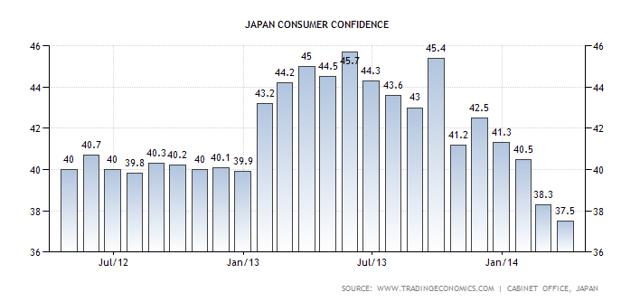 Chart 4: Consumer confidence dropped to 37.5 in the latest reading released in April. (Source: tradingeconomics.com)
The labor market offers support
While consumption weakens, the labor market has been resilient and may offer a glimmer of hope for the Japanese worker-consumer to withstand the tax increase. Unemployment rate at 3.6% is at a six-year low, while average Japanese monthly wages have been increasing.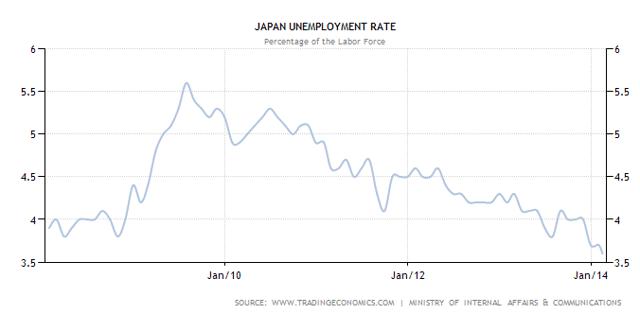 Chart 5: Unemployment has fallen to 3.5% in 2014 from a high of 4.5% in 2009. (Source:tradingeconomics.com)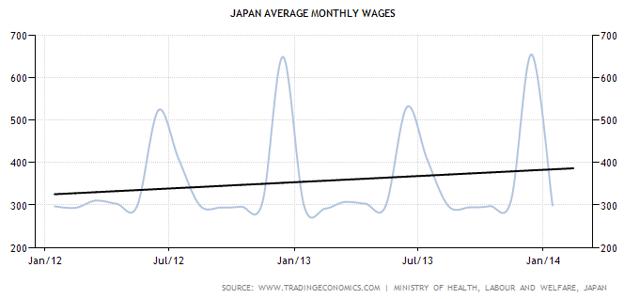 Chart 6: Average monthly wages have been increasing, as shown by the black trendline. (Source: tradingeconomics.com)
Looking ahead: The data release playbook
All in all, a weakening Japanese consumer is already a reality and will most likely get worse before it gets better. Upcoming economic data releases on consumption and second quarter GDP growth will quantify the impact of the sales tax increase and could be the catalyst for further sell-off in the equity markets. Of particular importance will be the retail sales and household spending data for the month of April. These will be released on May 27, 2014. Following that, the release of the quarter on quarter GDP growth data on August 11, 2014 for Q2 2014 will give a good indication of the extent of the slowdown.
Sell in May and short the stocks away?
From May onwards, it will be worthwhile to explore opportunities to short Japanese stocks or exit long positions in anticipation of poor April consumer numbers and negative quarterly GDP growth. Investors with a higher risk appetite may consider the ProShares UltraShort MSCI Japan ETF (NYSEARCA:EWV) to gain leveraged short exposure to Japan. This ETF aims to generate daily returns that replicate two times the inverse of the daily returns on the MSCI Japan Index. On top of that, it is heavily exposed to the Cyclical Consumer sector (26.95% weighting), which will be the most impacted by a spending slowdown. However, this fund does have the added risk that over longer holding periods, the ETF may decline if the index does not fall enough.
The potential risks to the Q2 correction scenario would be if consumption expenditure proves stronger than expected (given the first quarter stock sell-off, expectations have been set quite low). Nonetheless, while the labor market may have proven resilient, it may not be strong enough to provide households with the necessary boost in disposable income to increase spending.
Disclosure: I have no positions in any stocks mentioned, and no plans to initiate any positions within the next 72 hours. I wrote this article myself, and it expresses my own opinions. I am not receiving compensation for it (other than from Seeking Alpha). I have no business relationship with any company whose stock is mentioned in this article.