U.S. stocks took it on the chin on Friday as the crisis in the Ukraine continued to intensify. With worries mounting that Russia will eventually enter eastern Ukraine, it is worthwhile to revisit the potential implications for the stock market in the days and weeks ahead.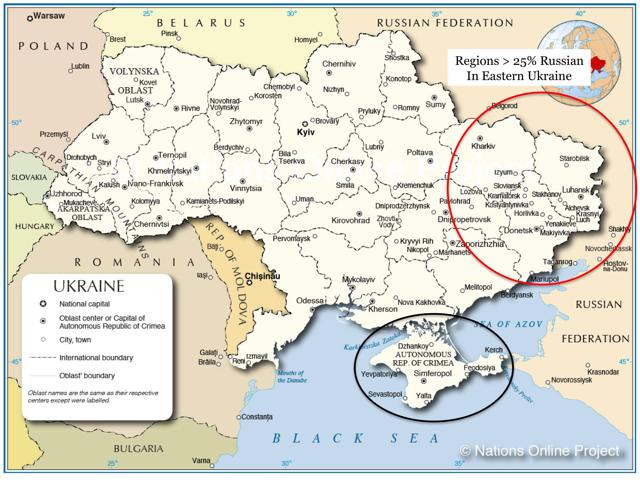 It was less than two months ago, in early March, when the U.S. stock market was first rattled by news that the Russian military had moved forces into the Ukraine to occupy the Crimean peninsula. Stocks opened sharply lower when trading resumed following the news on Monday, March 3, but by late morning, they quickly and predictably started to rebound. And by early the next trading session on Tuesday, March 4, stocks were trading higher than they were before the Russian invasion took place. Since that time, investors have largely shrugged off any news out of the Ukraine, save a few periodic jitters along the way. But with the prospects rising that Russia may soon take the next step and invade eastern Ukraine, many investors are now left to reevaluate the potential risks for their stock portfolios.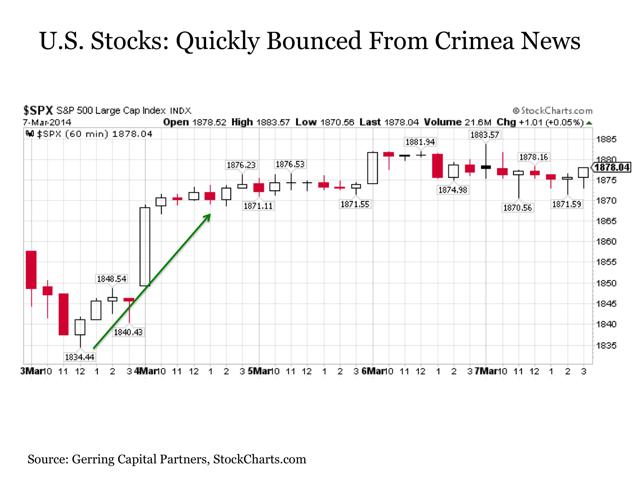 Recent history has shown that even if the situation spreads to some of the regions in eastern Ukraine, the downside impact on the U.S. stock market is likely to be fleeting. This is due, in large part, to the fact that Russians make up a significant percentage of the population of eastern Ukraine. And just as was the case with Crimea, the markets are likely to view any situation that unfolds in eastern Ukraine with the same degree of general indifference as the way it did when Russia invaded heavily Russian-populated regions of Georgia back in August 2008. So, while it clearly would be an unpopular move from a geopolitical standpoint, the implications for investment markets are likely to remain more fleeting and muted.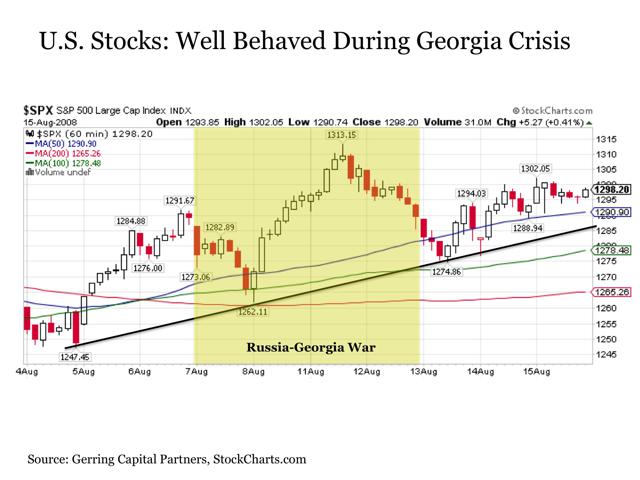 With that being said, it remains worthwhile to mark out some of the key support levels for stocks given that the aging bull market is starting to appear winded now in its sixth year removed from the bottom in March 2009, particularly given that it is currently trading at a historically rich 18.4 times trailing 12-month as reported earnings.
First, it is worth noting that despite the sell-off that took place on Friday, stocks ended essentially flat for the week. Thus, any selling late in the week should first be taken in the context of giving back gains from earlier in the period.
Second, stocks as measured by the S&P 500 Index (NYSEARCA:SPY) are still just over -1% below their all-time closing high from April 2. In other words, we are one dovish Fed sentence away from fresh new highs, despite Friday's weakness.
Third, the S&P 500 continues to enjoy a number of technical support levels at current prices. This includes its upward sloping 50-day moving average at 1858, its upward sloping 100-day moving average at 1834, its upward sloping 150-day moving average that provided the support level for the most recent bounce in early February at 1803, and perhaps most importantly, its upward sloping 200-day moving average at 1772. In between, the S&P 500 also enjoys support from an upward sloping trend line that has provided reliable support on five previous occasions over the past year.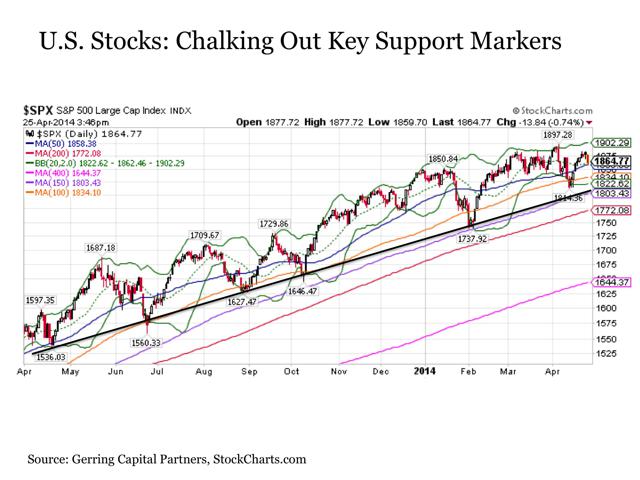 Lastly, none of the investment categories that are being far more directly impacted by the events unfolding in Ukraine are showing any signs of meaningful stress. For example, the PowerShares Emerging Market Sovereign Debt Portfolio (NYSEARCA:PCY) has a combined allocation of over 8% in Russian and Ukrainian government bonds, not to mention additional allocations to some of their close neighbors such as Lithuania, so this offering would likely be under meaningful stress if financial markets were concerned about contagion effects. But while this offering is off somewhat from its recent mid-April highs, it is still trading well above levels from a few months ago, and has managed to break through a variety of key resistance levels along the way.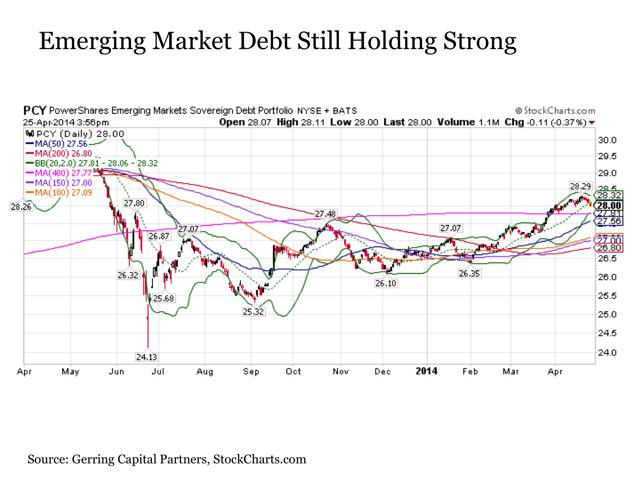 Thus, the situation in Ukraine still appears to be under control from an investment market perspective, at least for now. With that being said, the potential continues to exist for a more meaningful investment market problem to erupt from this conflict. Such an outcome would likely occur if the conflict were to spread to regions or countries that are not heavily populated by Russians. If the situation were to unfold in such a direction, which remains a low probability outcome at the present time, then portfolio allocations and risks would warrant meaningful reevaluation. As a result, the situation continues to be worth watching in the days and weeks ahead.
Disclaimer: This article is for information purposes only. There are risks involved with investing including loss of principal. Gerring Capital Partners makes no explicit or implicit guarantee with respect to performance or the outcome of any investment or projections made. There is no guarantee that the goals of the strategies discussed by Gerring Capital Partners will be met.
Disclosure: I have no positions in any stocks mentioned, and no plans to initiate any positions within the next 72 hours. I wrote this article myself, and it expresses my own opinions. I am not receiving compensation for it (other than from Seeking Alpha). I have no business relationship with any company whose stock is mentioned in this article.
Additional disclosure: I hold an allocation to U.S. stocks via the SPLV and XLU as well as selected individual stocks. I also hold a meaningful allocation to cash at the present time.