ULTA Salon, Cosmetics and Fragrance (NASDAQ:ULTA) has been a 10-bagger for investors over the last five years, with its share price touching $130 in November 2013. Following disappointing November quarter results, shares declined to $80 levels before ticking up again following strong results during the February quarter. For more recent investors, the stock price has had a wild ride over the past year, giving back most of its gains, as can be seen from the chart below.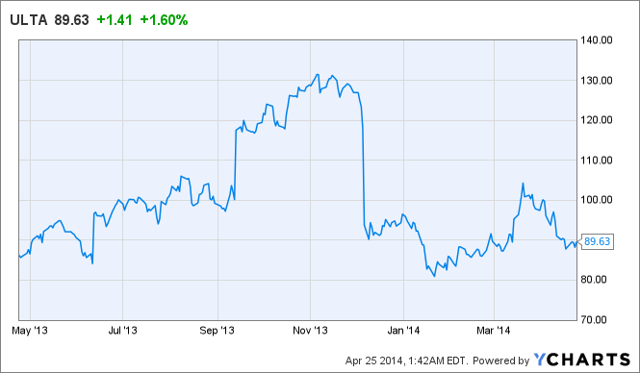 Business performance
ULTA offers branded and private label beauty products through its retail stores. It has expanded its store count from 346 at the end of FY09 to 675 by FY14, a CAGR of 18%. Same-store sales have also increased cumulatively by 50% over the same period. The company expects to open 100 stores in FY14 as well as see a 4%-6% increase in comparable store sales. It is also investing heavily in its e-commerce business which is expected to grow 50%-60%. Along with its range of products, it also offers a range of beauty services and consulting at its stores in an attempt to build a close relationship with its customers. The strategy appears to have been paying off with sales growing at a CAGR of 22%. Profits have grown even faster, with net income growing 50% annually, driven by higher gross margins.
Store growth and sales/store growth assumptions
ULTA's management has guided to 100 new stores for FY14. I believe the company is well positioned to maintain this growth rate for the next few years and will ultimately reach a footprint of 1,400 stores by 2020. I also assume comparable sales growth of 6% through FY16, moderating to 5% thereafter. The growth of the e-commerce channel will aid ULTA in hitting these numbers (see chart below for assumptions).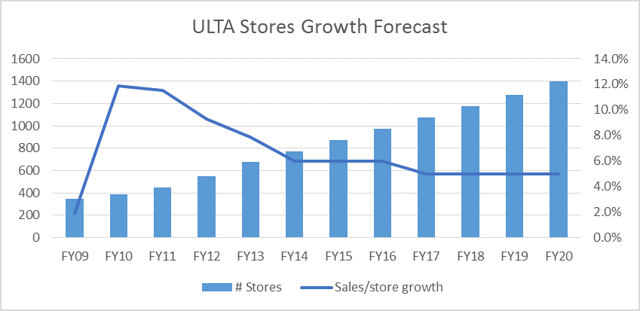 Valuation assumptions
ULTA has steadily increased its gross margins from 30.8% in FY09 to 35.2% in FY13. I'm assuming that margins stabilize at around 35%. SG&A expenses are expected to increase in FY14 due to the technology investments that the company is making. I do expect SG&A to moderate over time to around 20.5% of sales. Pre-opening expenses are modeled to stay flat on a per net new store basis. I have assumed tax rates to stay at 38.3% in line with management guidance.
I believe ULTA has above-average growth prospects due to its past history of execution and deeper connection with customers compared to other general merchandise and department stores. Hence, I have modeled a 4% terminal growth rate and a discount rate of 11% reflecting a medium-high risk stock. Using these assumptions, I get to a fair market value of $101 for ULTA, which represents 13% upside to today's price. The valuation model is below.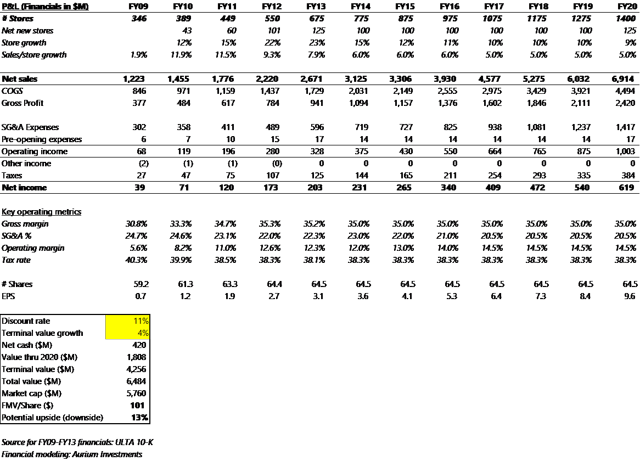 Risks and opportunities
ULTA has been growing its retail store presence at a CAGR of 18% over the past four years. Going forward to 2020, my store growth assumptions result in a CAGR of 11%. If ULTA sees burgeoning demand and is able to increase its store count at 15% annually (international expansion could be an avenue to do this), the stock could be worth $120 for a 35% upside. Conversely, slowing store count (at 5% annually) results in a share price of $81, which is a 10% downside to the current price. I believe my gross margin assumptions are pretty reasonable and in line with historical performance. SG&A expenses are an important variable, however, and my valuation assumes that ULTA will be able to moderate these as a percentage of sales after its technology investment cycle is complete. If SG&A remains at historical levels (around 22% of sales), the valuation yield has very modest upside ($92, or 3%) and ULTA would be fairly valued.
Summary
ULTA has a fairly high trailing P/E ratio of 28.45 which suggests that the market is expecting rapid growth. My analysis shows that if ULTA continues to execute well, as it has done in the past, it can certainly beautify your portfolio. Shares are a buy.
Disclosure: I have no positions in any stocks mentioned, and no plans to initiate any positions within the next 72 hours. I wrote this article myself, and it expresses my own opinions. I am not receiving compensation for it (other than from Seeking Alpha). I have no business relationship with any company whose stock is mentioned in this article.
Additional disclosure: I am short ULTA puts.