By Sumit Roy
With the exception of natural gas and WTI, most other commodities rallied this week amid concerns that tensions between Russia and Ukraine could disrupt supplies. Those same concerns sent stocks lower on Friday, erasing all the gains from the rest of the week. For the period as a whole, the S&P 500 fell fractionally. The index is now up less than 1 percent since the start of the year.
Macroeconomic Highlights
On Thursday, the Ukrainian government killed several pro-Russian rebels and Russia responded with harsh words and military exercises along the Ukrainian border. The U.S. warned that it could impose another round of sanctions on Russia if the crisis escalates.
Economic data this week were a mixed bag. The Commerce Department reported that durable goods orders in the U.S. jumped 2.6 percent in March, topping the consensus estimate of 2 percent. Excluding transportation, orders rose by 2 percent, better than the 0.6 percent increase that was anticipated.
On the housing front, the National Association of Realtors reported that existing home sales in the U.S. fell by 0.2 percent to 4.59 million units annualized in March. That was a bit better than the 0.9 percent decrease that was expected, but still marked the third-straight monthly decline. At the same time, new home sales in the U.S. tumbled 14.5 percent to 384,000 units annualized in March, an eight-month low. On a year-over-year basis, sales were down by 13.3 percent.
In China, HSBC reported that its April flash manufacturing PMI came in at 48.3, up from the 48 reading in March. However, the PMI still remains below the key 50 mark, indicating contraction in the Chinese manufacturing sector.
Finally, first quarter corporate earnings season continued apace this week. Of the 204 companies in the S&P 500 that have reported thus far, 75 percent beat analysts' profit estimates while 53 percent beat revenue estimates.
Commodity Wrap
| | | |
| --- | --- | --- |
| Commodity | Weekly Return | YTD Return |
| Corn | 2.63% | 20.38% |
| Copper | 2.30% | -8.24% |
| Palladium | 1.73% | 13.09% |
| Wheat | 1.45% | 15.87% |
| Platinum | 0.69% | 3.89% |
| Gold | 0.46% | 7.84% |
| Silver | 0.36% | 1.08% |
| Brent | 0.14% | -1.01% |
| Soybeans | -1.39% | 13.71% |
| Natural Gas | -1.69% | 10.17% |
| WTI | -3.46% | 2.31% |
Gold and silver briefly hit multi-month lows on Thursday before bouncing back sharply on technical buying and bullish headlines about the Russia-Ukraine conflict. Gold managed to salvage its technical support level at $1,275 while silver likewise held its support at $19.
As long as stock markets continue to pull back, we expect precious metals to rally. The inverse relationship between the two markets remains intact (see Earnings Don't Support Stock Rebound, Gold May Bounce Off Support).
GOLD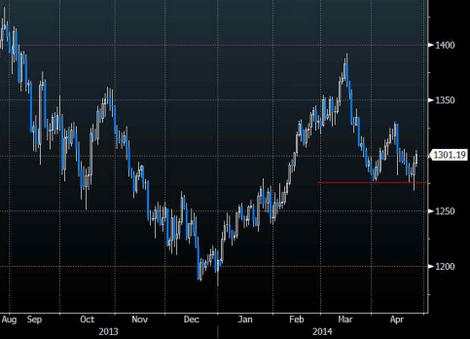 SILVER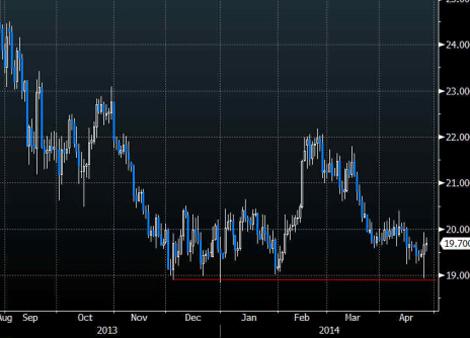 PLATINUM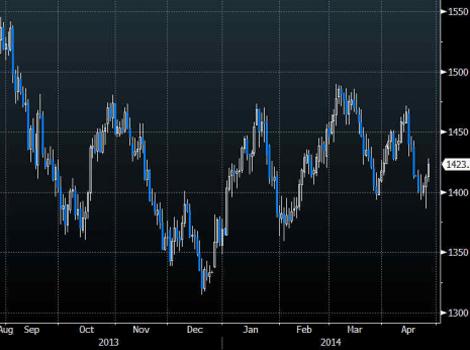 PALLADIUM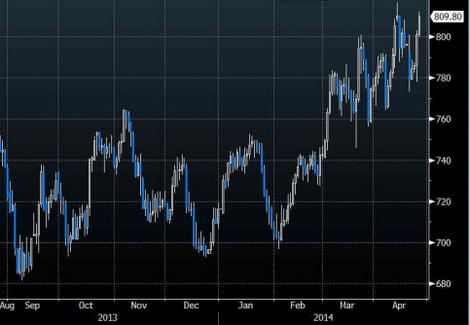 Crude oil was mixed. Brent eked out a fractional gain while WTI tumbled. The European benchmark Brent is, of course, benefiting from the risk that Russian supplies could be disrupted. On the other hand, WTI was weighed down by a glut of oil in the U.S. As we wrote on Wednesday, U.S. oil production hit a 26-year high and U.S. inventories hit an 83-year high last week.
If Russia supplies eventually are disrupted, we expect both crude oil benchmarks to spike. Otherwise, if tensions in Eastern Europe ease, prices surely fall.
BRENT

WTI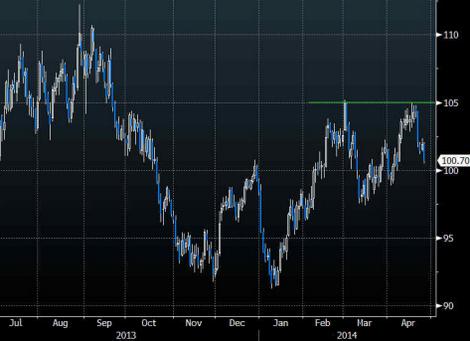 Grains were another sector that rose amid heightened risks that Eastern European supplies could be disrupted.
"The whole thing makes traders nervous and is another reason why corn prices are not going down much in the short run," said Tomm Pfitzenmaier, analyst at Summit Commodity Brokerage.
CORN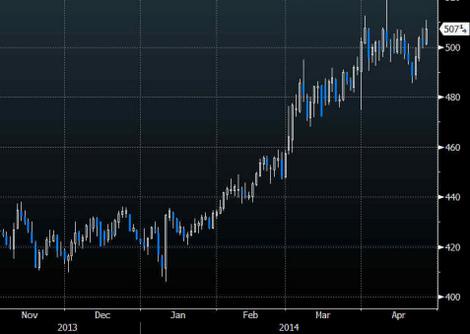 SOYBEANS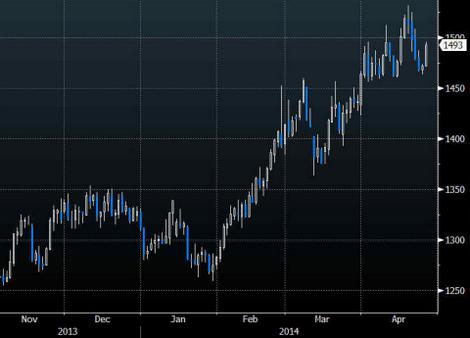 WHEAT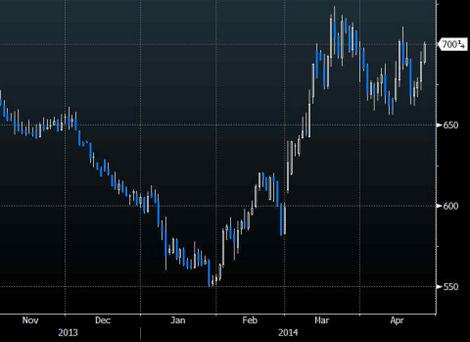 Copper finally broke out of its narrow trading range. The red metal rallied to a 1 ½-month high as bullish traders reasoned that fears about China's economy and potential mass liquidation of copper stockpiles were overblown.
We will be watching to see whether copper prices hold above $3.10/lb, confirming the technical breakout.
COPPER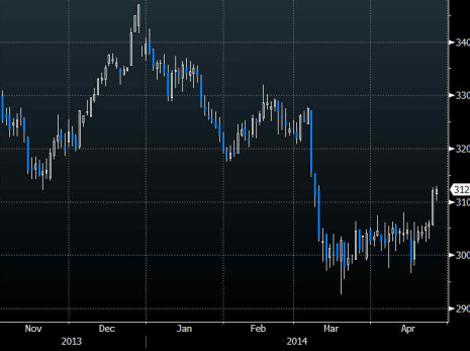 Natural gas edged down after the Energy Information Administration reported a larger-than-expected inventory build on Thursday. Still, we see bullish risks as outweighing bearish risks as storage remains at extremely depressed levels (see NatGas Weekly Injections Must Double To Refill Inventories).
NATURAL GAS