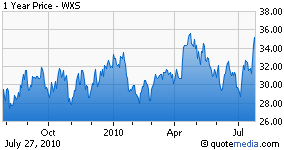 Tuesday morning, Wright Express (WXS) came out with a nice earnings report. The company earned 68 cents a share, which was three cents more than estimates. For Q3, they see earnings between 65 cents and 70 cents per share. For all of 2010, Wright sees earnings-per-share ranging between $2.47 and $2.57.
That's pretty good news. Three months ago, Wright said to expect Q2 EPS between 61 cents and 66 cents, and full-year between $2.39 and $2.54. The previous full-year range was $2.26 to $2.46. In other words, the high end of the old range is now below the low end of the current range.
There's just one problem. The stock is taking a hit today. Currently, the shares are off by about 4.5%. I think a little pullback can be expected since WXS rallied over 22% in the previous three weeks. Wright Express is still an excellent stock.