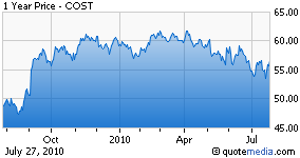 Wal-Mart (NYSE:WMT) has had significant problems (at times) with employee relations over the past couple of years. Between recent litigation involving a sexual discrimination acquisition, as well as a recently surfacing lawsuit over an alleged healthcare plot, it seems that low prices for consumers might come at a cost. Yet, one of Wal-Mart's biggest competitors has managed to compete with "everyday low prices" while avoiding the pitfalls of cutting any and all "unnecessary" costs.
Costco (NASDAQ:COST), which was co-founded by Jeffery Brotman and Jim Sinegal in 1983 in Seattle, Washington, has had an enviable run over the past 25 years; as of May 2010, Costco is the 3rd largest retailer in the United States, and the 8th largest retailer in the world. By all measures, Costco is a selling machine, with $69.9 billion in sales in fiscal year 2009, including $1.096B worth of wine, $3.7B worth of meat, $708M worth of seafood, and $3.1B worth of produce. Compare this to Sam's Club (opened in 1984), which accounted for 11.5% of Wal-Mart's 2009 sales of $405.0 billion, or $46.58B in fiscal 2009.
Costco has achieved this success by sticking to their roots: bulk items at low prices. In 2009, for example, the merchandise costs for $69.9B worth of sales came out to an astounding $62.3B, which comes out to a gross margin of 10.81%. When you are competing to be the low price competitor against Wal-Mart, keeping costs low is the name of the game. One way that Costco has attempted to mitigate Wal-Mart's domination of the low cost retail scene is by doing the one thing that everyone knows you can't do: spend money.
In 2006, Costco's average salary was $17/hour, 40% higher than what Wal-Mart was paying their associates; today, that number is up to $18/hour. CEO Jim Sinegal (founder) put it best when he said:
We pay much better than Wal-Mart. That's not altruism, it's good business.
This comes from a CEO whose salary and total compensation was $350,000 and $3.3 million for 2009, respectively, compared to $668,500 in salary and $14.3 million in total compensation for Brian Cornell, the CEO of Sam's Club. Jim Sinegal likes to say that he walks around the stores with a name tag on his shirt just like everybody else. These are the type of things that employees who are working forty hours a week to keep food on the table notice. These are also the type of things that long term investors look for in management; Charlie Munger, who is on Costco's board of directors and owns COST shares has said:
We have our own living, breathing Sam Walton at Costco.
Over the years, Costco's employee relations have helped the company's results considerably. Throughout the third quarter of 2010, renewal on gold memberships ($50 annually) has been 86.3%, while renewal on business memberships ($50) has been an astounding 92.1%. Consider the fact that in 2009, membership cards accounted for over $1B worth of income for Costco, a much needed boost to the bottom line when you are selling merchandise only a couple of percentage points above cost. Costco's management takes pride in the fact that they have a renewal rate that flirts with crossing 90% year after year.
Another area where employee relations have helped is with executive membership signups. Unlike the gold and business memberships, which cost $50 every year, the executive membership costs $100, but provides customers with 2% back on certain items. Management loves when customers sign up for the executive memberships because it keeps consumers coming back to shop more often. In the Q3 2010 conference call (see transcript here), CFO Richard Galanti discussed the recent shift in the program that has driven its success. He said:
A couple years ago, for every 100 new members signing up we tended to get 10 or 12 to actually sign up originally as an executive member. Today that number is in the low to mid 20's and I think that's partly because we do a better job at the counter if you will when somebody is coming in to sign up explaining the virtues of it.
This change, as he clearly says, is coming from the bottom rung of the ladder; employees at the counters have taken an interest in the program, and managed to nearly double the success rate on a blind signup. When people are compensated fairly and are given incentives to work towards a common goal, they will do what it takes to help the company succeed.
Despite the recent successes, Costco definitely has headwinds, with changes in management leading the way. Jim Sinegal, the face of Costco for the past 27, is now 74 years old. And even though he has made no indication that he will retire, he obviously can't live forever. In fact, Craig Jelinek was recently promoted to president – Sinegal's former title; whether or not this is a sign of things to come remains to be seen. Despite the eventual departure of the founder, Jelinek has been with the company since 1984, and knows how the system works (he opened Costco's sixth warehouse and has overseen Costco's merchandising since 2004). Analyst David Strasser of Capital Markets said:
This could disappoint some investors who had hoped that the new management would quickly look to raise margins and drive earnings growth.
While it may disappoint some (I'll call them traders), I am personally glad that Costco will keep their corporate culture and way of doing business, "good business," intact. As a long term investor, I would much rather see the company slowly grow over the next 50 years rather than expand margins and lose memberships to consumers who no longer see the value.
Costco is conservatively financed (net cash of $2.2B), and has been tentative to expand too rapidly in the past (488 stores in 2007, 535 as of May 2010). However, that trend appears to be shifting; in 2010, the company expects to open 15, and predicts another 26 for 2011, which significantly outpaces the low double digit average over the past four years.
Internationally, the company has barely scratched the surface, with only 121 stores outside of the United States and Puerto Rico. Despite the 4:1 ratio of US to international stores, half of the top 20 warehouses in 2009 (by sales) were located outside the United States, which suggests that Costco has effectively replicated their business model in other parts of the world (mainly Canada and the UK).
All in all, the story looks good; it is a company with a history of operating success and growing sales/earnings with plenty of room to expand organically and management that cares about the customers, employees, and owners. In the words of Jim Sinegal:
Wall Street is in the business of making money between now and next Tuesday. We're in the business of building an organization, an institution that we hope will be here 50 years from now.
In my opinion, Costco is a wonderful business at a fair price, and as a result is a good long-term investment.
Disclosure: No position